We campaign for Local Issues
We promote Art in the Community
We improve and bring life to our Urban Environment
Check out the video for information about the venue and media studios at PRSC.
PRSC is determined to safeguard the unique character of the area. Because of the economically challenged nature of Stokes Croft, there are many areas where there are gaps in the landscape. This can be seen as a disadvantage, a gap-toothed smile.
We see only opportunity, the opportunity to flavour forever the visual nature of our quarter. More stimulating. Tidier. Safer. Better. Opportunity.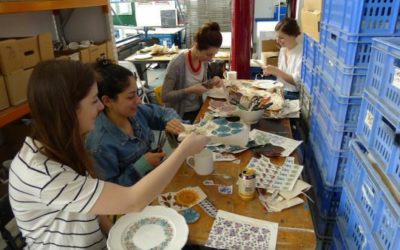 Want to find a great gift? Love our Stokes Croft China ware but keen to give it a try yourself? Enrol for a Sunday workshop to make your own unique piece! Back by popular demand, the china workshops offer you a calm and relaxing afternoon to enjoy with...
read more
Upcoming Events
Events List Navigation

Opening: Friday 1 December, 6 - 9pm The outdoor rolling exhibition Buy or Burgle It on Jamaica Street wall, will run throughout December from Saturday 2 until the 23. Make sure to pass by regularly as the exhibition will change daily, thus creating a rolling exhibition. Buy or Burgle It is designed to provide an outlet for aspiring and established artists to showcase and sell their work, and to offer to the public the opportunity to purchase artworks at an…
+ Export Events