Peoples Art Club & Community Drop In
Free creative drop-in sessions, open to all
Upcoming Art Clubs

List of Events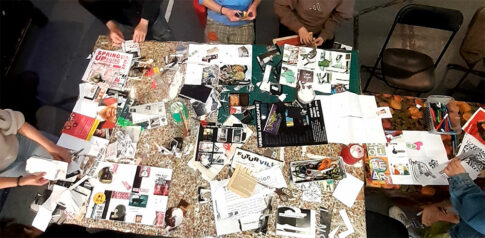 Make some art, have a cup of tea & a chat, pick up some Dope Magazines, a sleeping bag or tent.
+ Export Events
A free creative drop in session, open to everyone – those without homes are particularly welcome.
DECEMBER
Tue 5 Dec // PRSC – Christmas Stars
Tue 12 Dec // Keith – Drawing Skills
Tue 19 Dec // Paulo – Printing
Tue 26 Dec (Boxing Day) // TBC
JANUARY 2024
Tue 2 Jan // TBC
Tue 9 Jan // Keith – Drawing Skills
Tue 16 Jan // TBC
Tue 23 Jan // TBC
Tue 30 Jan // Paulo – Printing
---
Since the opening of BOSH's homeless hub in Broadmead, the need for our old street survival drop-in session is much reduced. As a result, and in consultation with our regular visitors, we are pleased to announce that the 2-4pm session on Tuesdays is now the People's Art Club and Community Drop-in!
Open creative sessions: bring your own project or join in with the day's activities. Previous art clubs have included monoprinting, paper making, making papier-mache frames, portraiture etc. What would you like to create?
DOPE Magazine, tent and sleeping bag distribution:
– Sort and distribute kit for people on the street
– Bag up and distribute DOPE Magazine
– Donate tents, sleeping bags, blankets, waterproof coats & shoes.
Or just come hang out and have a cuppa!
The sessions will also provide:
info – printed answers to questions that come up each week
a clothes fixing space – providing sewing machine, zips, buttons & fabric
blanket exchange – bring in a dirty damp blanket & swap for a clean dry one
facilities – tea & coffee, toilet, electricity
other experts – experts invited to speak on subjects such as: rough sleeping & the law, tent living & the law, van living and the law etc
Dope Magazine – alternative to The Big Issue provided by Dog Section Press, sell the magazine, keep the money
Where: PRSC Space on the corner of Jamaica Street and Hillgrove Street BS2
When: 2-4pm Tuesday afternoons – starting August 27 2019
What: This is a space for sharing skills, making art and building new connections.

Drunkenness or substance abuse will not be tolerated at these sessions and anyone engaging in disruptive behaviour will be asked to leave.
Do you know anyone who would benefit from this session, or with knowledge to share?
Please pass this invitation on.
If you are interested, drop in 2-4pm any Tuesday.
WANT TO GET INVOLVED?
Run by the PRSC, the People's Art Club offers free creative activities 2-4pm on Tuesday afternoons (open to all, those without homes particularly welcome). The sessions are run on a voluntary basis and we are inviting any local creatives to get in touch if they would like to lead or assist with a session. Please contact email hidden; JavaScript is required if you are interesting in helping out.
You're all loving People's Art Club so much that we're getting low on art supplies! If you have any reasonable quality / still functional paints, pens, paper, etc, please drop them in to us (or bring them when you join a session).
Did you know…?
We provide 24 hour access to running water and electricity for charging phones and devices, on the corner of Jamaica and Hillgrove Streets, BS2 Bristol.