Fancy Bogs
Toilets to your design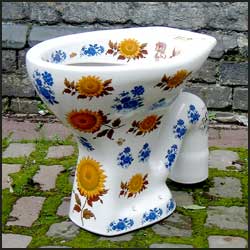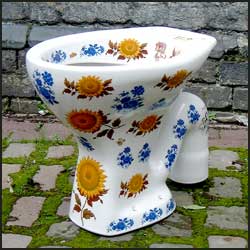 Fancy Bogs is part of Stokes Croft China.We now decorate sanitary ware to order, using the historic lithographs we saved from destruction when the Staffordshire Poteries were ravaged by the forces of globalisation during the last ten years.
The ware shown here is decorated with 1960′s Wedgwood print and others.
By the use of digital ceramic print, almost anything is possible. The print below was designed in-house,
We produce bespoke ware, and Off the Shelf Unique toilet pans, using print rescued by us from the last independent decorating factory in Staffordshire, Broadhurst Bros. of Burslem Ltd.
Our Selling Gallery Showroom at no. 35, Jamaica Street always has unique pieces of ware on display.
Visit the PRSC Online Shop