Mina Road tunnel transformed by PRSC and crew
Monday 21 April 2008
On Saturday and Sunday 19th/20th April a team of 20 or 30 committed individuals set about their plan to transform the Mina Road tunnel into a real street art gallery. The tunnel, about 70m long with about 140m of wall space needed the best part of 160 litres of white masonry paint. First they brushed off the flaky masonry and laid down a good coat of masonry paint, so that the space became fit for murals. Preparation started at 1030 am Saturday, and people turned up all throughout the day to prep, roller and edge and they nailed most of the lower level stuff.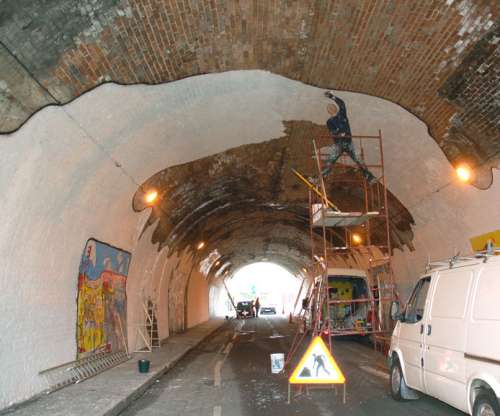 The tunnel is high and curved,,, and proved interesting to paint on the higher bits. They were still working to 9pm on Sunday balancing on high ladders and a tower, focusing very hard on not falling off.
The idea is to produce something that will show off the architectural beauty of the tunnel, while creating opportunity for all to paint the walls… With the masonry painting done, the space will be open for people to do murals… There is a lot of space! All existing work in the tunnel was preserved (although some of the oldest pieces may need repainting), and the white spaces next to them gave them new life. There is now space to do more work, and the site will hopefully become a self-regulating gallery… The residents of St. Werburgh's becoming the curators… This is now a place where anybody can paint, BUT the only caveat being that the work must enhance the space… No tags!
This article originally appeared in the St. Werburghs News on 21 April 2008.