Hello, Vocalise Magazine! Here are some bits that we think make an excellent read for your next lunch break.
Discussing the dangers of advertising
The movement to resist billboards and outdoor advertising has been growing in Bristol. Namely AdBlock Bristol has been raising awareness about issues relating to the harmful effects of advertising, opposing new planning applications for digital advertising in the city, helping to research and remove hoards without planning permission, and running a community billboard in St Werburghs.
It's great to see this topic talked about some more in the current Vocalise community magazine. Cllr Mike Davies discusses the dangers of advertising, citing advertising as contributing to our society's current mental health crisis.
Advertising is hugely influential on people's behaviour. It doesn't require a lot of imagination to understand why Transport of London would ban advertising on junk food adverts, and those promoting an unhealthy body image.
There is currently a plethora of applications for digital advertising in the city of Bristol. Large digital hoards next to motorways, which are both unsightly and a danger to public safety as they are hugely distracting. And last year there have been over 50 'phone box' applications in Stokes Croft and St Pauls carrying digital advertising, so that adverts are unavoidable even when walking down the street. Thanks to the efforts of AdBlock Bristol and many vigilant citizens, most of these applications have been rejected (for now).
Some cities like Grenoble in France have banned all outdoor advertising. Whether those cities decide to replace the hoardings with community arts or trees, it is easy to see the benefit to people's mental health, air quality and the environment. Bristol could be the first UK city to ban outdoor advertising.
Read Cllr Davies's essay here:
https://issuu.com/vocalisebristol/docs/issue_9_vocalise_web/20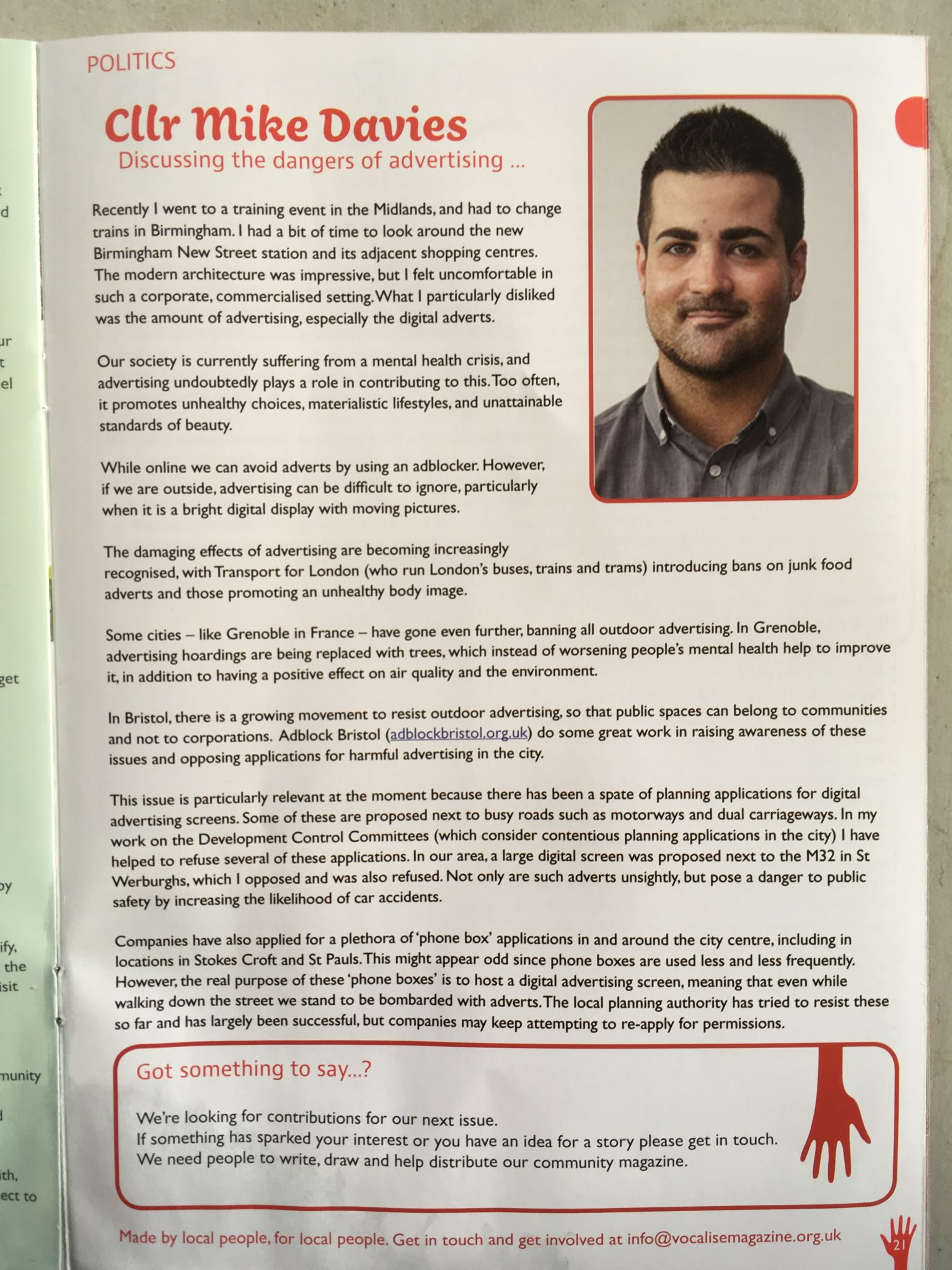 Art in Ad Places – Burg Arts
AdBlock Bristol has been working with local artists to provide a space for community artwork on Mina Road in St Werburghs.
"Instead of new cars, junk food, fizzy drinks or fast fashion, art can give prominence to the things we need in our lives: connection, community, friendship, nature, solidarity, purpose, safety and healing."
Read Robbie Gillet's essay here:
https://issuu.com/vocalisebristol/docs/issue_9_vocalise_web/22