Bearpit Open Air Theatre
Situated in the Bearpit, the Bearpit Open Air Theatre boast a unique urban backdrop which makes it a stunning location for performances, concerts, exhibitions and other events.
Update 2018: booking enquiries now have to go via the Council Site Permissions Event Team.
The Bearpit Open Air Theatre is located in the south corner of the Bearpit. The stage sits on top of a shipping container which raises it to street level, hereby providing a unique urban background for a range of activities. The height makes the Bearpit a perfect spot for an audience.The container is a place sheltered from the elements. The Bearpit Open Air Theatre can be used as an indoor workshop/exhibition space, a covered stage, political rallies, debates, gigs/concerts, film screenings and so on.
We think of the Open Air Theatre as a crossover between the Minack Theatre in Cornwall and the Globe Theatre, done PRSC style. The site and background sounds can be seen as a challenge, but we think it's the ultimate versatile and exciting space around.
Stage Size
Location
Bearpit (south corner), St. James Barton Roundabout, Bristol BS1 3LY
The Bearpit Open Air Theatre consists of:
A versatile indoor gallery space (shipping container) with a canopy. Its two frontal doors open completely;
A large stage overlooking the Bearpit which has two levels and an entry gate on both sides. There are stairs leading to the stage;
A large backstage area. The indoor space and the backstage area are connected.
Facilities
power socket in the container;
Heras fencing or lower fencing can be used to corner of an audience area;
There is currently no possibility of amplification, we are working on it!
£120 per day (9am to 5pm)
£120 per evening (5pm to 11pm)
Full payment will be required to secure your booking.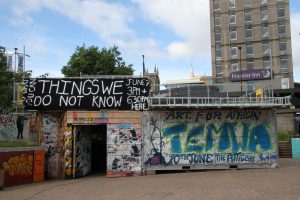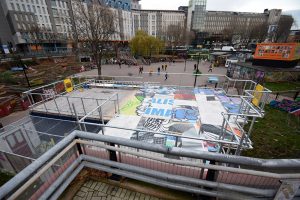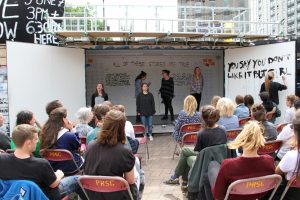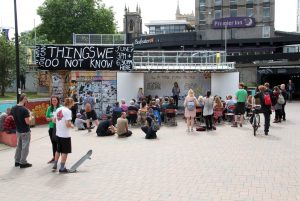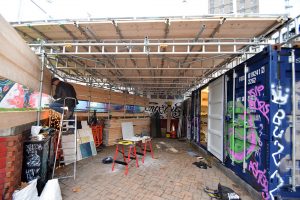 Theatre in the Bearpit

Theatre in the Bearpit