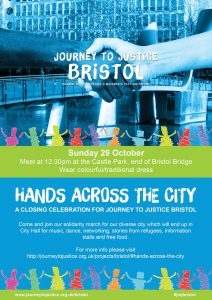 A solidarity march on 29th October from Bristol Bridge to City Hall marks the culmination of a the month-long celebration of Journey to Justice Bristol (JtoJBristol). The procession will be a colourful and joyous celebration, pausing along the way to hold hands forming a 'human bridge' across Pero's Bridge', symbolising the city's solidarity with refugees, asylum seekers and multi-cultural communities.  At City Hall JtoJBristol has organised a free celebration to highlight the city's diversity with personal stories. There will be information stalls, dance, songs, refreshments and talks.
http://journeytojustice.org.uk/projects/bristol/#hands-across-the-city
https://www.facebook.com/events/1785263068453706/
Our march in Bristol coincides with the  'Freedom on the Tyne' event  the same day, 300 miles away, a performance on the Tyne Bridge which marks the 50th anniversary of Martin Luther King's visit to Newcastle.
https://www.theguardian.com/us-news/2017/sep/03/martin-luther-king-newcastle-university-degree-1967-freedom-city-exhibition
"At a time of rising social division and hate crime we want to show our support and solidarity with Bristolians of all backgrounds including asylum seekers and refugees."

Dr. Madge Dresser, Coordinator of JtoJBristol
"I am so excited that the idea to celebrate our fantastic, diverse tapestry of a city has turned into reality.  My vision was to show solidarity with all those who come here for asylum, refuge or a better life. Not only for people like me, of dual heritage and second generation, but for everyone and anyone living in this amazing City, who loves Bristol for what it is – a multi-cultural, multi-faceted, complex and wonderful place!"

Alex Raikes MBE, Director at Stand Against Racism & Inequality
"Journey to Justice has been an incredible initiative and exhibition.  It's a reminder that we can't take our democracy and freedoms for granted and it honours the legacy of those who have paid a high price, even giving up their own lives, for the freedom of others.

We must continually be vigilant about those forces and individuals who would manipulate and undermine our communities by turning difference into a threat and making enemies of others.  We are custodians of democracy and we have to pass it on. The Hands Across The City closing event should be seen as an opportunity to ask the city to stand up for what is right, celebrate and give the utmost support to multiculturalism."

Marvin Rees, Mayor of Bristol
---
Extra information:
About Hands Across the City:
The march meets at Castle Park by the Bristol Bridge entrance, BS1 3XD at 12:30 on Sunday 29 October
Timetable:
12.30 hrs Meet at Castle Park by the Bristol Bridge entrance with Mayor Marvin Rees
12.40 hrs Historic talk by Dr Madge Dresser
12.55 hrs Walk to Pero's Bridge
13.25 hrs Photoshoot at Pero's Bridge
14.00 hrs Arrive at City Hall & look around Stalls
14.10 hrs Opening welcome by Cllr Asher Craig, Deputy Mayor
14.15 hrs Outline of the event by Alex Raikes MBE, SARI
14.20 hrs Teas & coffees served
14.20 hrs Refreshments and Stalls
14.40 hrs Brazilian dance and drumming – Capoeira Demo
14.55 hrs Talk – Kalpna Woolf, 91 Ways
15.00 hrs Film – Four personal stories
15.20 hrs Improv theatre – Breathing Fire
15.35 hrs Singing – St Paul's Carnival CIC Bristol Got Talent winners
15.50 hrs Closing address with Dr Madge Dresser
16.00 hrs Finish​
​