Christmas can be a hectic time of year, so we perhaps ought to thank First Bus for helping us all live a slower pace of life by simply not turning up when scheduled.
The one upside of a bus service so unreliable is it gives you more time to read the latest blogs from The Bristol Activist. Lucky you!
A chronic shortage of drivers (thanks Brexit) has left First unable to meet demand for months. Services have become increasingly late and overcrowded and many fail to arrive at all.
Earlier this month, First finally bit the bullet and announced it will cut hundreds of services each week.
Customers have been venting their frustrations online and next month will take to the streets.
On December 14, residents in Kingswood will protest outside the offices of South Gloucester Council with a message of "reclaim out buses".
XR Youth are doing their bit as well. Keeping up their campaign for free and fair buses across the whole region the group recently went spray painting around the city's bus stops.
With our region's leaders now brought to the table like naughty children we may yet see a solution.
In the meantime, Bristol's other transport options don't look much more appealing.
After recent heavy rain, Bristol Twitter was full of videos of people attempting to navigate the flooded east Bristol underpasses. Like an episode of Takeshi's Castle, brave commuters teetered across make-shift bridges of traffic cones, road signs and abandoned Vois.
Whilst enjoyable to watch, the videos speak to years of council inaction on active travel and failure to maintain even the basic infrastructure that we currently have.
Following a protest in October about Bristol's shocking treatment of cyclists, Bristol Cycling Campaign gathered a mighty 3,800 signatures on a petition calling on the council to create and publish a plan for better cycling.
The petition was debated at full council last month and in November Marvin Rees responded…via a blog post which in typical Rees style blames everyone else but him.
Branded 'ridiculous,' 'embarrassing' and 'garbage' on Twitter it's safe to say the blog has not gone down well with Bristol's cycling community. That there will be future protests of the kind we saw in October seems likely.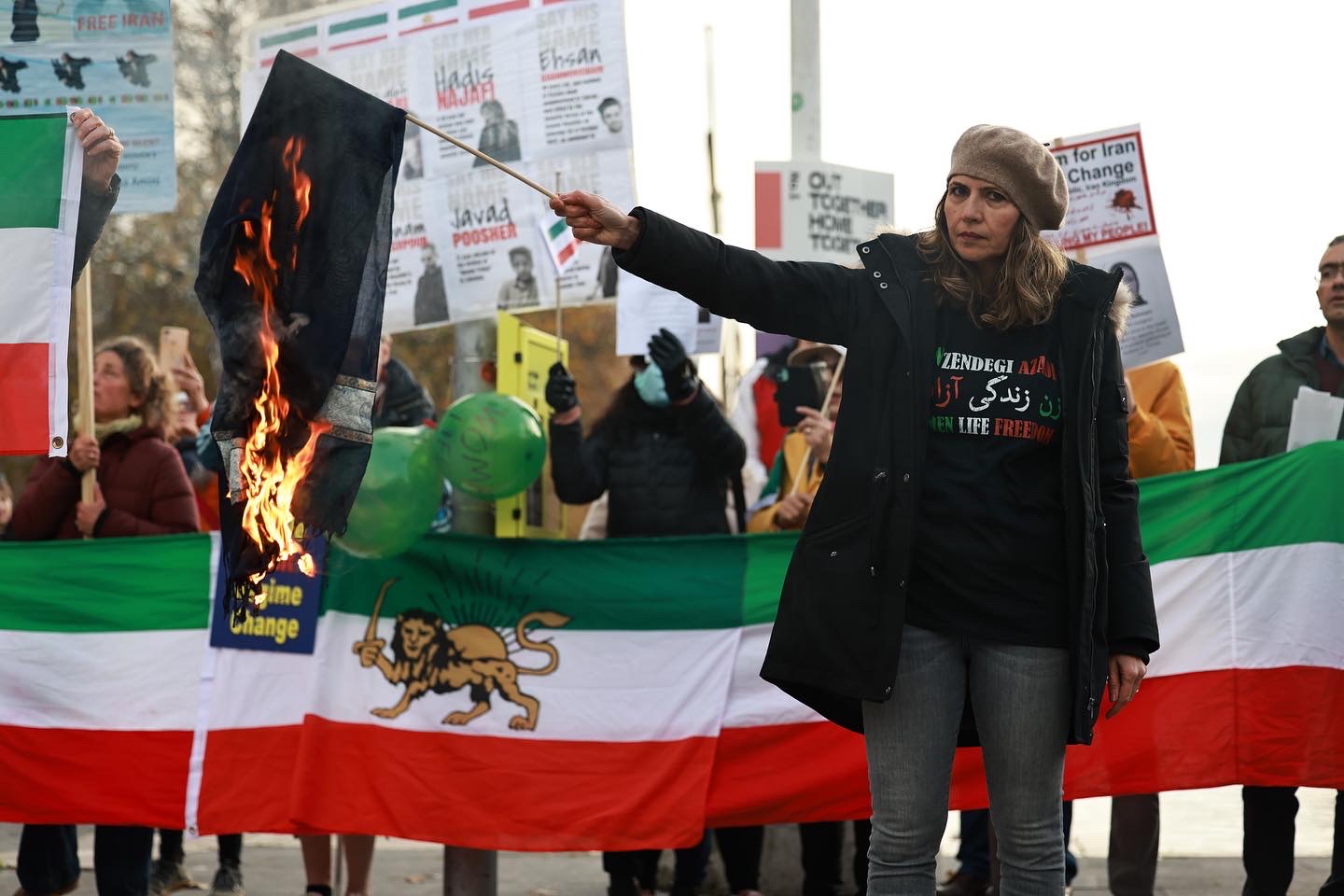 ↑ Image © Wong Yat Him ↑
Looking further afield, groups acting in solidarity with protesters in Iran and Hong Kong were visible on the streets this month.
On Saturday 19, large crowds gathered for a #MahsaAmini demo remembering the 22-year-old Kurdish woman who died, allegedly after being beaten by Iran's morality police for wearing her headscarf improperly.
Her death sparked mass protests in Iran, which were met by harsh repression by police and security forces, resulting in the deaths of hundreds of protesters, including dozens of children.
At the Bristol demo, protesters burned headscarves in symbolic acts of defiance to the strict rule of the Islamic Republic.
The demo coincided with a rally by Bristol Hongkongers who were gathering signatures for their petition calling on Bristol City Council to de-twin with the Chinese city of Guangzhou.
Part of the Global De-twin with China Campaign, the petition remarks that the Chinese government, with its record of human rights abuses, does not correspond to Bristol's own values and that Bristol should therefore sever the relationship.
A similar petition recently resulted in Newcastle City Council detwinning from its own Chinese sister city of Taiyuan.
Next month will see the return of the human rights festival, an afternoon of discussion, song, poetry and learning about human rights, organised by Bristol Peace Vigil.
The festival, on December 10, marks the 75th annual International Human Rights Day and will take place on College Green from 2.30 until 6.30.