Bristol Artist-Led Forum
February 21 @ 6:00 PM

-

8:30 PM

Free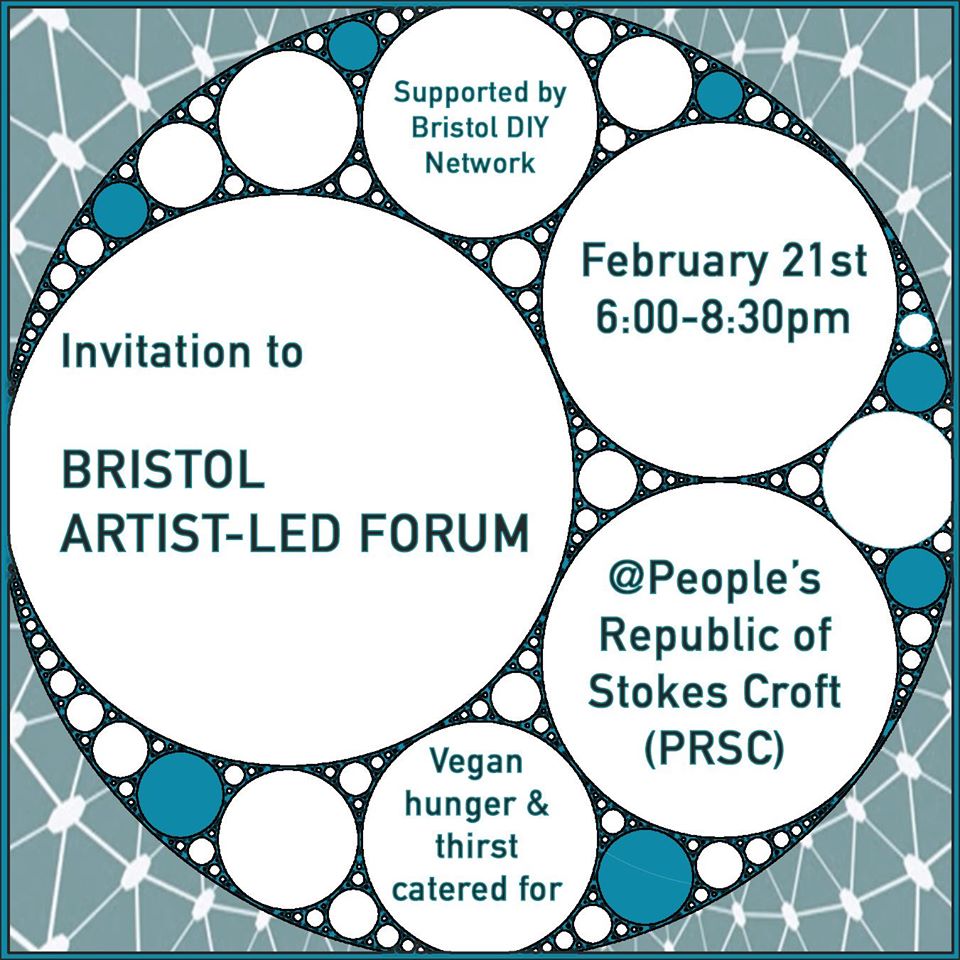 We believe Bristol artist-led initiatives are the vibrant, ever-changing creative energy fueling this city. We also believe the DIY sector would perhaps benefit from a supportive, organised, peer-to-peer network. Keep it Simple and Give to Get is the motto!
We thought we could gather together, Bristol artist-led people, to discuss possible ways to collaborate, and share skills, ideas, and best and worst practices, in order to support each other rather than to compete. Our belief is that we are stronger when we are united, clear in our aims, confident in our shared resources and organised. A key aim of the Forum is to be in collective conversation, and thus in a stronger negotiating position, with local authorities, funding bodies, institutions, and developers, in order to find support and offer high-quality projects, while preserving our vital independence.
This is the first event to get the ball rolling, for us all meet and commune, and to feel into our interests.
Schedule of events:
6.00 – 6.20 Arrival – Networking & vegan meal
6.20 – 6.25 Housekeeping and Intro
6.25 – 6 35 Warm up activity with artist Lisa Friedberg
6.35 – 6.55 Presentation by Laura Bottin
6.55 – 7.20 Channon Goodwin presents All Conference, an example of a successful peer-to-peer artist-led network operating in Australia
7.20 – 7.30 Q&A
7.30 – 8.30 discussion, working groups perhaps and possible action plan
8.30 – 9.15 drinks and music at the venue
A vegan meal will be provided, although we suggest a £2.50 donation to cover costs. We will be running the bar throughout the event, with some music on afterwards.
The event is free to attend, if you're keen to come along, please book your place via Eventbrite so we have an idea of numbers for catering.
We very much hope to see many of you there 🙂
Caroline, Jack, Jenny, Laura, Lisa
Related Events