Release Your Ecstatic Vibe Machine: a Guided Journey through Yoga, Laughter & Voice
Mon 14 June, 2021 @ 5:30 PM

-

7:30 PM

£10-20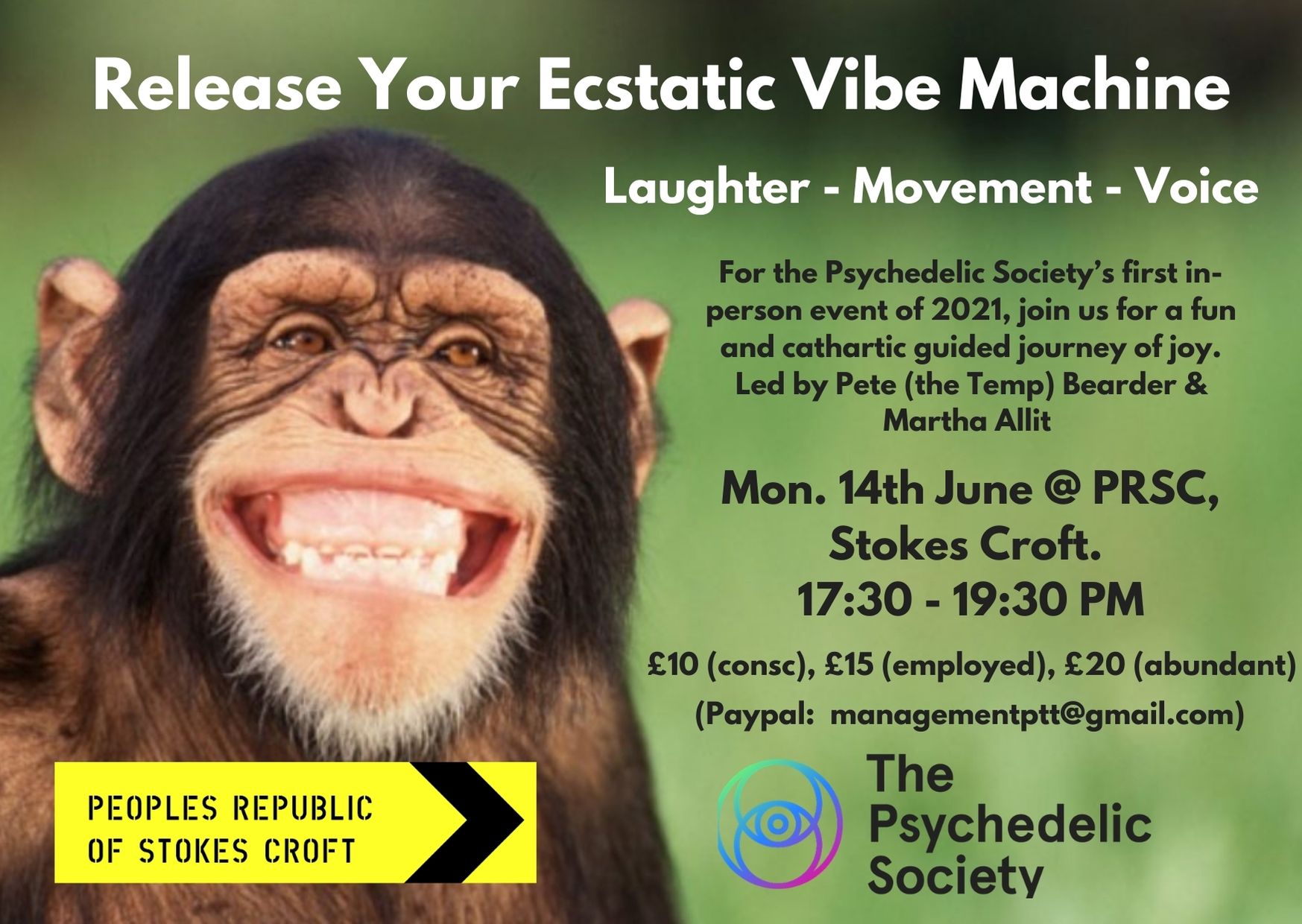 The Psychedelic Society's first in-person event of 2021 will be a fun and cathartic journey through of the body and voice. We invite you to come into a space of connection with one another and with deeper elements of the self, finding expression built on the framework of traditional practices.
We will begin with a grounding meditation and sharing circle, followed by a creative, vinyasa yoga flow to tune into our breath and body, in a dance-like fashion. We will then connect to our center of joy with a laughter practice, and find release through playful vocal exercises.
This adventure will be both revitalizing and profoundly silly. In a space free of judgment, we encourage you to find your inner child as we dance, laugh, and make noise together.
Due to COVID, we require you to bring your own mat and any props.
For Paypal reservations or enquiries contact email hidden; JavaScript is required.
About your facilitators
Pete (the Temp) Bearder: Pete is a poet, singer and comic. His whose work has been featured on BBC Radio 4, The World Service and Newsnight. He is a former National Poetry Slam Champion, and has performed around the world with organisations like The British Council.  Pete is also a mental resilience trainer with Tough Cookie, and teaches Mixed Mental Arts to organisations like the BBC.
Martha Allitt: Martha events coordinator for the Psychedelic Society and a yoga teacher. Her background is in Neuroscience and she is fascinated by the connection between spiritual practice, cognition, and altered states of consciousness, which she has spoken about at various events. She is also a psychedelic journalist for The Psychedelic Renaissance and Way of Leaf, where she produces content on political, cultural, and scientific topics relating to psychoactive substances.
Related Events