Psychedelics the Great Disrupters: The History & Future of Psychedelic Healthcare with Dr Ben Sessa
Tue 6 June, 2023 @ 19:30

-

21:30

£10-20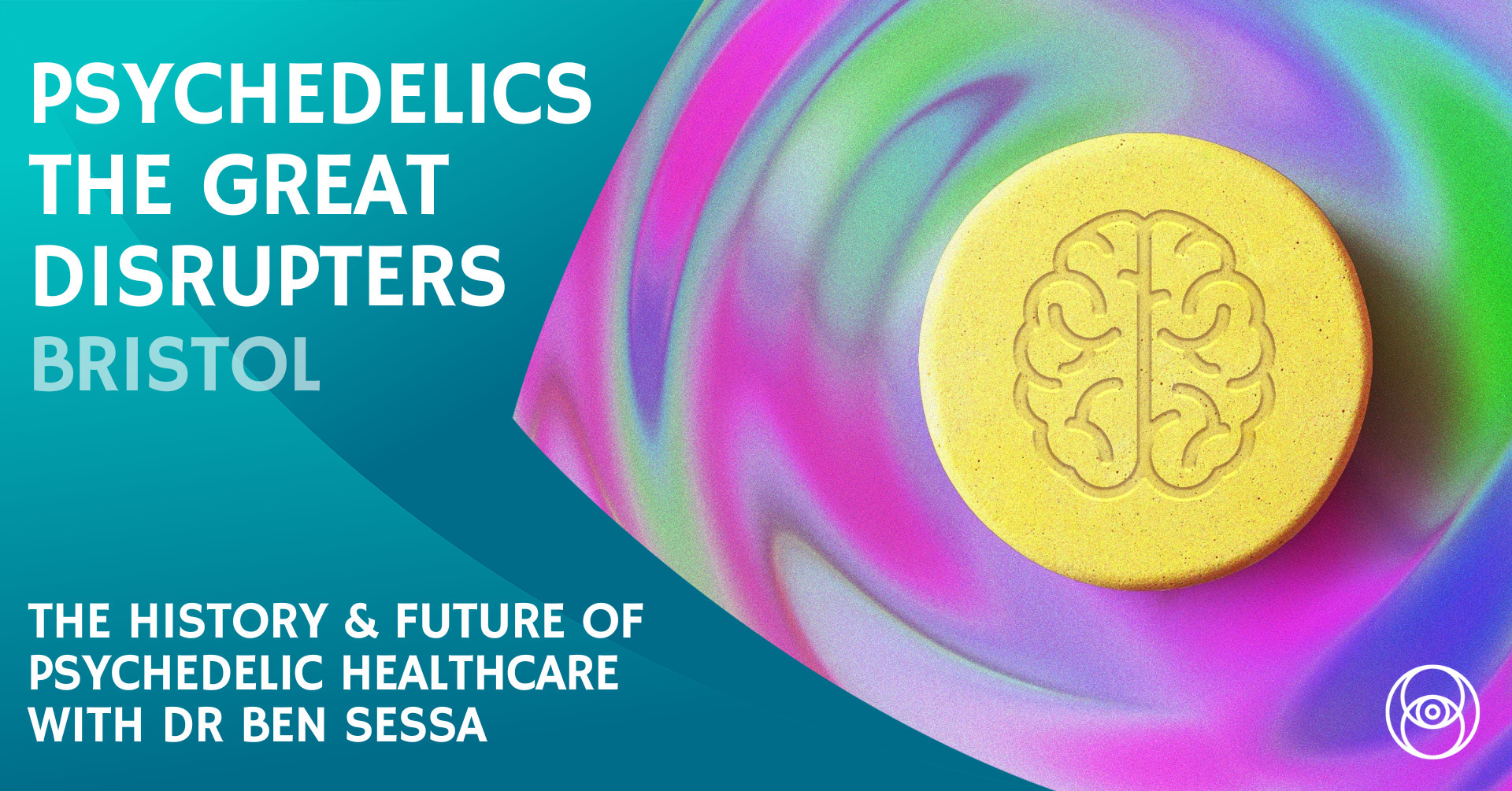 "I remember 15 years ago, 20 years ago, when I was a junior doctor, telling my tutors that I wanted to work in psychedelics, and they said, 'You're crazy. This is career suicide.' Well, I can tell you now: This is not crazy, fringe hippies. This is cutting edge neuroscience. This is cutting edge clinical psychiatry. Every single major clinical research institution in the world now has psychedelic programs running. This is not the fringe." 
– Dr Ben Sessa (2021)
The History and Future of Psychedelic Healthcare
In this upcoming talk and Q&A, Dr Ben Sessa will discuss how and why different psychedelics such as MDMA, ketamine and psilocybin – all of which have different neurobiological profiles and subjective psychological effects – actually have greater similarities than differences when used in a clinical setting.
Underlying these similarities, Ben will describe the traumatic developmental roots of most chronic mental disorders, and will propose that psychedelics, used clinically, are emerging as 'great disrupters' of both traditional psychiatric categorical diagnostic systems, and providing a broad base new approach to treating all trauma-based disorders.
With nearly two decades in the industry, he will also be exploring our current Psychedelic Renaissance, the development of medicalisation of recent years and some challenges that lie ahead for the newly emerging psychedelics healthcare industry.
About Dr Ben Sessa
For over 15 years Dr Ben Sessa has been at the forefront of psychedelic research in the UK through his affiliations with Imperial College London. Ben qualified as a medical doctor from UCL in 1997 and went on to specialise in psychiatry.
For 25 years he has worked as a consultant child and adolescent psychiatrist with young people and adult patients in the field of addictions and trauma-related psychiatry. Ben started studying psychedelics as a junior doctor, and has taken part in research projects at Bristol University, Cardiff University and Imperial College London with LSD, psilocybin, DMT, ketamine and MDMA – receiving and/or administering all of these compounds in legal research settings.
One of the first doctors to develop the field of contemporary psychedelic research in the UK, he is the co-founder of Awakn Life Sciences, a Bio-Tech company carrying out psychedelic research into addictions, with ketamine and MDMA. He was one of the first Medical Cannabis psychiatric prescribers in the UK and is an approved and registered MDMA, ketamine and psilocybin therapist. He has led research into MDMA-assisted therapy for Alcohol Use Disorder and is published widely in the academic and medical press.
Ben is the co-founder and past president of the Breaking Convention conference. He is the author of The Psychedelic Renaissance (2012/2017), the novel 'To Fathom Hell or Soar Angelic' (2015) and Altered States (2021). Ben lives and works in Bristol, UK.
You can learn more about Ben by visiting his website here: www.drsessa.com
The venue doors and bar will be open from 7.30pm for people to arrive, grab a drink and socialise and network with like-minded, psychedelic-interested others before the talk officially begins at 8pm.
Related Events