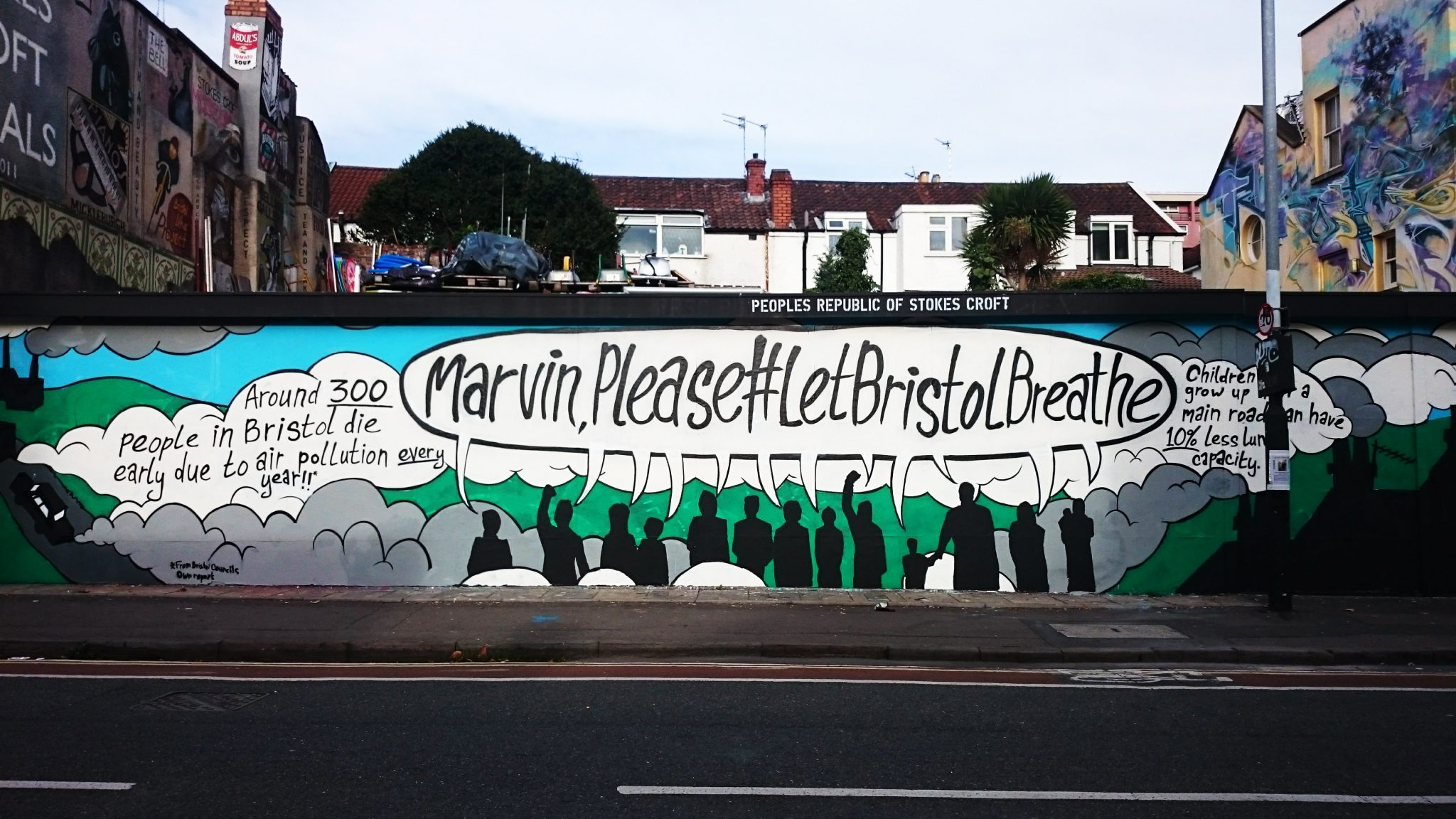 Friends of the Earth, People's Republic of Stokes Croft and Medact call for a clean-up of Bristol's toxic air with the  launch of a series of street artworks.
The campaign will see further air pollution artworks unveiled as the Global Parliament of Mayors Annual Summit takes place in Bristol from 21-23 October 2018.
The artwork on Jamaica Street, in Stokes Croft, depicts Bristolians breathing clouds of pollution with the words "Marvin, #LetBristolBreathe" along with facts about the health implications of polluted air.
Friends of the Earth is calling on the Mayor of Bristol to do everything in his power to protect children's lungs from illegal levels of air pollution and to take bold action to secure clean air for all of Bristol in a fair way.
Mike Birkin, Friends of the Earth's Regional Campaigner for South West England, said:
"Bristol's air pollution has exceeded current legal limits for decades and leads to 300 premature deaths in the city each year. Dirty air disproportionately affects the most vulnerable in society, including young children, older people and those with conditions such as asthma.

"We hope that the Mayor of Bristol will give the city a breath of fresh air by showing real ambition when developing Bristol's Clean Air Plan."
Benoit Bennett, a director at The People's Republic of Stokes Croft said:
"It feels like the city is missing out on so many opportunities to improve air quality and quality of life. Public transport projects could significantly reduce traffic in the city centre, and given the recent IPCC report urging action on CO2 emissions, we could make wins all round – saving lives in the shorter term, and ensuring the planet is habitable in the longer term".
Victoria Stanford of Bristol Medact said:
"As healthcare professionals, we see the damage air pollution does to our patients' health throughout their lifespan. New research has proven that toxic exhaust emissions cross the placenta, affecting foetal development, and we know that air pollution contributes to 36,000 early deaths in the UK every year. This is a public health emergency we must address now to protect the health of our patients and future generations."
This article was originally published on Ethical Marketing News on 22/10/18.