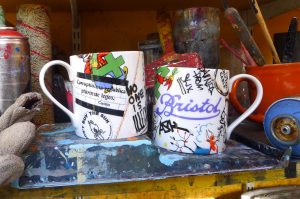 Stokes Croft China is a collective of artists who decorate fine English bone china. As part of its commitment to creating sustainable, local industry, the People's Republic of Stokes Croft (PRSC) launched the Stokes Croft China manufactory back in 2009.
Erasing the boundary between fine art and manufacture, the work comprises a variety of fine bone china pieces, decorated in unlikely ways using salvaged lithographs from a decimated Staffordshire industry.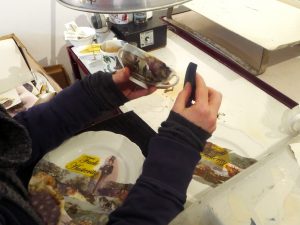 Each piece is unique with fractured designs reflecting the edgy diversity of Bristol's emerging cultural quarter.
All pieces are created by local artists using English ware, and fired in Stokes Croft.
Chris Chalkley, founder of PRSC, was a wholesaler of china and giftware in Bristol for 30 years. When the UK pottery industry collapsed some 15 years ago due to the forces of globalisation, he had the foresight to purchase the equipment and historic print from bankrupt Staffordshire companies, which would make the building of a Stokes Croft-based decorating factory possible. Effectively, Stokes Croft China is like a phoenix from the ashes of the Staffordshire ceramics industry.
"It was a short conceptual leap, in true Stokes Croft style, to take something which is traditionally the preserve of the elite and to use it to produce ware that is anarchic in nature and which generates funds for an organisation that seeks to find alternative, fairer and better ways of doing things," Chris says.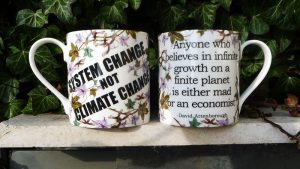 "In a sense, it is like three dimensional collage. The best pieces of work respect the form of the ware whilst the arrangement of print tells a story or expresses an idea, or indeed several. Of course, the nature of the print, both salvaged and manufactured by us, is always an integral part of that expression."
Chris hopes that Stokes Croft China is just at the beginning of the journey. The huge array of historic prints,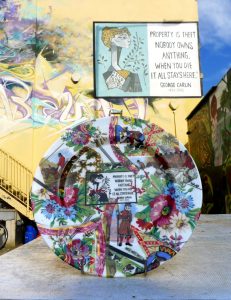 allied to the skills of the decorators and the vibrancy of the cultural scene in Stokes Croft, has created a truly unique phenomenon that straddles the space between product and artwork.
Stokes Croft China continues to grow, producing extraordinary ware with a challenging political agenda, thus creating beauty while also financing the activities of the Peoples Republic of Stokes Croft and getting political ideas onto the tables of our customers. A perfect virtuous circle, where everybody wins.
Profits from the sales of this china will go to Global Justice Now, a democratic social justice organisation working as part of a global movement to challenge the powerful and create a more just and equal world.