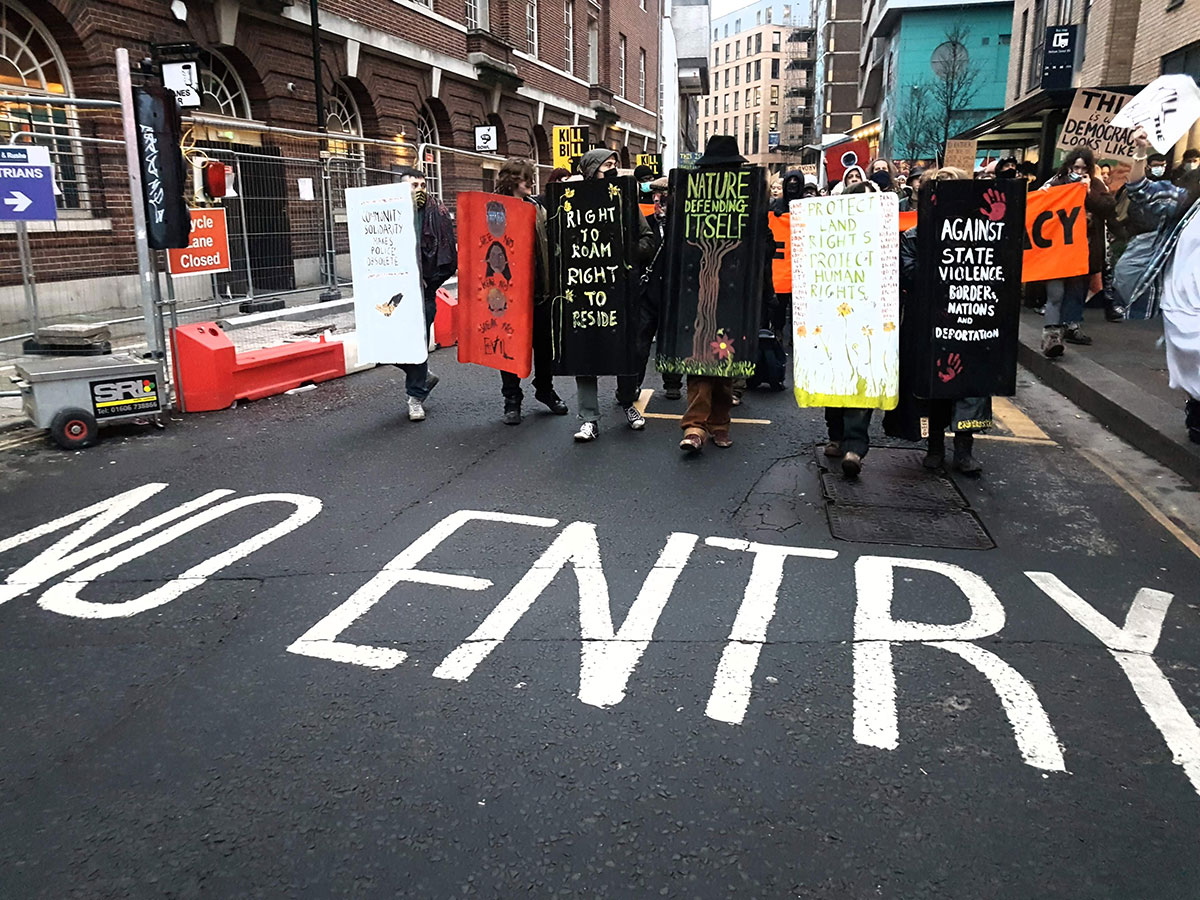 Welcome to 2022 Bristol style. January's not even over and already we've seen: ACORN Bristol take the fight to a rogue landlord – and win; hundreds turn out to Kill The Bill; and a new climate group make their first appearance on Bristol's streets.
ACORN Fightback
We all know the pain of a boiler breakdown in winter. Now imagine your stove doesn't work, there's damp in the walls and your windows won't close properly either. This was the situation faced by Fadumo, who lives with her mother and seven children. She complained to her landlord for three years but got nowhere.
So she joined ACORN, and within weeks the community union organised a mass action against the landlord and over 20 protesters marched on his office. After sustained pressure from ACORN, the landlord has now undertaken repairs to Fadumo's house and given her a month's rent in compensation. A massive win for ACORN and justice for Fadumo.
Kill The Bill
Bristol's first Kill The Bill of the new year came on Saturday 15th, just two days before the House of Lords voted on key aspects of the Police, Crime, Sentencing and Courts Bill.
Hundreds took to the streets against this draconian Bill alongside similar protests in towns and cities up and down the UK.
Anger, fear and frustration were clear to see in protesters' faces. Speakers on College Green at a rally before the march gave voice to these feelings, detailing how the Bill will impact on different communities. Perhaps most powerful were speeches by members of the Traveller community, whose very way of life will be criminalised by the Bill.
The march itself maintained a good atmosphere throughout, even if it was a bit chaotic. There was plenty of chanting, singing, dancing, clowning and even some hula hooping as people of all ages and backgrounds enjoyed the simple pleasure of protesting while they still can.
A ray of hope in dark times, Saturday's march showed that protest and resistance will continue even if the Bill passes. One person at the march said of protesting after the Bill: "It's a scary prospect, but what's the alternative?"
Exactly what protest will look like if the Bill passes is the question that we all need to be asking ourselves now.
Youth Activists Hit The Streets
Finally, Youth Climate Swarm, also on Saturday 15th, saw around 40 youth activists and stewards swarm roads across the city centre.
Swarming, or blocking a road on and off for intervals of a few minutes, is an escalation of tactics from earlier youth movements like Youth Strike 4 Climate and is designed to increase pressure on the government to pay attention and take action.
Youth Climate Swarm targeted four roads: Prince Street Bridge, Redcliffe Street, St Phillips Bridge and Fairfax Street. Unfortunately, whether due to low traffic levels or police intervention, none of the roads were particularly busy and the swarming didn't cause any great disruption or speak with many members of the public.
Still, the large turnout and positive vibes suggest that they will be back again soon for more, and hopefully more disruptive, swarming on Bristol's roads.
Youth Climate Swarm is an activist network, first emerging in London in December. They call on the government to stop all new oil projects, insulate Britain's homes, and provide free transport for all.
The last demand has a particular pertinence in Bristol as free public transport for 16-18-year-olds in 2021 is a stated goal of the One City Plan, one that was never delivered.