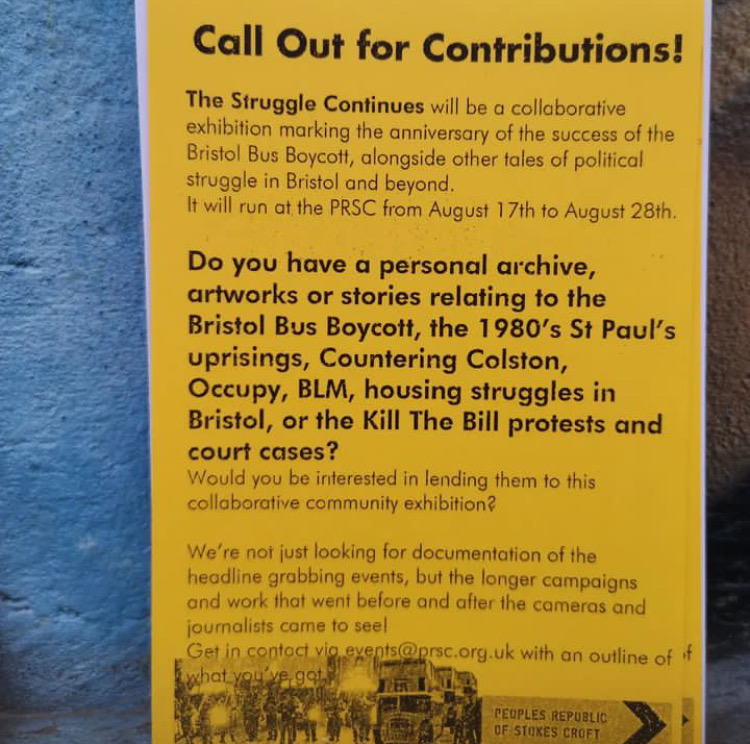 Do you have a personal archive, artworks or stories relating to the Bristol Bus Boycott, the 1980s St Pauls uprisings, Countering Colston, Occupy, BLM, housing struggles in Bristol, or the Kill The Bill protests and court cases?
Would you be interested in lending them to this community exhibition? The Struggle Continues will be a collaborative exhibition marking the anniversary of the success of the Bristol Bus Boycott, alongside other tales of political struggle in Bristol and beyond. It will run at PRSC from August 17 – 28.
We're not just looking for documentation of the headline grabbing events, but the longer campaigns and work that went on before and after the cameras and journalists came to see!
Get in contact via email hidden; JavaScript is required with an outline of what you've got.
The Struggle Continues is a collaboration between the PRSC, @curiosity_unltd, @oshiiblklgt, and many other local artists and activists.