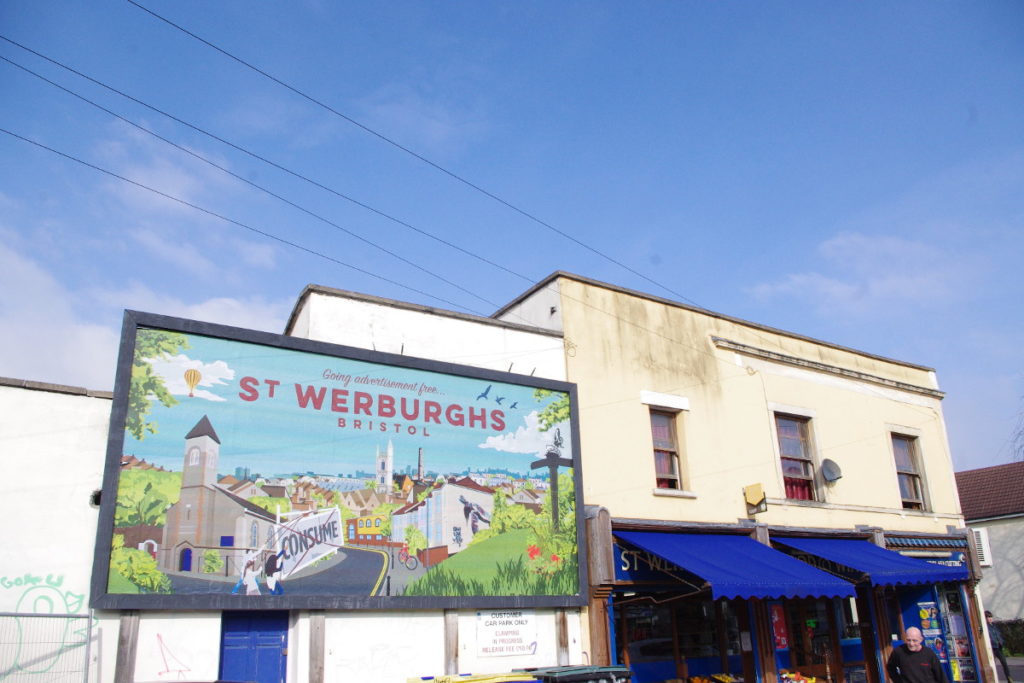 By Nicola – AdBlock Bristol
Our voices are making a difference – by persuading Bristol City Council to hold a debate on advertising in parks, and saying NO to a new digital billboard.
But first… did you know that the amazing residents of St Werburgh's have successfully campaigned to get rid of 6 out of 13 billboards in their neighbourhood in recent years? Residents are now joining forces with artists to celebrate their success in reclaiming public space from advertisers, by installing the first of a series of artworks on this disused billboard on Mina Rd.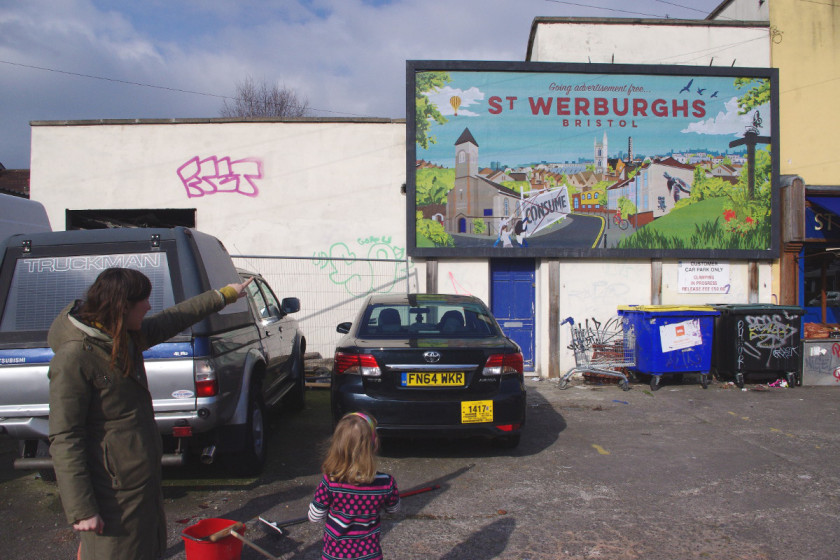 Why not head over to take a look and tweet us a photo @AdblockBristol?
No community consent for billboards
Despite the clear message from St Werburgh's residents, the advertisers (in this case Insite Poster Properties) are persistent. They've put in a second application for a massive digital advertising screen – just down the road from this artwork – which would overlook the M32, despite their original proposal receiving over 60 objections from local residents and being rejected by the council. Get the message, Insite: St Werburgh's doesn't want your billboards! Read more about this story
Billboards have also been successfully removed in recent years from Christmas Steps and St Paul's after local opposition.
You've achieved a council debate!

Massive thanks to everyone who has signed and shared the petition against introducing advertising into Bristol's parks. 3,900 people have now signed, and as a result we are excited to tell you that the council will be debating the issue at their next full meeting on 20 March.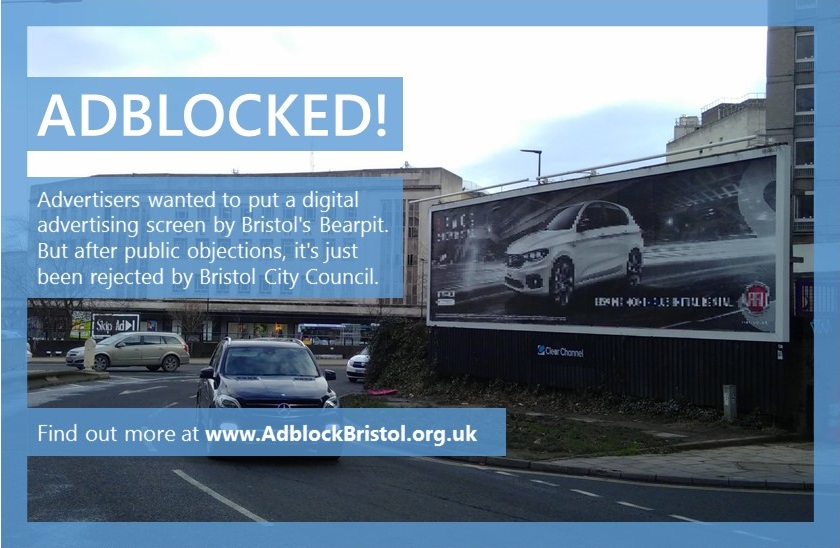 Many of you submitted objections to the proposal to replace a billboard near the Bearpit with an even more intrusive digital billboard. Well, we're pleased to confirm that the application has been rejected by the council. What's more, we now know that the existing billboard does not even have permission and the council have said they are going to remove it.
People power! Great work everyone.
Meetings and events
Our next monthly organising meeting is Wednesday 7 March, 7pm at St Paul's Learning Centre, 94 Grosvenor Rd, Bristol, BS2 8XJ. All welcome.
Easton and Lawrence Hill residents: join us at the Festival of Solutions on Saturday 24 March, organised by Up Our Street. Book your place
BS3 residents: join us for an Adblock BS3 meeting: Monday 12 March, 7pm at The Hare on North Street. Email me if you'd like more information, or just turn up to the meeting.
Thanks for reading!
Nicola
Adblock Bristol