Outdoor Rolling Exhibition
December 2, 2017 @ 12:00 pm

 – 

December 23, 2017 @ 6:00 pm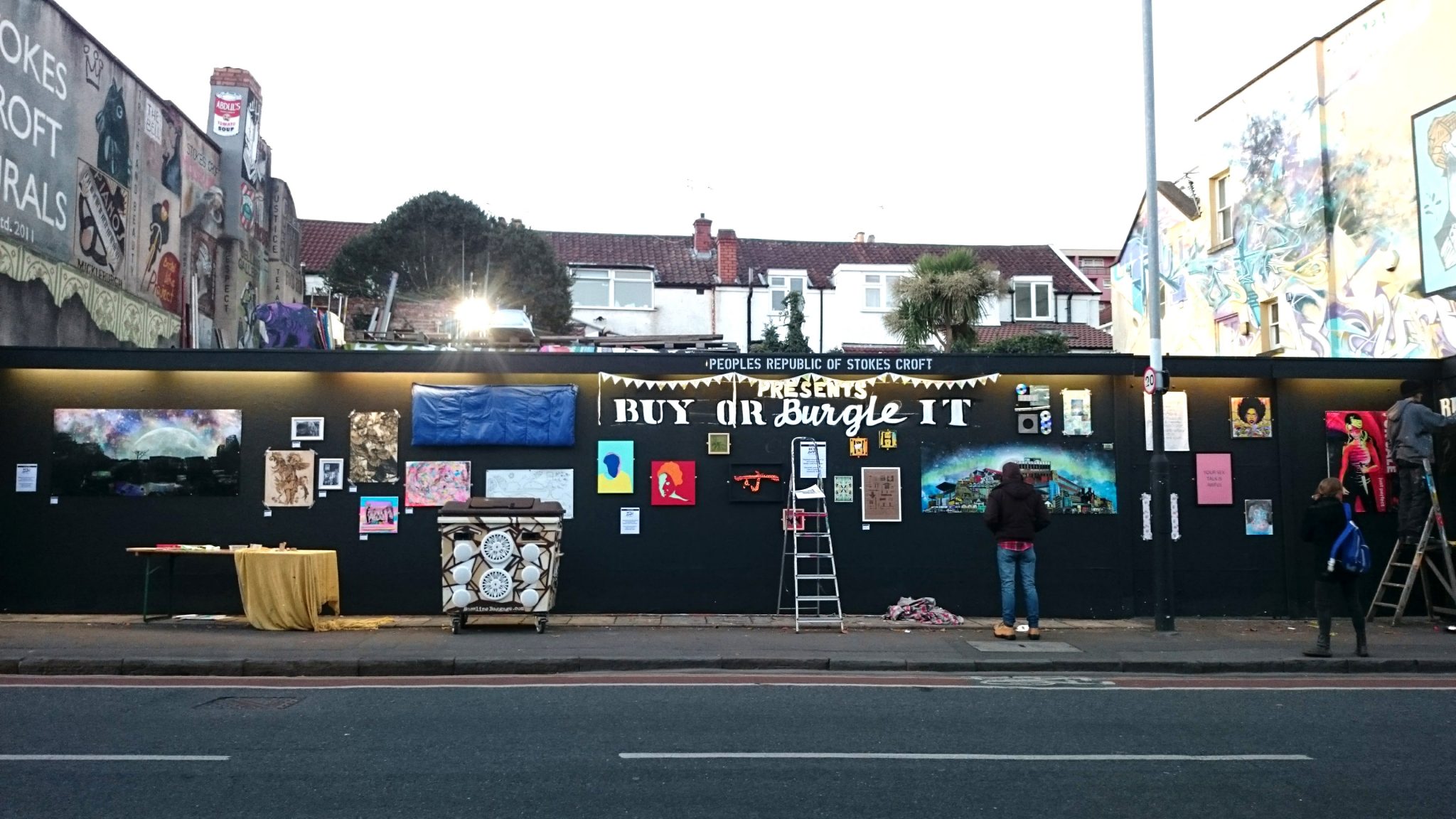 The outdoor rolling exhibition Buy or Burgle It on Jamaica Street wall ran throughout December from Saturday 2nd until the 23rd. The exhibition changed daily, thus creating a rolling exhibition.
Buy or Burgle It was designed to provide an outlet for aspiring and established artists to showcase and sell their work, and to offer to the public the opportunity to purchase artworks at an affordable price. Displayed artworks could be purchased at the Stokes Croft China shop.
As well as providing a canvas for artists to exhibit their work and experiment with weatherproof techniques, the outdoor gallery aims to give local communities and passers-by a sense of ownership of the public space, challenging established ideas of private property and commercial enterprise. Hanging the work outside will mean it is vulnerable to vandalism and theft. Trust and respect are therefore central elements of this exhibition.
Artists taking part to Buy Or Burgle It are: Alpha Wilson, Annie Lilygreen, Ben Hartley, Benoit Bennett, Hannah Anderson, James George, Jill Eastland, Justin Quinnell, Lara Luna Bartley, Pablo Teresa, Phoebe Tye, Rebecca Hiscocks, Ruby Fleming, Wistful Horizons, Shaun Harrigan, Tudor Titzoiu, Thomas Eastland and Xavier Roy.
More info on the events page: https://prsc.org.uk/event/buy-or-burgle-it-outdoor-247-rolling-exhibition/
SPACE Open – Part I. Celebrating PRSC people, tenants and friends
December 9, 2017 @ 12:00 pm

 – 

December 23, 2017 @ 6:00 pm

In December the Peoples Republic of Stokes Croft (PRSC) presented its exhibition SPACE to celebrate, showcase and promote local creative talent close to PRSC hosting a lively month of exhibitions and events.
We invited PRSC people, tenants and friends to take part in a two – week exhibition and a series of events which we will run throughout December. SPACE Open celebrates the creative heartbeat around PRSC, showing to the public who we are and what we do.
SPACE Open was configured to host a group exhibition showcasing different artforms such as prints, paintings, sculptures, objects, English bone china ware, made by creative talent around PRSC. Besides the exhibition, a series of workshops, talks, screenings and more, open to anyone will take place as a chance to share ideas and skills with the public over mince pies and mulled cider.
PRSC is home to 12 artist studios, The Bristol Cable, and the Stokes Croft China workshop with over 16 local artists who design unique fine English bone china ware on a voluntary basis, sold in our Stokes Croft China Shop. Our friends are local artists and arts organisations, publishers, volunteers, independent newspapers, campaign groups and creative businesses, among others.
List of people involved in SPACE Open are artists Bev Milward, Chris Chalkley, Clare Andrews, Georgie Wood, Lisa Furness, Mark Cranfield, Scot Burgoyne and object … This exhibition also includes the PRSC Team, Stokes Croft China artists, The Bristol Cable, AdBlock Bristol and Jacknife.
More info on the events page: https://prsc.org.uk/event/space-open-part-i/