A Way of Life – Bristol Premiere.
Friday 15 June, 2018 @ 19:00

-

22:00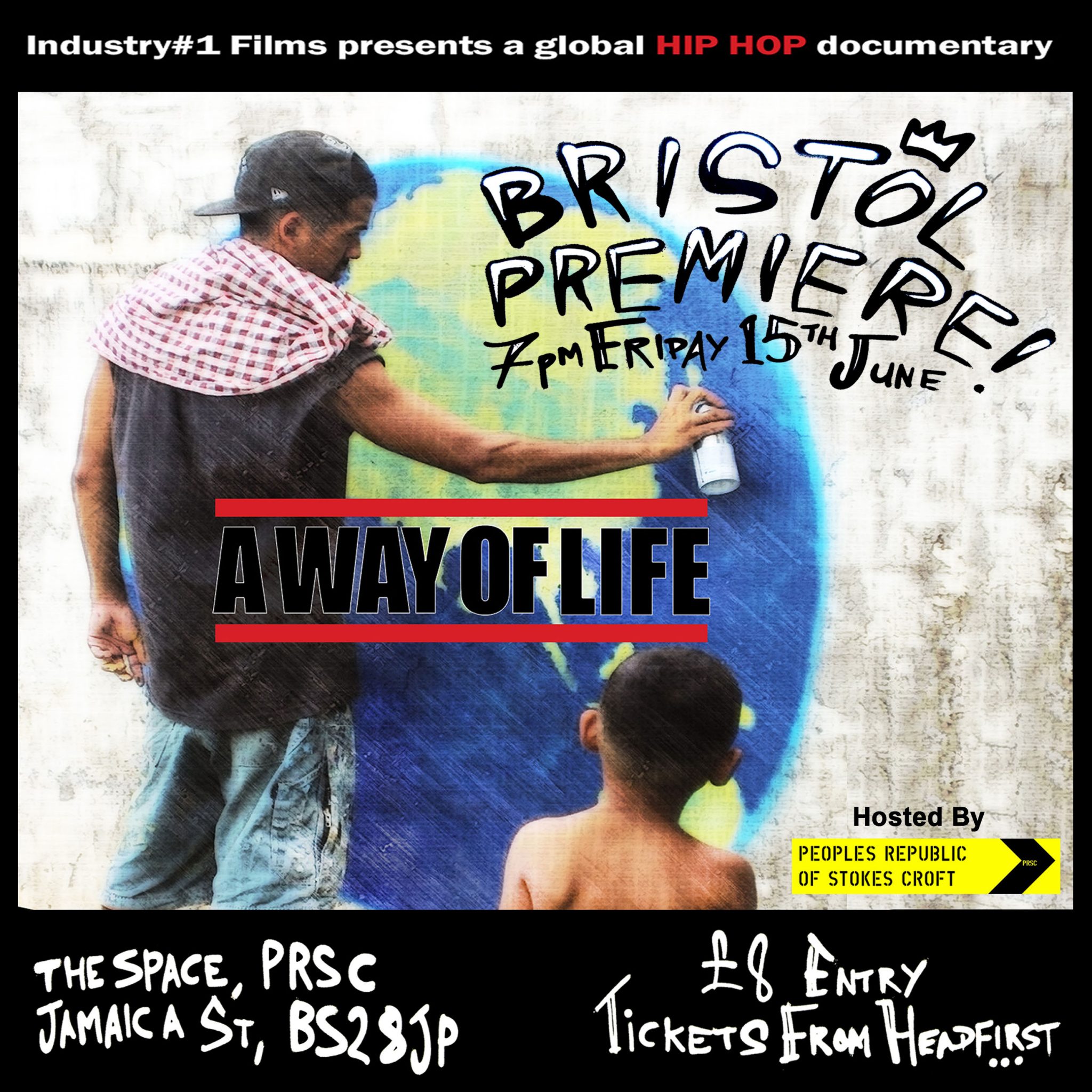 A cinematic journey through the world of global Hip Hop.
"Hip hop is a basic attitude against oppression, the attitude that my voice isn't being heard, and I'm going make my voice heard no matter what, that goes across all races of people, all cultures" – KRS-One (USA)
PRSC and Industry#1 Films present the Bristol premiere screening of A Way of Life – a documentary celebrating global Hip Hop culture. With a DJ dropping beats, b-boys and b-girls cutting shapes, and paint spattered graff writers drawing on the walls, this night will be a joyous Bristol flavoured celebration of all things Hip Hop.
Places limited so book early. Tickets £8 via Headfirst.
About the movie: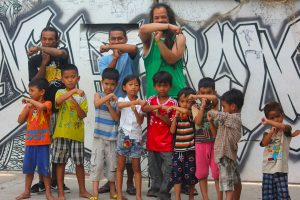 'A Way Of Life' gives prominence to a culture that has gone beyond music, providing an accessible platform of expression for millions of people across the globe.
Shot over a span of two years in 15 locations worldwide 'A Way Of Life' explores Hip-Hop culture from music to graffiti, beat boxing and break-dancing.
The film charts Hip-Hop's progression through it's near 40 year existence from an underground subculture of New York "Bronx",
Highlights include Brazilian artist Emicida being arrested for performing his social, political song HipHop; the Ghanaian Hip Life scene; and Hip Hop being used to teach English and life skills in Cambodia.
Interviews include up and coming as well as established artists such as KRS One (USA), Skinnyman (UK), Jeru The Damaja (USA), Marcelo D2 (Brazil), Lord Finesse (USA) & Big Narstie (UK) illustrating their talent, background & the socio-cultural environments that influence their music.
"A Way Of Life is a life-affirming look at the origins & universality of hip-hop culture. The editing style & interview settings match the boot-strap nature of hip-hop itself. It is an education for the new arrivals to the scene & a heart-warming re-acquaintance for the long-time aficionados. It captures the love." Whizz – London
"The most insightful and beautifully shot piece of film making on Hip Hop culture I have come across" Wordplay Magazine
"Definitely needs to be seen" Mys Diggi aka Mystro
"A new documentary seeks to shed light on the evolution of the culture
into a worldwide consciousnesses" XXL Magazine
Featured Countries
Australia / Brazil / Cambodia / Cuba / Denmark / Egypt / France / Germany / Ghana / India / Japan / Malaysia / Netherlands / Norway / Poland / Spain / Switzerland / Syria / UK / USA
Featured Artists
Big Narstie / Skinnyman / Masta Ace / Foreign Beggars / Jeru The Damaja / Stig of the Dump / Dead Prez (M1) / Krs One / Lord Finesse / Reverie / Gavlyn / Saigon / Marcelo D2 / Homeboy Sandman / Onyx / Doppelgangaz / Joe Flizzow / Sona One / Brainpower / Omar Offendum / Shay Rock (Maikal X) / Felix De Luca (Verb Ink) / King I Devine / Tommy Tee / Don Martin / Smith N Smart / VNM / Steffe La Cheffe / The Narcicyst / Bobbito Garcia / Emicida & many more…
Biographies
Industry #1
Industry #1 is an independent production company that uses film, music and art to entertain, inspire and educate its audience. Began in 2006 as an online platform to launch and promote artists from around the globe. The website showcased global Hip-Hop talent, featuring interviews & live reviews, before expanding to curate their own films and events. In 2013 Industry Number1 put together a number of global Hip Hop festivals in London and Geneva, Switzerland. The project took its present guise in 2012 as filming began for 'A Way Of Life' Global Hip Hop documentary.
Shibe Alawiye (Director, Producer, Editor)
Shibe Alawiye has been working in film production and broadcast for almost a decade, beginning his career as runner at Crow TV. He then went on to created his own production company Camerashai providing filming and editing services for films, documentaries and promos. Shibe was an editor for the BBC at Bestival and won Best Newcomer Award in 2006 at the Portobello Film Festival for his short film Our Fate, which led him on to creating, editing and producing the feature length documentary "Makers Our Story" released in both the US and UK.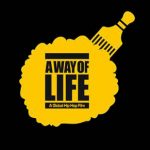 Andre Hopkin (Producer, Writer, Researcher
Andre's background is predominantly marketing, promotion and analytics. His journey started with a BA in Computer Science achieved at the Polytechnical University College in Stavanger. He then developed web based marketing and e- commerce solutions for various companies focusing with sales and analytics. In the last couple of years Andre has been setting up the Industry #1 site whilst filming at various events and festivals that have contributed to 'A Way Of Life' Global Hip-Hop documentary.