Break The Image
Sunday 11 November, 2018 @ 14:00

-

22:00

2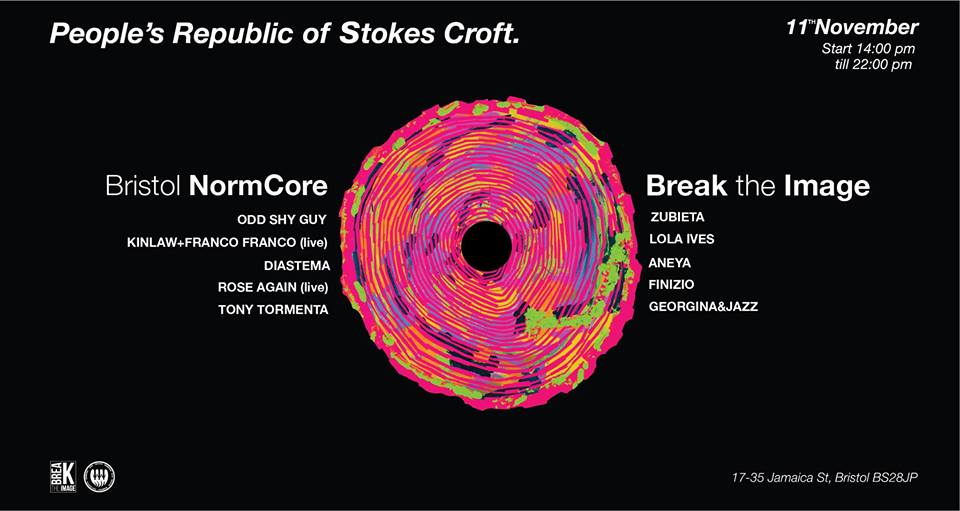 The very first event of the Bristol based collective of artists Break the Image, will offer you a unique experience into the creativity and art making of different passionate art practitioners.
The collective, formed by artists belonging to art fields of any kind, works on the idea to gather people together through the unification of art and music. And that's exactly what you will find once stepped into our extravagant, vibrant, creative venue:
6 artists will show their incredible talent through different performances such as live painting/drawing/art costume making, while a group of music performing artists will sparkle up the creativity with flawless grooves, lo-fi moods and underground dance floor shakers.
Artists involved:
-Zubieta
https://www.martazubieta.com/
-Lola Ives
https://lolaivesart.portfoliobox.net/
-Aneya
https://www.instagram.com/aneya_/
-Finizio
-Georgina Murray
https://www.georginamurrayart.co.uk/
-Jazz Potter
https://www.instagram.com/jazz_potter09/
AUDIO POWERED BY BRISTOL NORMCORE
—————————————————————–
´´´´´´´´´´¶¶¶¶¶¶¶¶¶¶¶¶¶´´´ ODD SHY GUY
´´´´´´´´¶¶´´´´´´´´´´´´´´¶¶´´´´
´´´´´´¶¶´´´´´´´´´´´´´´´´´´¶¶´´´´´
´´´´´¶´´´´´´´´´´´´´¶¶¶¶¶¶¶´´¶´´´´ Obscure object from some
´´´´¶´´´´´´´´´´´´¶¶¶¶¶¶¶¶¶¶´´¶´´´´ Night Life
´´´´¶´´´´´´´´´´´´¶¶¶¶¶¶¶¶¶¶¶´¶´´´´
´´´´¶´´¶¶¶¶¶¶´´´¶¶¶¶¶¶¶¶¶¶¶¶´¶´´´´
´´´´¶´´¶¶¶¶¶¶¶´´´¶¶¶¶¶¶¶¶¶¶¶´¶´´´´
´´´´¶¶´¶¶¶¶¶¶¶´´´¶¶¶¶¶¶¶¶¶´´¶¶´´´´
´´´´´¶´´´´´´´´´´´´´´´´´´´´´´¶´´´´´
´´´´´´¶´´´´´´´´´´´´´´´´´´´´¶´´´´´´
´´´´´´´´¶¶´´´´´´´´´´´´´´¶¶´´´´´´´´
´´´´´´´´¶¶´´´´´´´´´´´´´´¶¶´´´´´´´´
´´´´´´´´¶´´´´¶´´¶´´´¶´´´´¶¶´´´´´´´
´´´´´´´¶¶¶¶¶¶¶¶¶¶¶¶¶¶¶¶¶¶¶¶¶´´´´´´
https://www.youtube.com/watch?v=PLkwCtU0LCI
KINLAW + FRANCO FRANCO (LIVE)
▀█▀░▄██▄██▄░▄▄▄▄▄░▄░░░▄░▄░▄▄░░▄░▄▄▄▄░▄▄▄▄░
░█░░▀█████▀░█▄▄▄▄░█▄▄▄█░█░█▀█░█░█▄▄▄░█▄▄▄░
▄█▄░░░▀█▀░░░▄▄▄▄█░█░░░█░█░█░░▀█░█▄▄▄░█▄▄▄░
PARENTAL ADVISORy EXPLICIT CONTENT
PARENTAL ADVISORy EXPLICIT CONTENT
PARENTAL ADVISORy EXPLICIT CONTENT
https://www.youtube.com/watch?v=HxLdclo7PmI&feature=youtu.be
————————————— ╘T█▓T╛
——————————————]█▓[
——————————————]█▓[
——————————————]█▓[
——————————————]█▓[
——————————————]█▓[
——————————– ╘╗____╔╝█▓╚╗____╔╛
————————۞]═══╬|▓▓▓║DIASTEMA║▓▓▓|╬═══[۞
———————————┌╜‾‾‾‾╚╗░▒╔╝‾‾‾‾� �┐
——————————————║░▒║
——————————————║░▒║
——————————————║░▒║
——————————————║░▒║
actively contributed to the growth of that scene for more than a decade.
https://soundcloud.com/user-389202655/diastema-001/s-H3Fki
_ _ _ _ _ _* * *_ _ _ _ _ _* * *_ _ _ _ _ _
_ _ _* * * _ _ * * *_ _ * * * _ _ * * *_ _ _ _ _ _
_ _* * *_ _ _ _ _ _* * *_ _ _ _ _ _* * *_ _ _ _ _ _
_* * *_ _ _ _ _ _ _ * * _ _ _ _ _ _ _ * * *_ _ _ _ _ _
* * *_ _ _ _ _ _ _ ROSE _ _ _ _ _ _ _ _* * *_ _ _ _ _ _
_* * *_ _ _ _ _ _ AGAIN _ _ _ _ _ _* * *_ _ _ _ _ _
_ _* * *_ _ _ _ _ _ _ _ _ _ _ _ _ _ * * *_ _ _ _ _ _
_ _ _* * *_ _ _ _ —— _ _ _ _ _* * *_ _ _ _ _ _
_ _ _ _* * *_ _ _ _ –_ _ _ _* * *_ _ _ _ _ _
_ _ _ _ _ _* * *_ _ _ _ _ _* * *_ _ _ _ _ _ _
_ _ _ _ _ _ _* * * _ _ _ * * *_ _ _ _ _ _ _ _ A synthesizers aficionado
_ _ _ _ _ _ _ _* * *_ _* * *_ _ _ _ _ _ _ _ _ _ _ _
_ _ _ _ _ _ _ _ _ * * ; * *_ _ _ _ _ _ _ _ _ _ _ _ _ _ _
_ _ _ _ _ _ _ _ _ _* * *_ _ _ _ _ _ _ _ _ _ _ _ _ _ _
_ _ _ _ _ _ _ _ _ _ _*_ _ _ _ _ _ _ _ _ _ _ _ _
https://www.youtube.com/watch?v=UeQ-KQ2R-0I
█████
""´´████████´
´´´´´███▒▒▒▒██
….´´´███▒●▒▒●▒██.
´´´´███▒▒▒▒▒▒██
……´´´´████▒▒♥▒▒██´
´´´██████▒▒███´
´´██████▒▒▒▒███´
´██████▒▒▒▒▒▒███´ TONY TORMENTA
´´▓▓▓▓▓▓▓▓▓▓▓▓▓▒.
´´▒▒▒▒▓▓▓▓▓▓▓▓▓▒.
´.▒▒▒´´▓▓▓▓▓▓▓▓▒
´.▒▒´´´´▓▓▓▓▓▓▓▒▒▒██▒██▒
..▒▒.´´´´▓▓▓▓▓▓▓▒▒█▒▒█▒▒█▒
´ ▒▒▒▒▒▒▒▒▒▒▒▒▒▒█▒▒▒▒▒▒█▒
´´´´´´´´´███████´.▒█▒▒▒▒█▒
´´´´´´´´████████´▒▒▒█▒█▒
´´´´´´´█████████´▒▒▒▒█▒
´´´´´´██████████´´´´´´´
´´´´´´██████████´
´´´´´´´█████████´
´´´´´´´█████████´
´´´´´´´´████████´ Beatmaker still grindin'
__________▒▒▒▒▒
___________▒▒▒▒
___________▒▒▒▒
__________▒▒_▒▒
_______ _▒▒__▒▒
_______ ▒▒___▒▒
_______▒▒___▒▒
______▒▒____▒▒
_____▒▒_____▒▒
___███______▒▒
__█_███____███
__█__███__█_███
_____________█__███
https://tonytormenta.bandcamp.com/track/city-lights
Related Events