Peoples Art Fair – Winter Edition
December 4 @ 6:00 PM

-

December 20 @ 6:00 PM

Free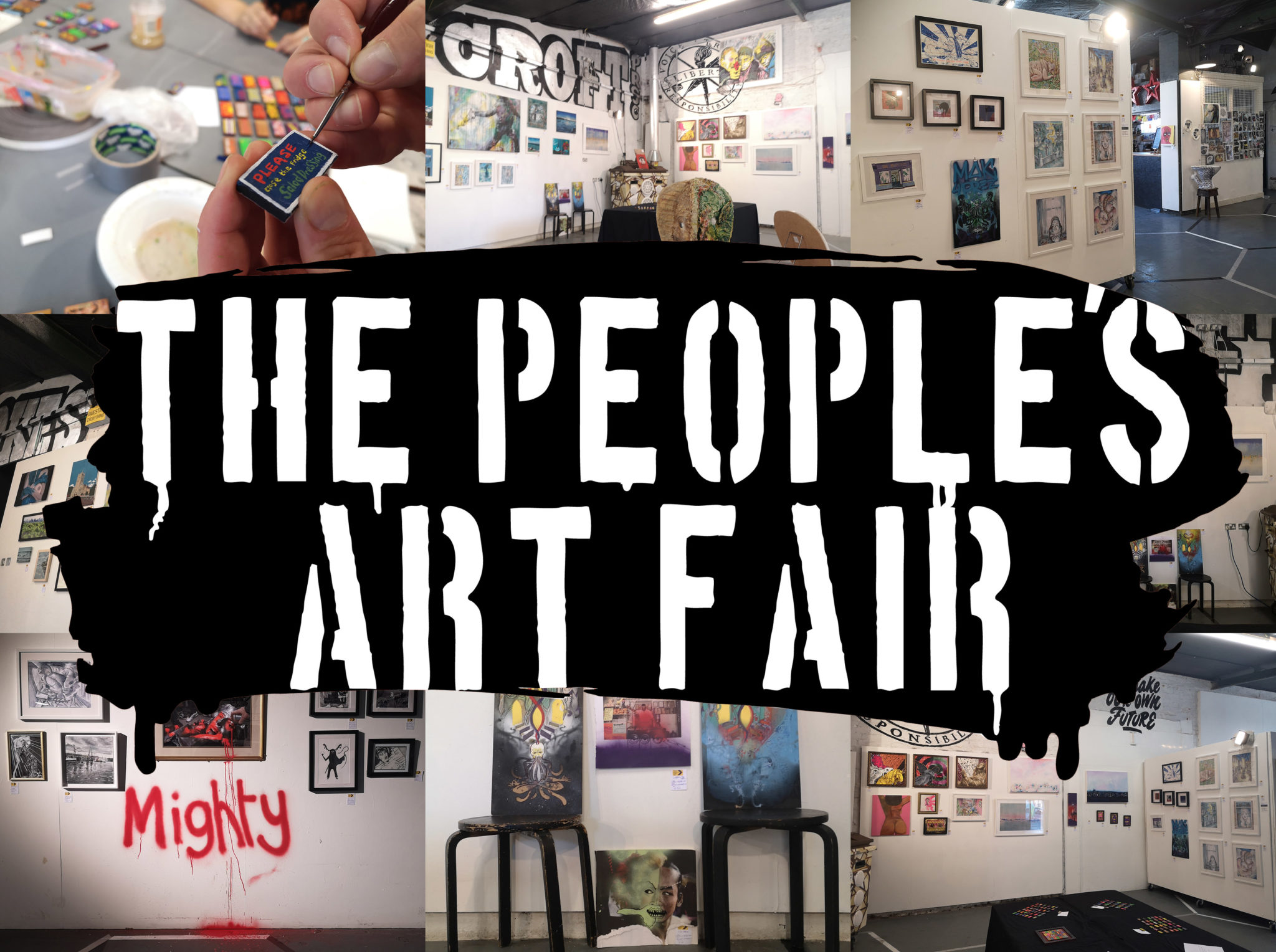 The People's Art Fair is back!
In real life at the PRSC, online or both, lockdown depending.
In the bleak mid-winter with the cold nights drawing in, Bristol in lockdown, a global pandemic rolling through our communities, Brexit on the near horizon, economic collapse looming from every side and a tory government barely holding things together, those of us not out grouse shooting or visiting Barnard castle need to bring a little colour and magic back in our lives.
The People's Art Fair Winter Edition brings together forty amazing artists, ready to dazzle you with their work. The closed doors of lockdown this year have hidden a frenetic world of quiet creativity, and these creations are now ready to spill out into the world. Featuring spray paint, collage, photography, cyanotype, stencils, bone china, metal work, dominoes, paper sculpture, acrylics, clay, lino cuts, illustration, screen print, glass painting, fairy lights, beeswax, biro ink and various weird trinkets found on the floor, as always the People's Art Fair brings you a cornucopia of visual art to suit every taste and temperament.
The People's Art Fair is a platform and celebration of local creativity, featuring established Bristol artists alongside bright young talent exhibiting for the first time, and with pieces celebrating everyday beauty; or exploring issues of race or gender; challenging power dynamics; or capturing a fantasy on canvas, this show is guaranteed to offer up something for everyone.
Artists: Alfa, Amy Vans, Annie Rose, Badgrl Ruru, Beautiful Things in Foreign Lands, Bev Milward, Britta Glass Art, Cassidy Grace, Charlotte Harris, Colin Moody, Dan Petley, Daniel Jones, Disphoria Art, DNT, Domino Project, Extempore Art, Gazu, Georgie, gHOSTbOY, Hola, Kat Hall, Kes Draws Fights, Klaudia Guzak , Lazulimoon, Lee Ellis, Lisa Furness, Lisa Travers, Lyndsay Grant-Muller, Maryem Meddeb, Mez, Mr Sleven, Object…, Octopus Odyssey, Oshii, Phil Constable, Raluca Bobis, Rocio E Bucheli, Stella Macarthur, Stokes Croft China, Zamzam, Zed in the Clouds, Zlyzab and more.
NB – If we are allowed:
– we will have a physical exhibition opening 6pm-9pm on Friday Dec 4
– The Space, PRSC, 17-35 Jamaica Street, BS2 8JP
– we will attempt to open every day 12-6pm Dec 5 to Dec 20
– at least one late opening Thursday
– Domino painting workshops will be scheduled
– a prints and cards shop will be set up.
– Details and updates will be released on this page as the law is known.

Artists L to R, Rocio E Bucheli, Lisa Travers, Phil Constable, Bev Milward, Object…
Related Events