Naomi Klein visited Bristol on 1st July 2017 during the Festival of Ideas for the much anticipated talk about her new book: 'No is not enough. Defeating the new Shock Politics'.


Naomi Klein's activism
Other books by the award-winning journalist and bestselling author:
No Logo: Taking Aim at the Brand Bullies (1999) focuses on branding and alter-globalisation;
The Shock Doctrine: The Rise of Disaster Capitalism (2007) addresses the deliberate strategy of 'shock therapy' on the exploitation of national crises to push through unpopular policies;
This Changes Everything: Capitalism vs. the Climate (2014) tackles the most profound threat humanity has ever faced: the war our economic model is waging against life on earth. 
Klein's new book No is Not Enough is one attempt to uncover how we got to this surreal political moment. It is also an attempt to predict how, under cover of shocks and crises, it could get a lot worse. And it's a plan for how, if we keep our heads, we might just be able to flip the script and arrive at a radically better future.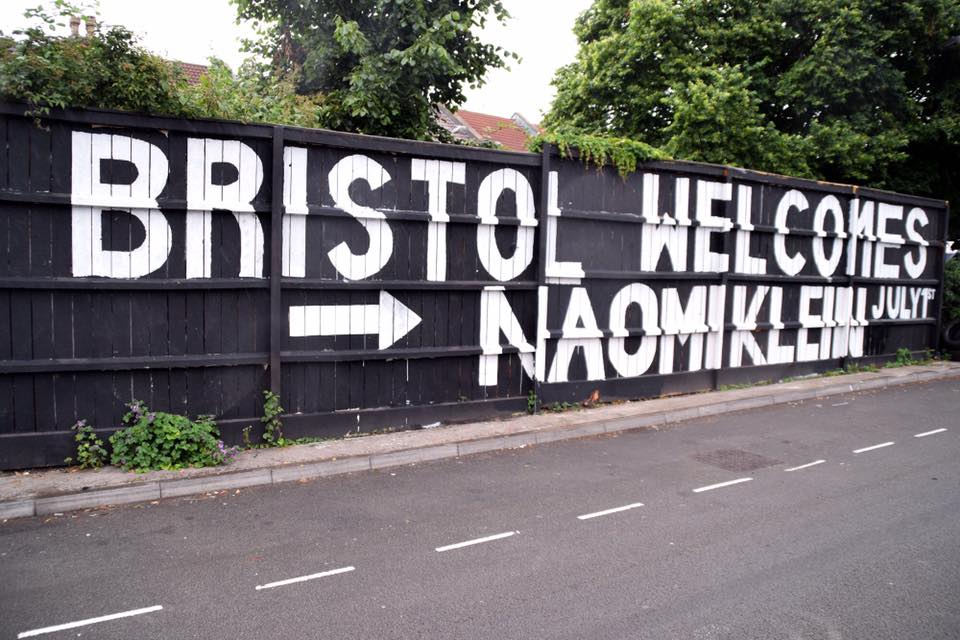 No is Not Enough: publisher's page.
No is Not Enough: review.
The book ends with a document called The Leap Manifesto, drawn up by Canadian activists in 2015, a "platform without a party", which is a powerful statement of alternative principles that feels as though it needs a thread to connect it to today's largely defensive struggles.
Naomi Klein projects by PRSC
Bristol Green Fringe 2015: Eco-Book sale/rent;
Bristol Green Fringe 2015: Mural 'System Change not Climate Change';
Book Offer No is Not Enough;
Gatton Road Wall, painted by Benoit and Osh on 29 June 2017. The wall was mentioned at the Bristol Festival of Ideas.
See Naomi Klein's whole talk here (the Gatton Road wall is mentioned at 0'40):