Boycott Tesco Website Launches…
December 20, 2010
After the shameful lack of courage shown by our planners and City Councillors, it appears that Tesco have gained official permission to open a branch in Cheltenham Road, on the Stokes Croft/ Montpelier border. They still do not have permission for a liquor licence, and there is a possibility of a challenge by Judicial Review.
However, if Tesco does open in Stokes Croft, the battle is not over. Stokes Croft is our Cultural Quarter: an area defined by its local culture, and by the confluence of people with radical ideas. If Tesco decide to open, with an overwhelming local opposition, then we must ensure that Tesco, and the devious methods employed by Tesco, do not prosper. In order to do this it seems appropriate to launch a measured response. The issues that confront Stokes Croft apply globally. Therefore, the No Tesco campaign must become the "Boycott Tesco" campaign, publicising the unsustainable methods and business practices, encouraging locals everywhere to back their local food suppliers. At the same time we must work to offer alternative models for food sourcing, for ourselves, and for everybody.
---
Tesco attacked during Riots of Thursday 21st April
May 2, 2011
Tesco opened their new store with a strong security presence in Stokes Croft despite massive local opposition in mid April. On Thursday 21st April, Police suspected that people in the Telepathic Heights squat opposite were preparing firebombs with a view to attacking the shop. Whether this is actually the case remains to be seen. However the decision to break into the squat to apprehend the alleged fire bombers precipitated a chain of events that led to full scale riots in Stokes Croft, with a presence of more than 160 riot police on the streets of Stokes Croft and Montpelier.
The violence led to the smashing up of the front of the store. A sense of injustice has been brewing over many months over the way that Tesco had managed to open their store despite strong local opposition. (For a fuller account, go to the Campaign/mission page). It seems clear that Tesco, while perhaps obeying the letter of the law, had failed to heed their own maxim that "Community is at the heart of everything we do."
---
Boycott Tesco Campaign at Glastonbury Festival!
June 28, 2011
The Think Local Boycott Tesco Campaign had a presence at Glastonbury. One of the four pyramids in the Dance Villages was painted by Bristol's Finest, carrying the message to the gathered hordes.
---
Despite a year of continual and sustained protest, our elected representatives failed the many people who sought to safeguard the uniquely independent area that is Stokes Croft.
The No Tesco Campaign took Bristol City Council to Judicial Review after their failure to back the Community.
We lost the case, and nearly £2500 costs were awarded against the No Tesco campaign.
This is how the news was received in the Council Chamber:
"On prompting from Cllr Kent – the officer in charge stated that,
because the protesters didn't have any insurance,
they were therefore liable for ALL the costs….
The only one who didn't seem to find this amusing was Cllr Stevenson –
most of the others found it hilarious… "
HELP US TO PAY THIS SHAMEFUL FINE
BUY A BEAUTIFUL MUG ON FRIDAY 13th APRIL at PRSC
Campaign/Mission
In 2010, Tesco Plc announced their intention to move into the Stokes Croft/Montpelier area in Central Bristol. Tesco gained planning permission to open their store without anybody realising their intention. Planning permission was applied for by a third party. The legal minimum consultation took place. One A4 sign on a lamp post, and one small ad in The local paper. Fifty consultation letters were sent out, and no objections were received: Indeed no replies whatsoever were received. When it emerged that Tesco had gained permission to open a store in this underhand manner, 2,500 objections were sent to our Council. Surveys were conducted amongst local people. The results were overwhelming. This area of the City did not want a Tesco store. Despite a diligent and vocal campaign from the local populace, our City Council lacked the courage to deny Tesco Plc the right to open in an area defined by its local character. Stokes Croft and Montpelier are both Conservation areas, whose status is defined by its independence of character. Certain groups squatted the building and, in March 2010, those squatters were evicted by bailiffs. The Police stood between the bailiffs as they did their work. Resentment in the community was building.
The campaign then fought a rearguard action against Tesco on shopfront guidelines, and on their ability to service the store without major disruption to traffic, having been denied the right to oppose on planning grounds. Meantime, Tesco erected barricades around the store and kept a 24 hour vigil on their store as they built it. Five security guards remained full time on the premises, and the property resembled a prison camp. Tesco was protecting itself from the Community it professed to serve.
When full permission was finally granted by Bristol City Council at a stormy Council House meeting in Dec. 2010, Tesco started to build their premises. They opened in Mid- April 2010. Peaceful protest took place daily outside the store, every day. On the day before the first riot, Police confiscated the trolley and seating ranged outside the store. It was not clear why.
According to Simon Hughes, local beat officer, a fire bomb was seen/filmed by a Tesco security guard on the Thursday before the Easter Bank holiday at the Telepathic Heights squat opposite. The decision was taken to raid the squat around 8.30pm 0n Thursday evening, with Police wearing protective clothing. Back up Riot police were waiting in the wings. The squat was busted, things got out of hand. A riot took place. 160 riot police were on the streets of Stokes Croft.
Towards the end of the evening, the Tesco shopfront was trashed.
During the process of the No Tesco Campaign, it has become increasingly apparent to all those who have taken part that our society is increasingly dominated by large business, and not necessarily to the benefit of wider society. It is clear that corporations are increasingly more powerful than government, as evidenced by our Council's inability to listen to the wishes of local people.
It seems that we must question the right of large business to affect the direction that our society takes, and that we must spend our money elsewhere than in supermarkets, in the clear knowledge that every pound we spend with them represents a vote for them. If we want less supermarkets, we must stop using them. If we want less battery hens, we must buy free range eggs. If we want real change, we must publicise what is happening, and we must construct alternatives.
The "Boycott Tesco" campaign applies, more or less, to all supermarkets. Increasing centralization and market domination by fewer and fewer players means that our food becomes increasingly poor, with fresh local food, and therefore local culture, increasingly under threat.
It is our belief that we must evolve food supply chains that;
1) Must allow, indeed give preference to, the sourcing of local food.
2) Must ensure food security. Currently approximately just 40% of food consumed in the UK is produced in the UK.
3) Must ensure that all food is produced in a sustainable fashion. This means that we must eschew pesticides, look after the soil and treat nature in a holistic manner, rather than imposing industrial methods on our fragile ecosystem.
Download Stencils
"Think Local, Boycott Tesco. "
If you want to put this message up in your town or City, just download the stencil below, and print it out on your pc.
How to create a stencil from this image.
1) Right-Click on the image you wish to download.
2) Save the image to your pc.
3) Using almost any image viewer programme, print this image which is in A4 size. If you wish to print it at A4 size, then expand to fit the paper (Scale to Fit Media). If you want a bigger stencil, then most printers have a "Poster Printing" option, which will allow you to print a large poster. If you use 160gm card, you will be able to produce a stencil that will be easy to cut, and strong enough to use a few times. Alternatively print on ordinary printer paper and glue to a sheet of card… You will need a Stanley knife or scalpel, and plenty of sharp blades.
4) Buy a can of spray paint. Put the stencil to your chosen wall. Use masking tape or gaffer tape to stick the stencil in position, and then dust lightly with paint from maybe 4-6inches. trying to avoid overspray. If you have not used a spray can before, it is probably wise to practice on a board or a wall where runs and drips will not matter. Emulsion and a stencil brush is another way of producing a good stencil image, albeit slower.
5) Please be aware that it is illegal to spray on a wall where you do not have permission. However, with permission, it is perfectly legal to paint messages on walls. If your building is grade II listed, you will require listed building consent to put a sign on your own property…
Film
See the recent Panorama Documentary shown Dec. 2010
See the Channel 4 Dispatches Documentary
See the Food Inc. Movie Trailer
Watch the Food Inc. Movie Online
Walmart: The High cost of Low Prices: A searing documentary about the impact of Walmart (Asda's parent Company) in the USA.
Below are a series of videos that chart the No Tesco Campaign through 2010…
The earliest videos are at the bottom of the page.
NO Tesco in Stokes Croft – Security Picnic June 2010
http://video.google.com/videoplay?docid=-3836296181471292925#
Further Reading
Essential Reading:
Shopped: The shocking Power of British supermarkets by Joanna Blythman
Further Reading: a selection of relevant tomes
Vital General Reading
Carolyn Steel: Hungry City… How Food Shapes our Lives
Further Reading from the Excellent Tescopoly Website
Artwork from the PRSC shop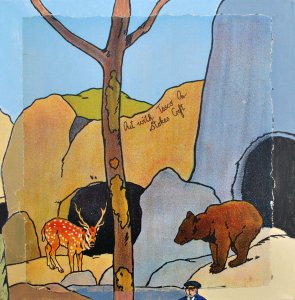 MURALS
The most effective aspect of our campaign has been our signs, stickers and, above all, murals…
We have a crew of mural painters who can paint a mural for you, where you live. Planning permission is not required. If you have a wall that needs painting, please ask us for a quotation. E -Mail

SHOP ONLINE
The sticker is currently available in the PRSC ONLINE SHOP.
We also offer a selection of Fine English Bone Chinamugs by Stokes Croft China from just a fiver. We also offer a design service for other campaigns. See below mugs made in Stokes Croft for the Mill Road Cambridge campaign.
These are available on a wholesale basis, and can help to raise the profile of your campaign, and raise funds at the same time: A real win/win situation.