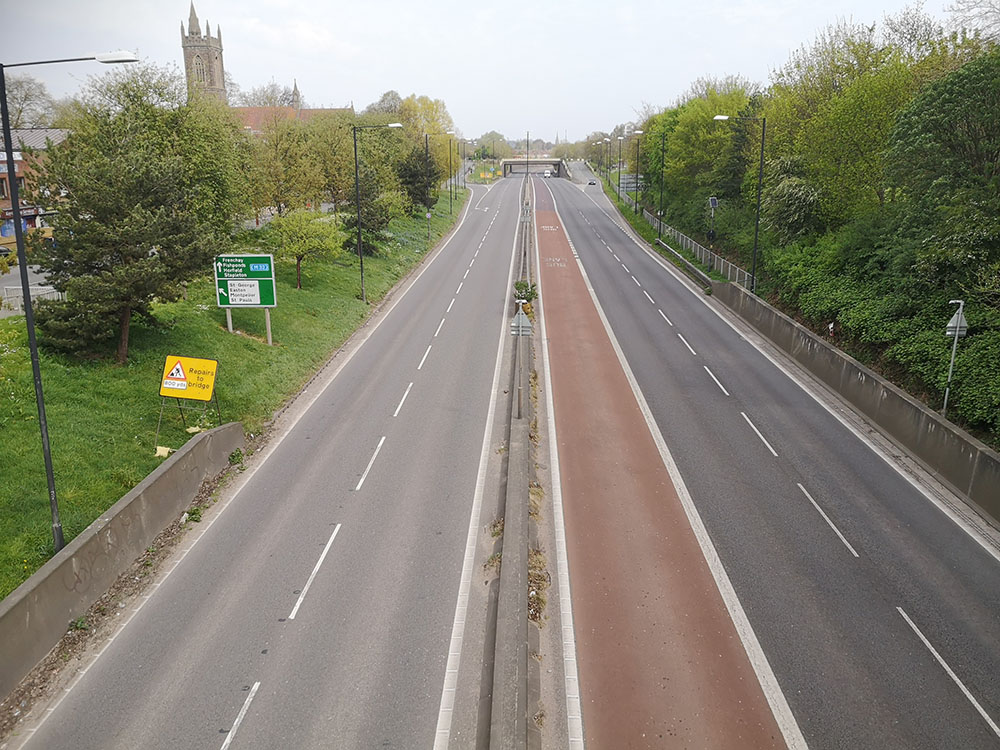 Have you been outside lately? The city is a strange place in these times.
The streets are devoid of crowds and traffic, littered with discarded rubber gloves and coated with NHS loving graffiti, the air is filled with birdsong and the advertising billboards are covered with positive and caring messages.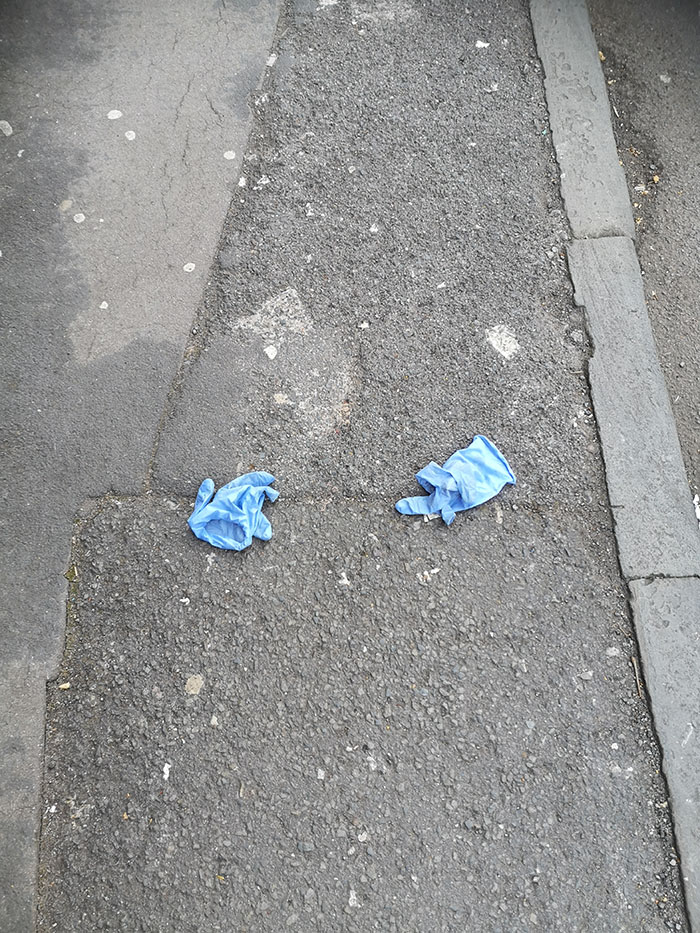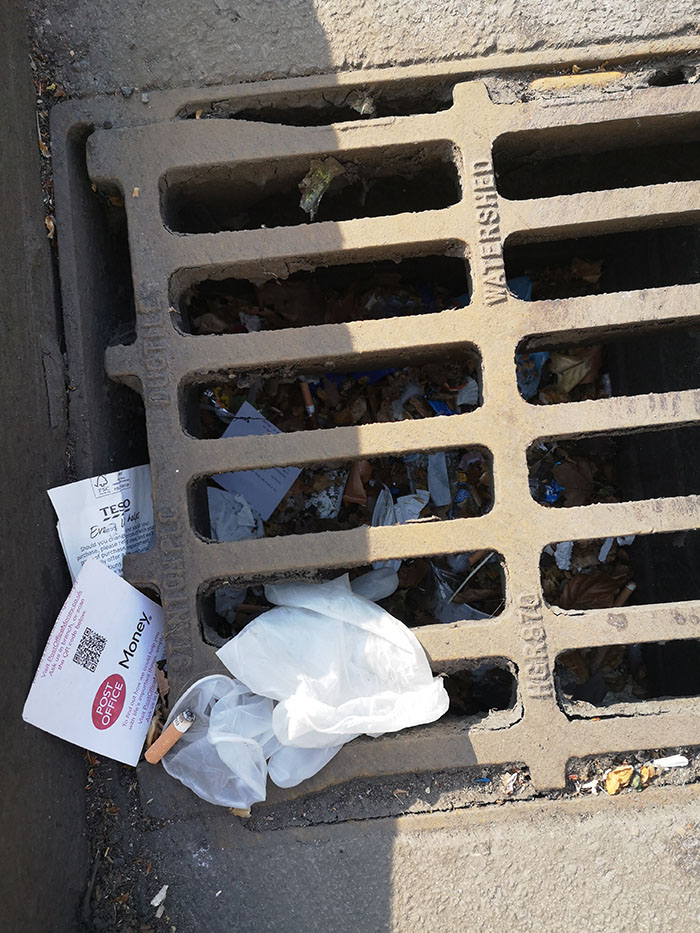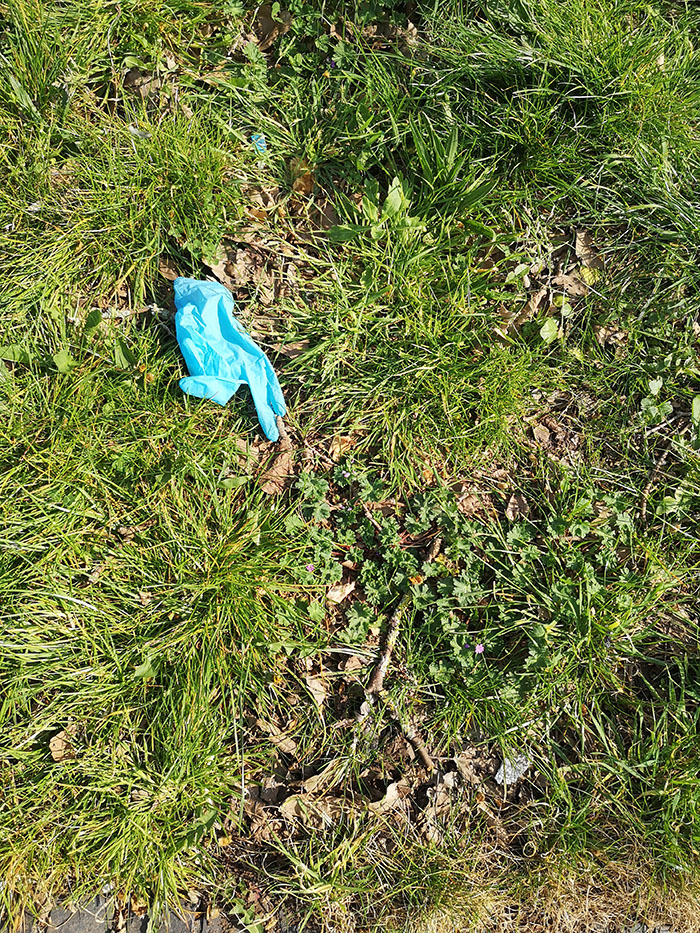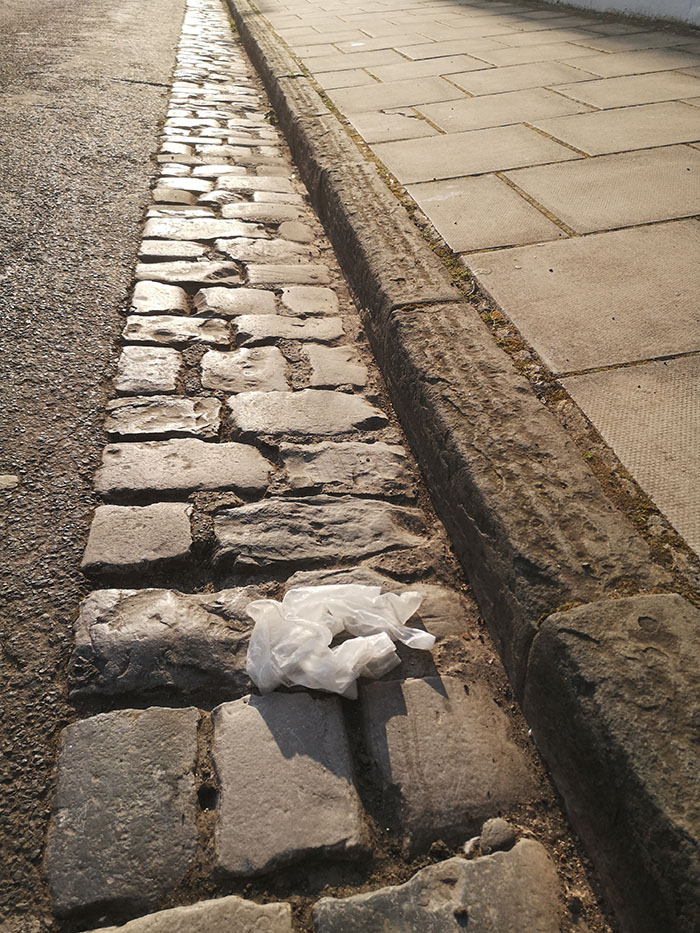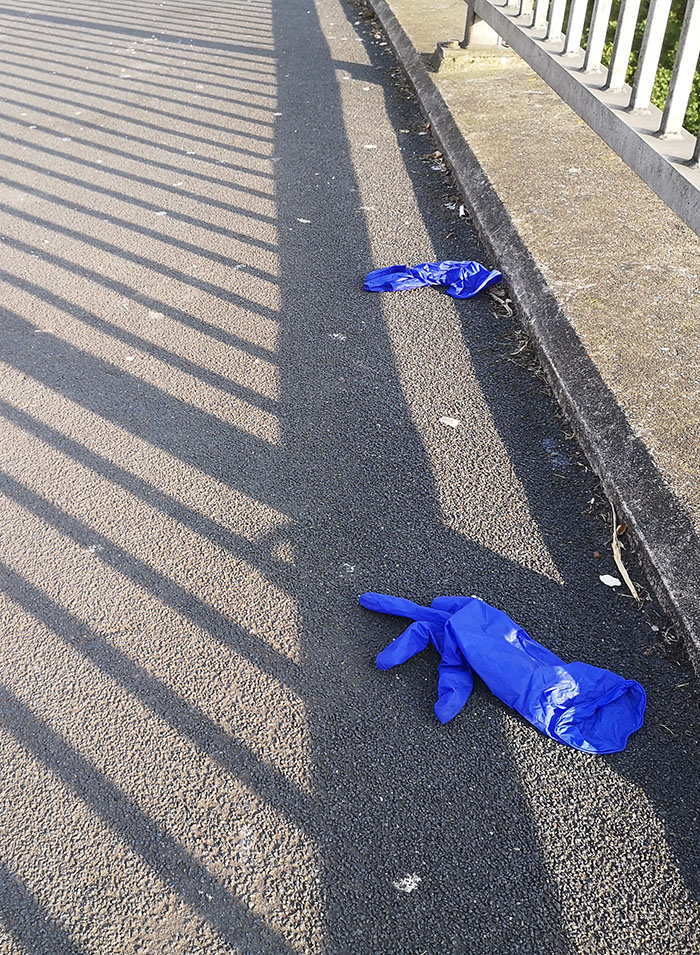 PRSC resident artist Benoit has been looking at the effect of Covid on Bristol's advertising sites.
"I've been interested in subvertising and a member of Adblock Bristol for many years, and so the change in the public advertising under lockdown has particularly drawn my attention. Obviously their business model doesn't work with most people inside, and revenue has plummeted for out of home (OOH) advertisers.
Many of the digital screens are showing messages of solidarity and support which the advertising companies are putting up with no client, just to fill the space. There are billboards where the ad has fallen away, and not been replaced. There are defaced (Turbo Island) and even fully replaced subvertising billboards (Whitehall Road & St Werburghs), which would under normal conditions have been covered over within days, and have been up for weeks now."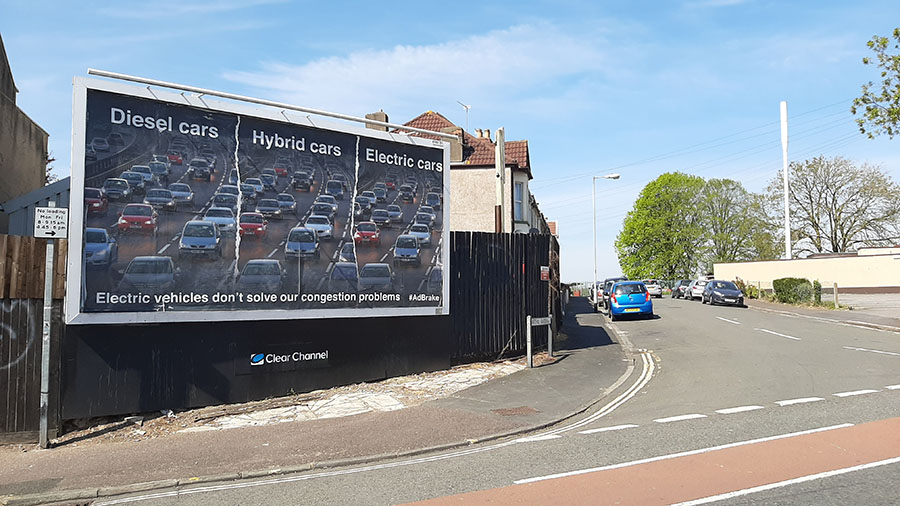 A subvertised bilboard in Bristol, still standing after several weeks.
"Like with many things, this will not go back to normal afterwards- the OOH advertising industry has been changing rapidly in recent years, with power hungry digital screens replacing the older paper ads, and whilst this may put a hole in their incomes, they are still pushing through digital advertising screens."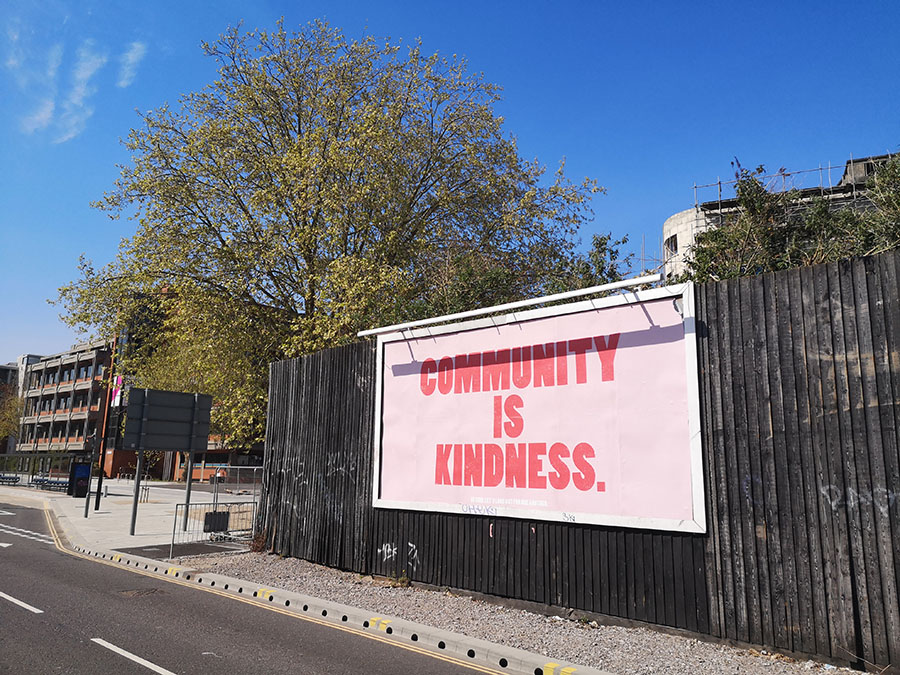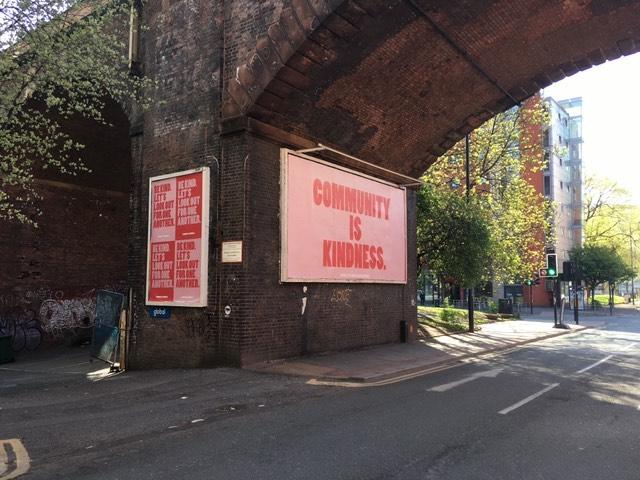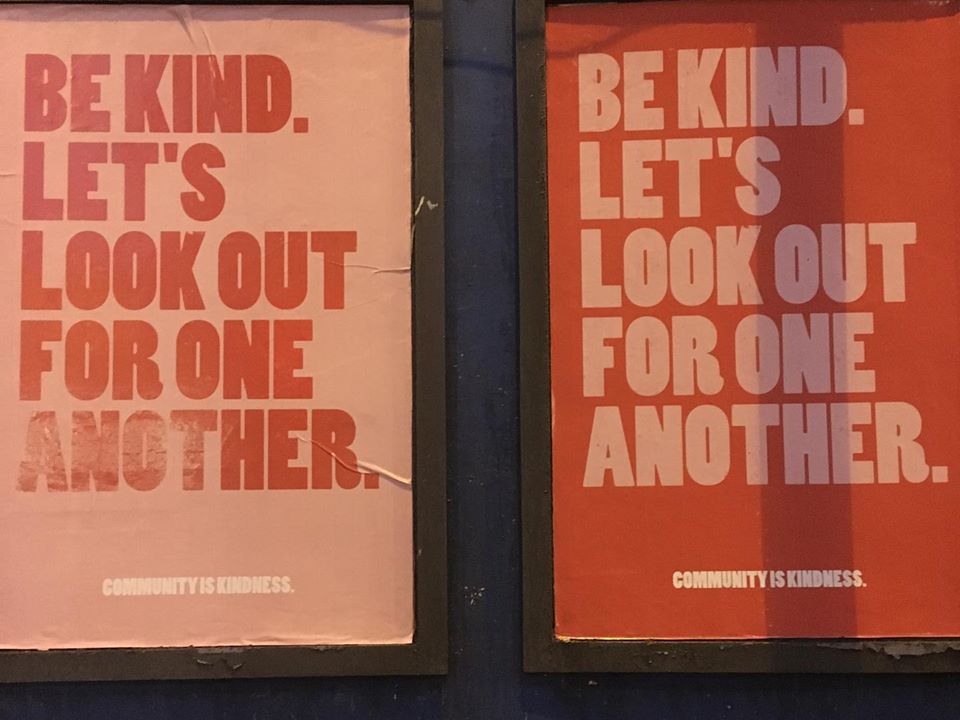 National OOH advertising agency Jack Arts has teamed up with Diabolical to produce this
Community is Kindness
campaign across 10 cities. The pictures above show these posters in Bristol, Manchester and London.
We got this report from Micah Purnell of @SellingVirtues and @AddArt_uk in Manchester about the feeling of the streets there:
"The streets are calm, billboards speak love, and are reaching their proper potential: encouraging the most humane of virtues, for a better society."
In another arts collaboration from from Jack Arts, the hopeful message below was produced by artist Mark Titchner.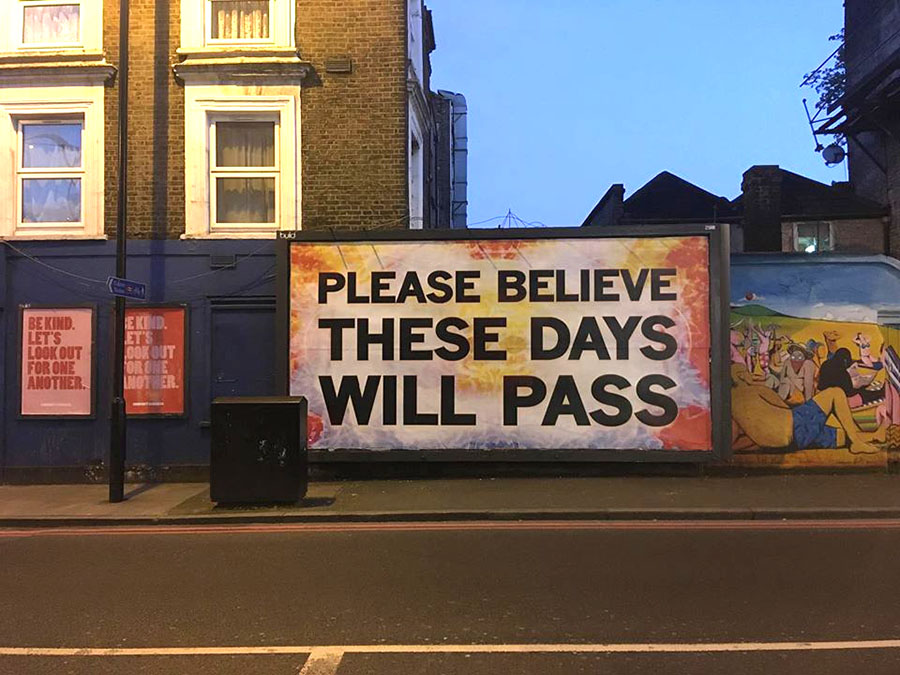 Billboard spotted in London and photographed by Rosie Strickland
Alongside these national changes, and with the commercial ad industry crumbling around us, Bristol is covered with posters from
Caring in Bristol
, reminding us of the people still struggling to survive on the streets.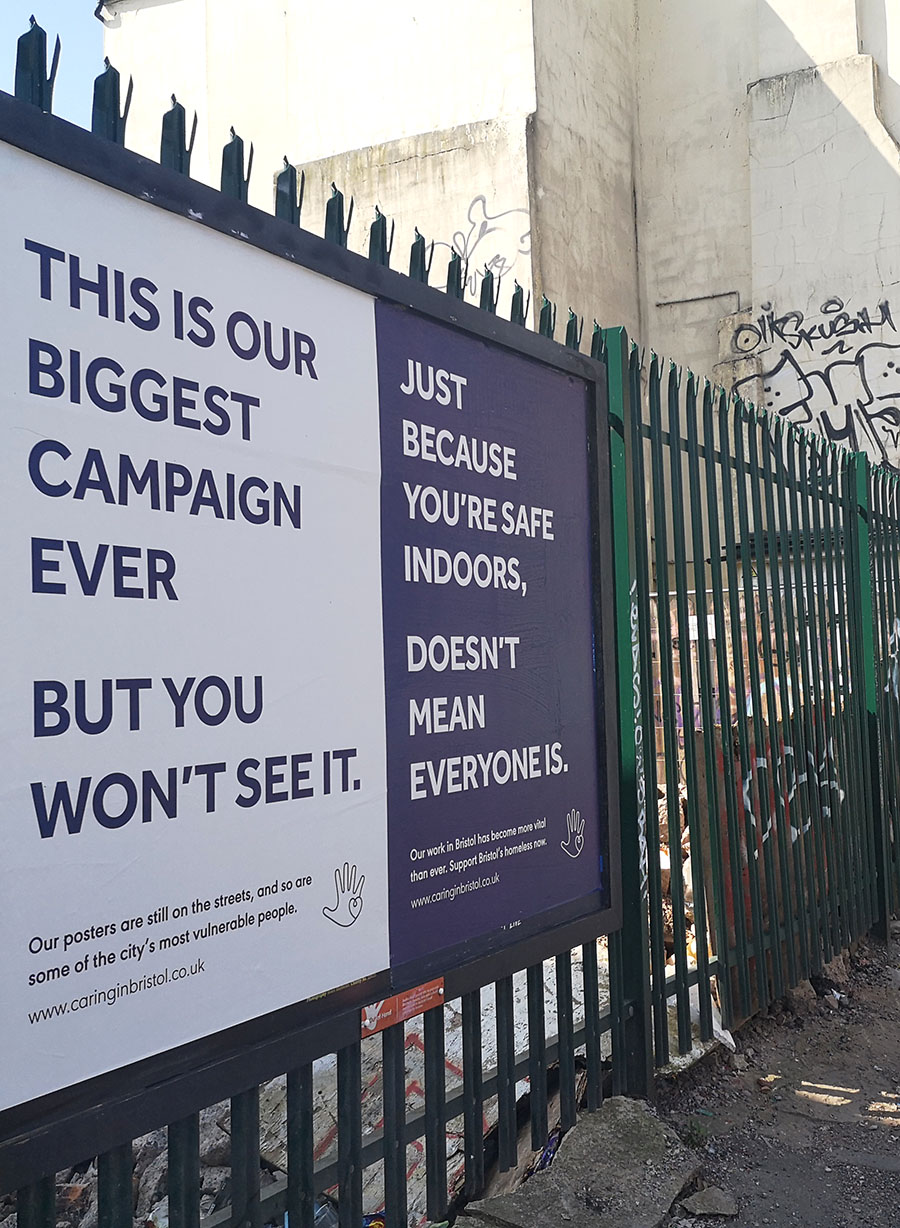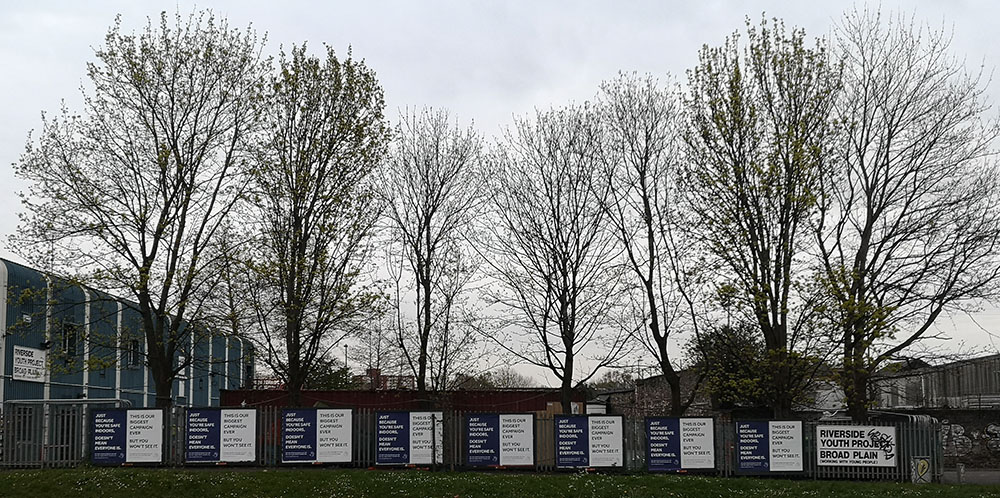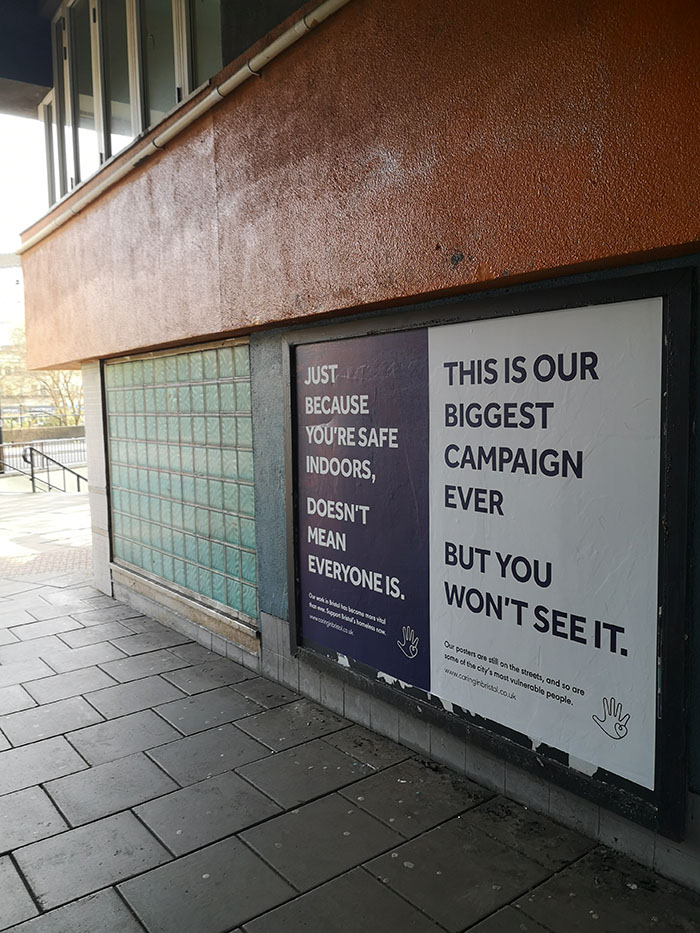 And the expensive digital billboards in the city centre have been turned over to non-commercial purposes…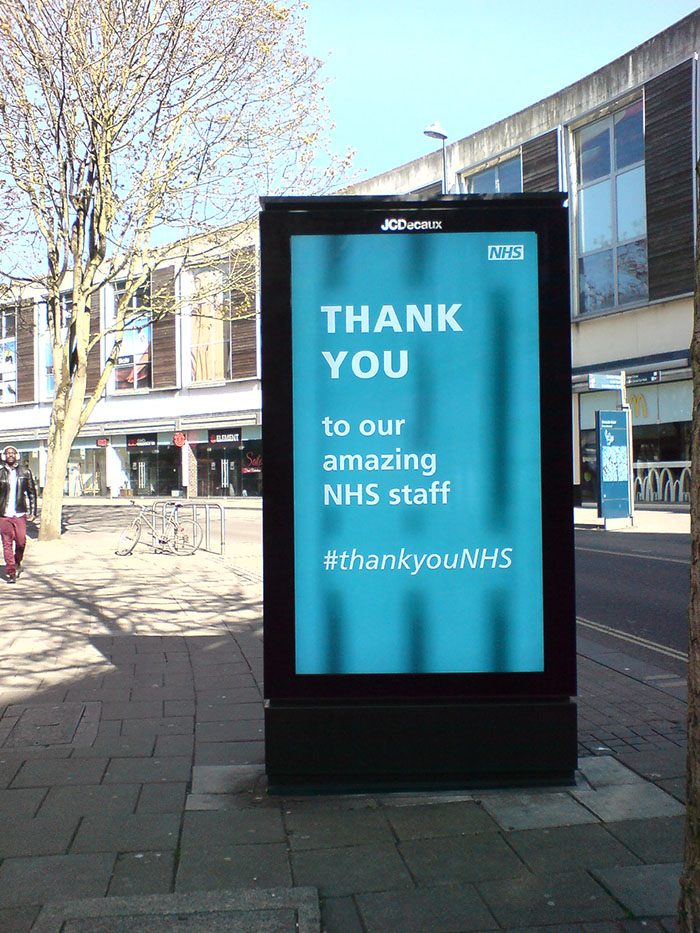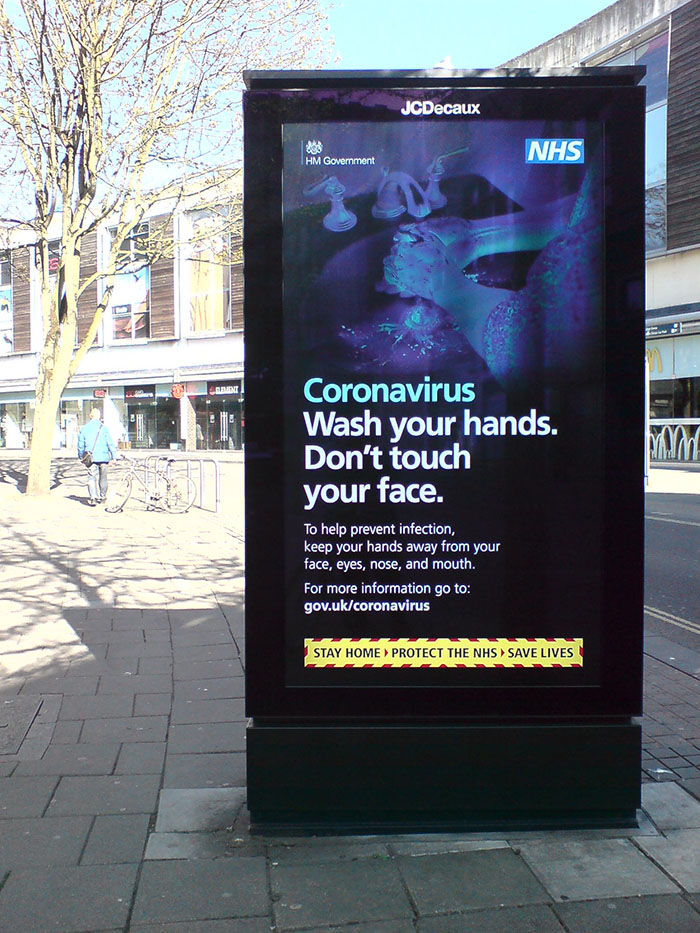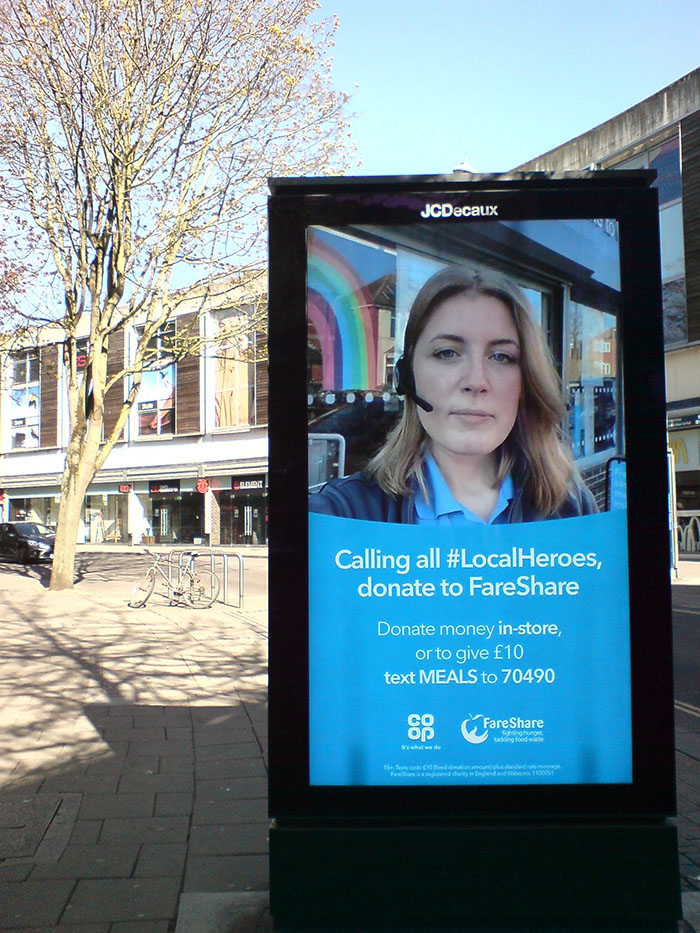 So what about the informal visual culture of the city? What are the fly-posters and graffiti artists making of these strange times?
This scene on Turbo Island is typical of the current visual culture. The piece by Bristol artist Ryder is a message of love for the NHS. Not long after it was painted, someone fly posted a poster over the top of it also sending love to the NHS. The billboard above was subverted some time ago, and has not been removed or repaired.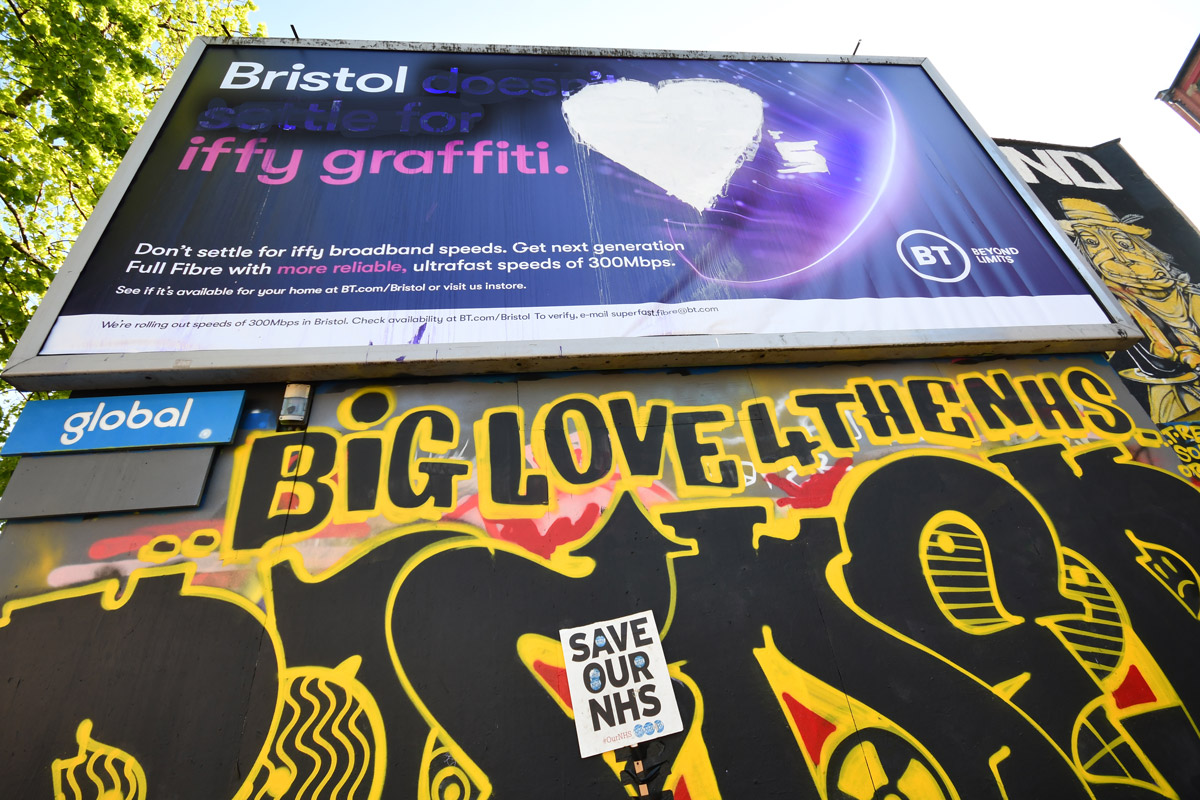 These anonymous fly posters appeared in Stokes Croft last week, offering a poetic ode to the NHS…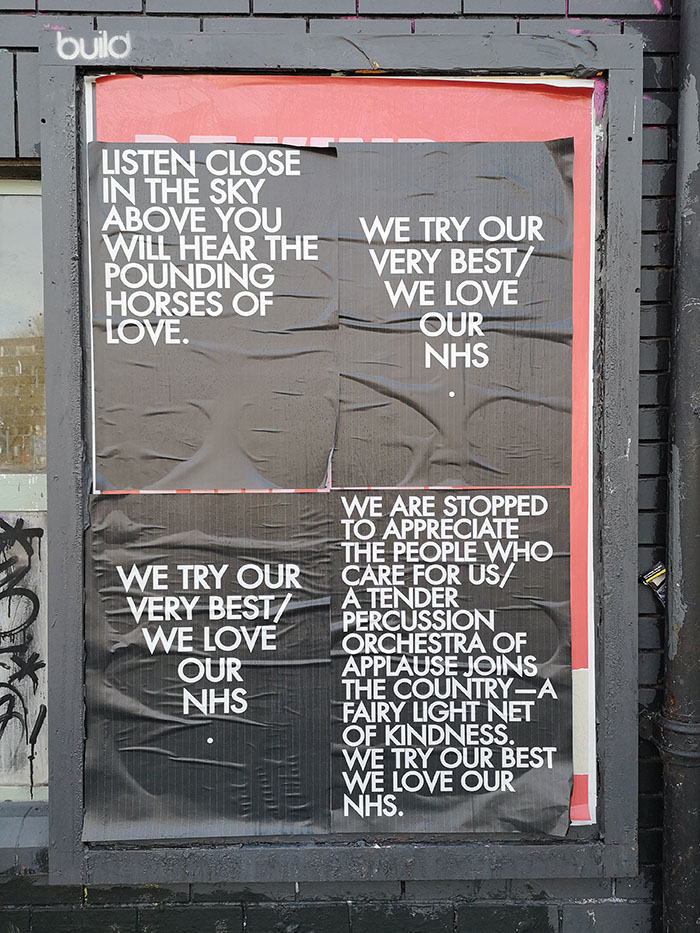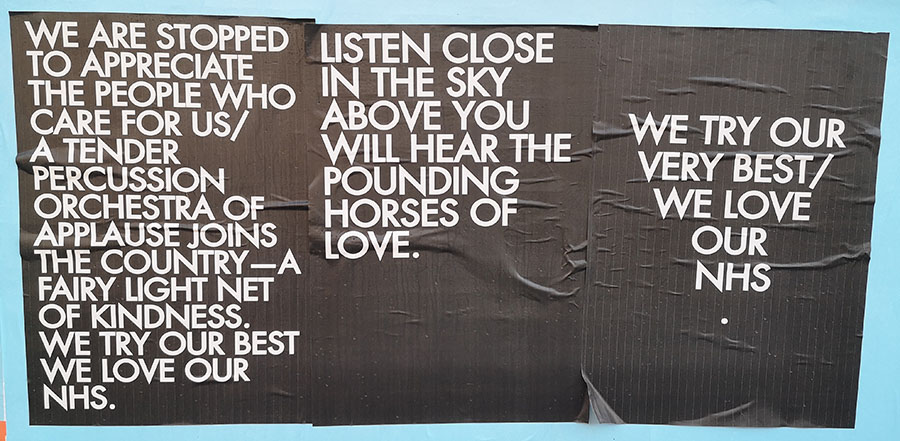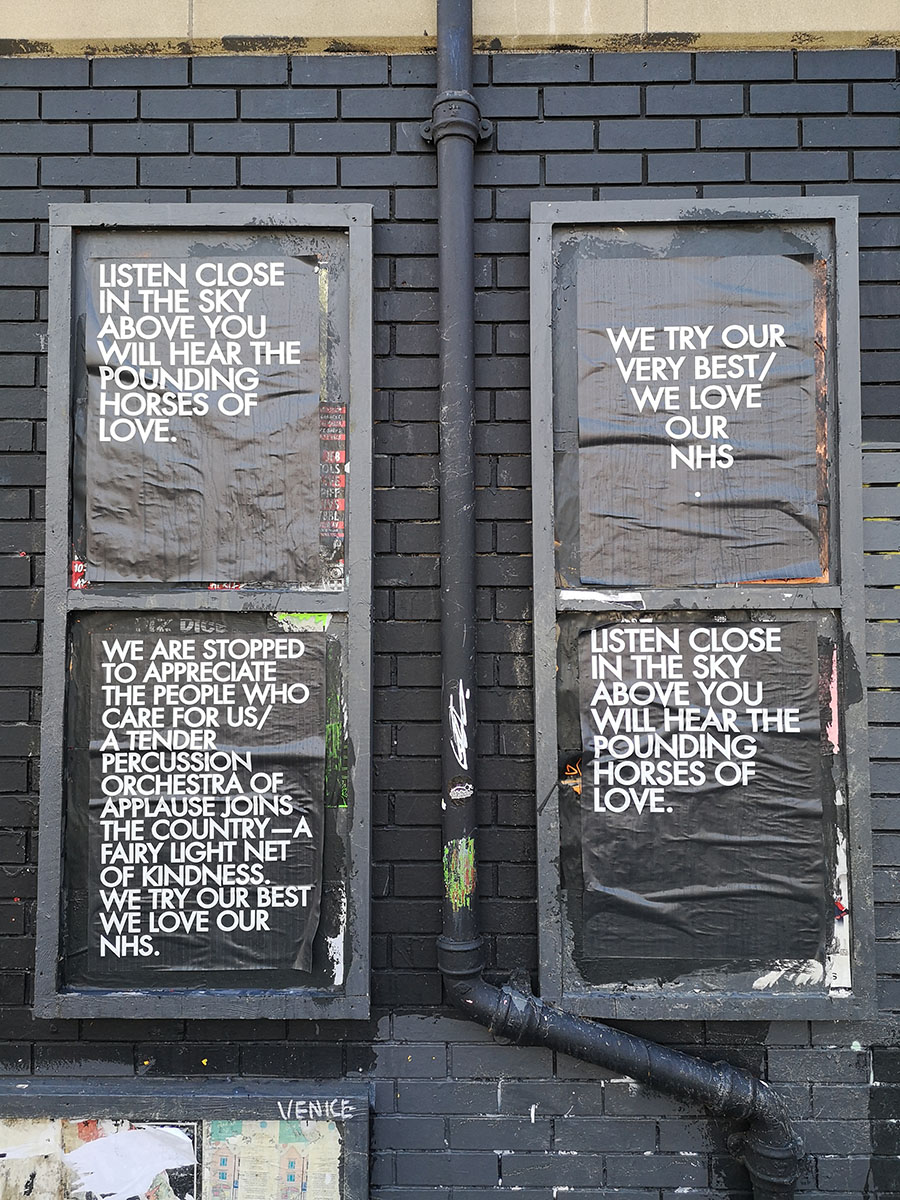 In a strange convergence (unsettling in such a naturally rebellious city) Bristol street artists, graffiti writers, taggers and fly-posters are turning their talents to sharing the same messages coming from the government – sending love to the NHS and encouraging people to stay home.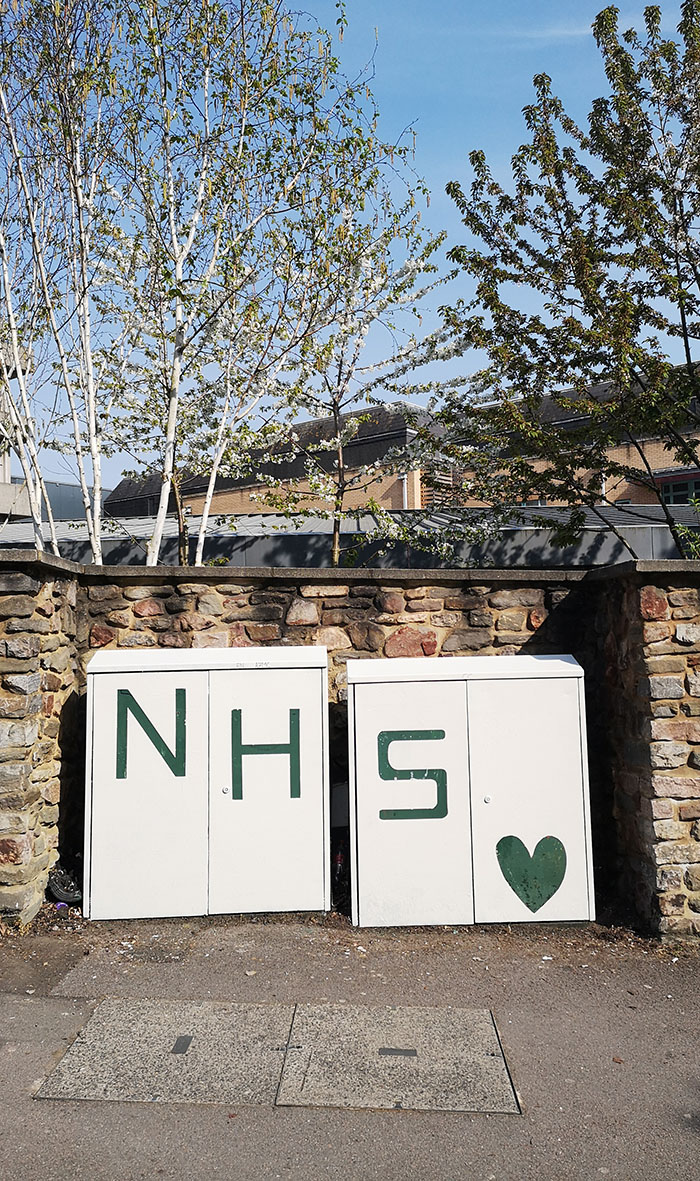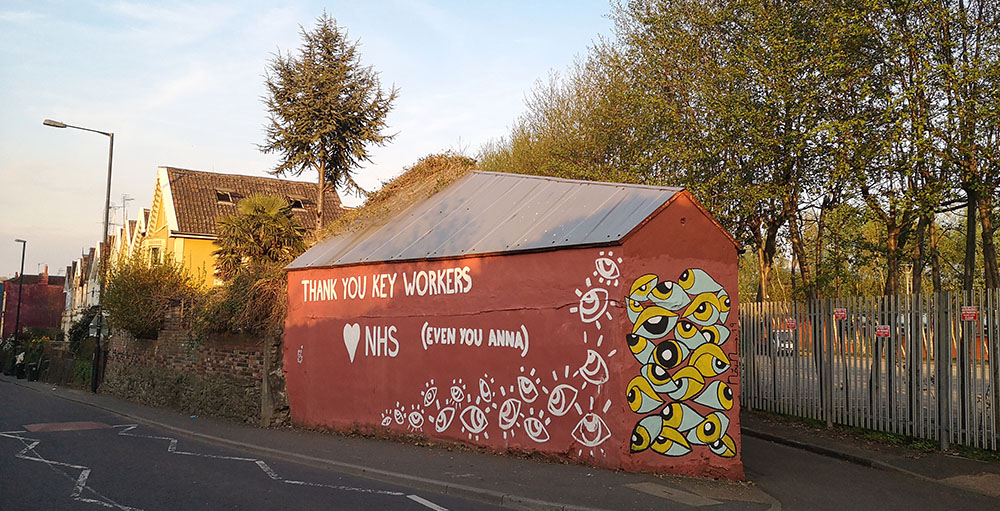 Maybe Covid19 really has done what decades of folk songs and sit-ins have failed to achieve – bringing us all together (while physically keeping us apart) in the great struggle of Human vs Virus.
Street artists around the world have also been playing with the 'stay home' message. Our favourite response so far comes from Alessio B, a street artist in Italy…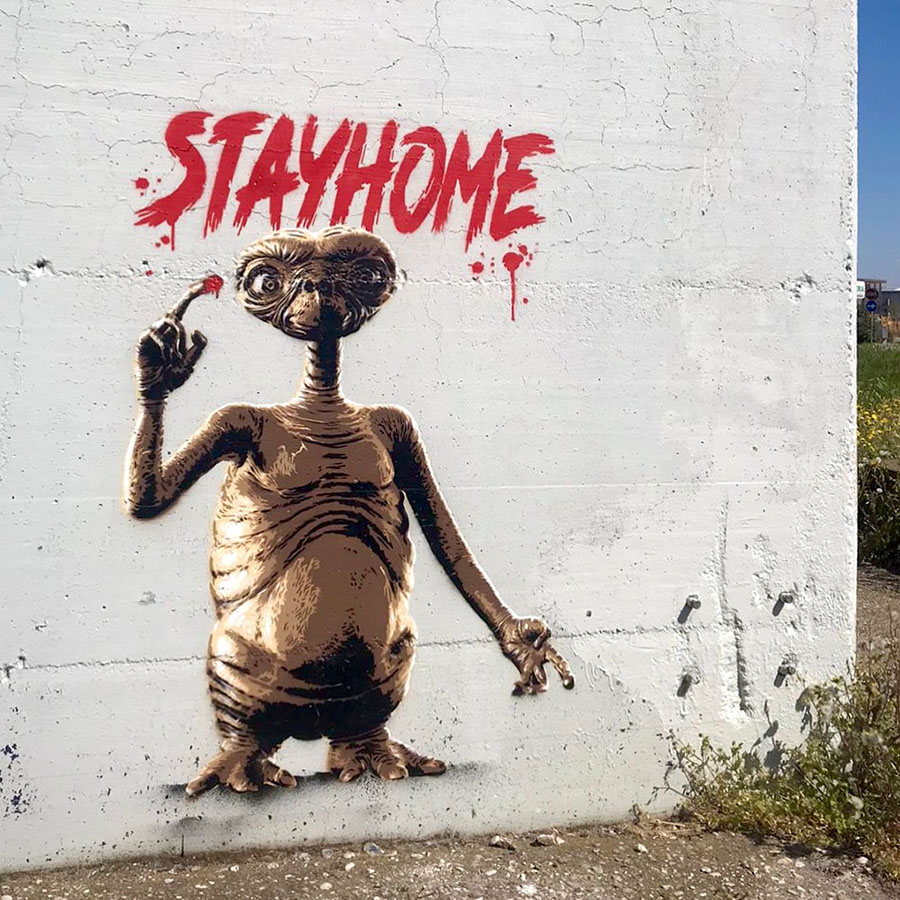 While back in the UK,
My Dog Sighs
has created these characters in Southsea to reduce the sense of isolation felt while walking the empty streets. This beautiful project is called 'Being Apart Teaches Us How To Be Together'.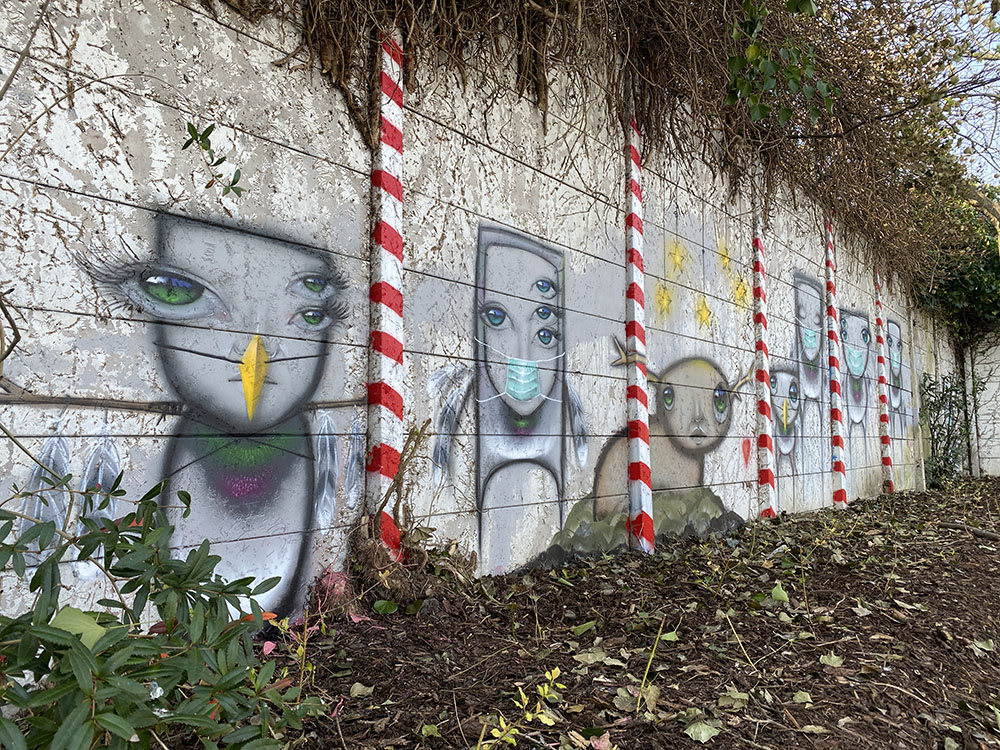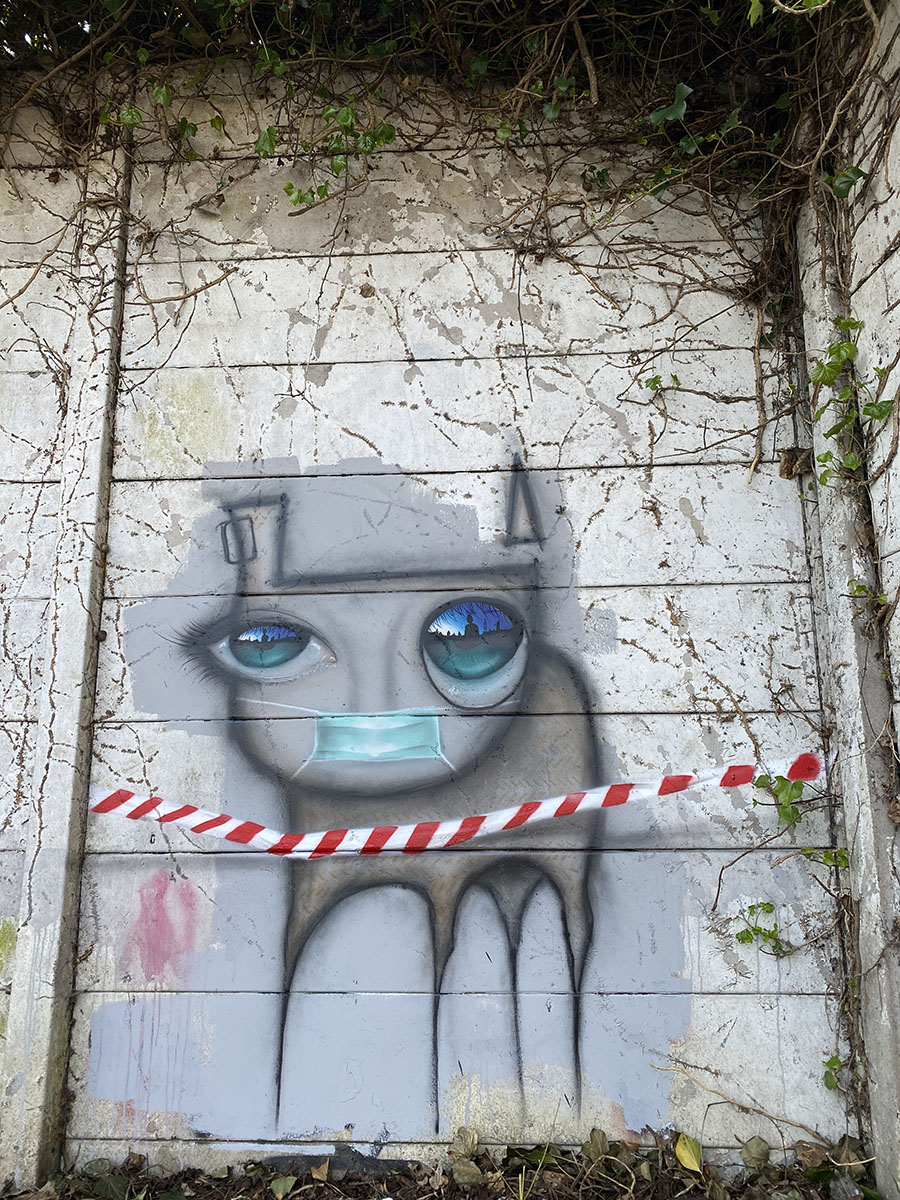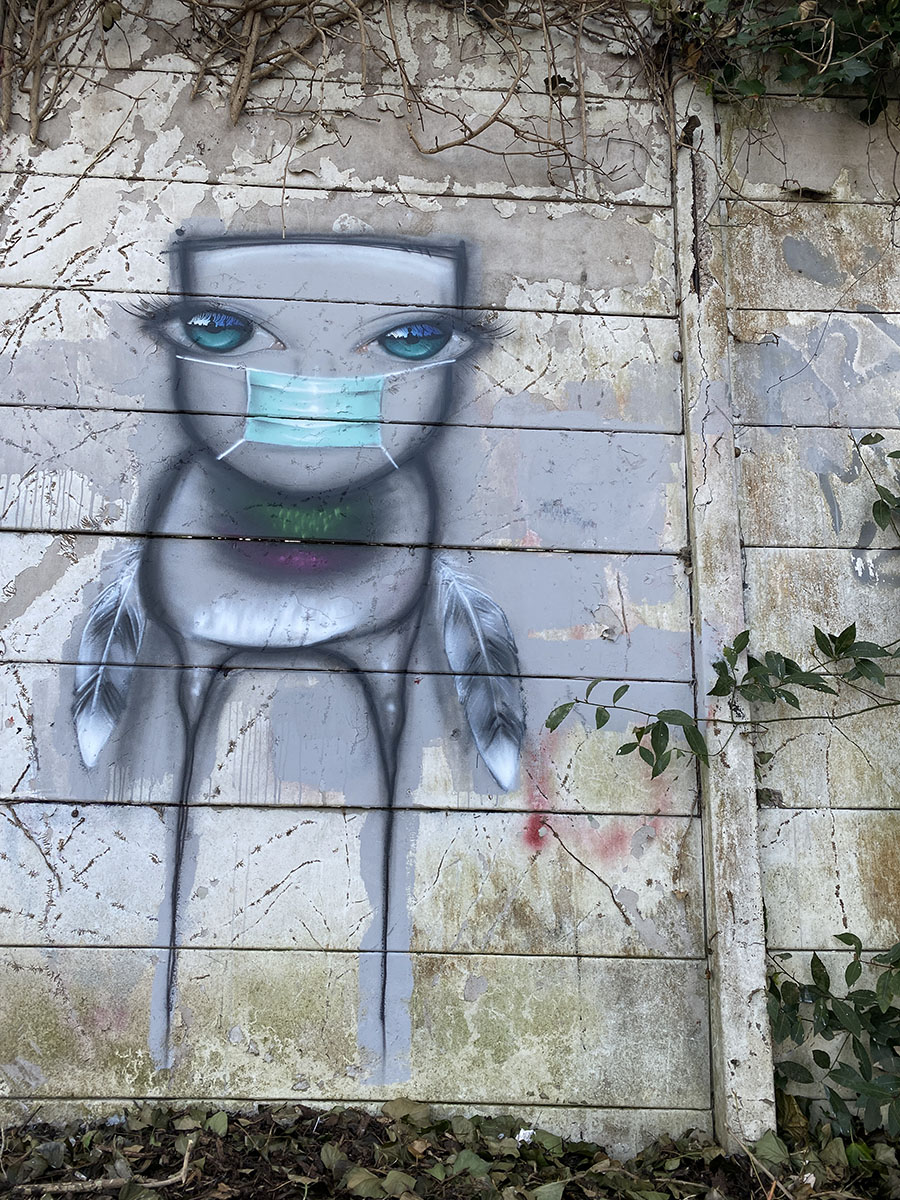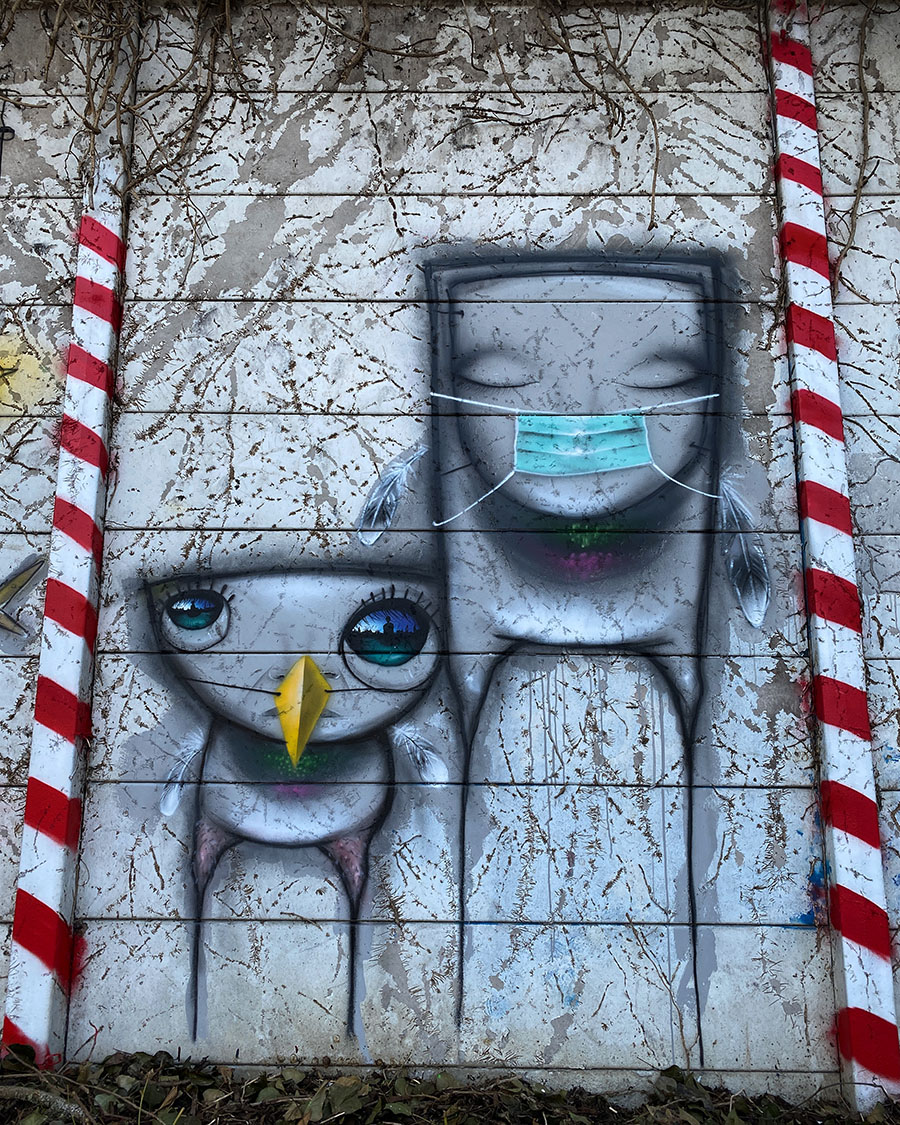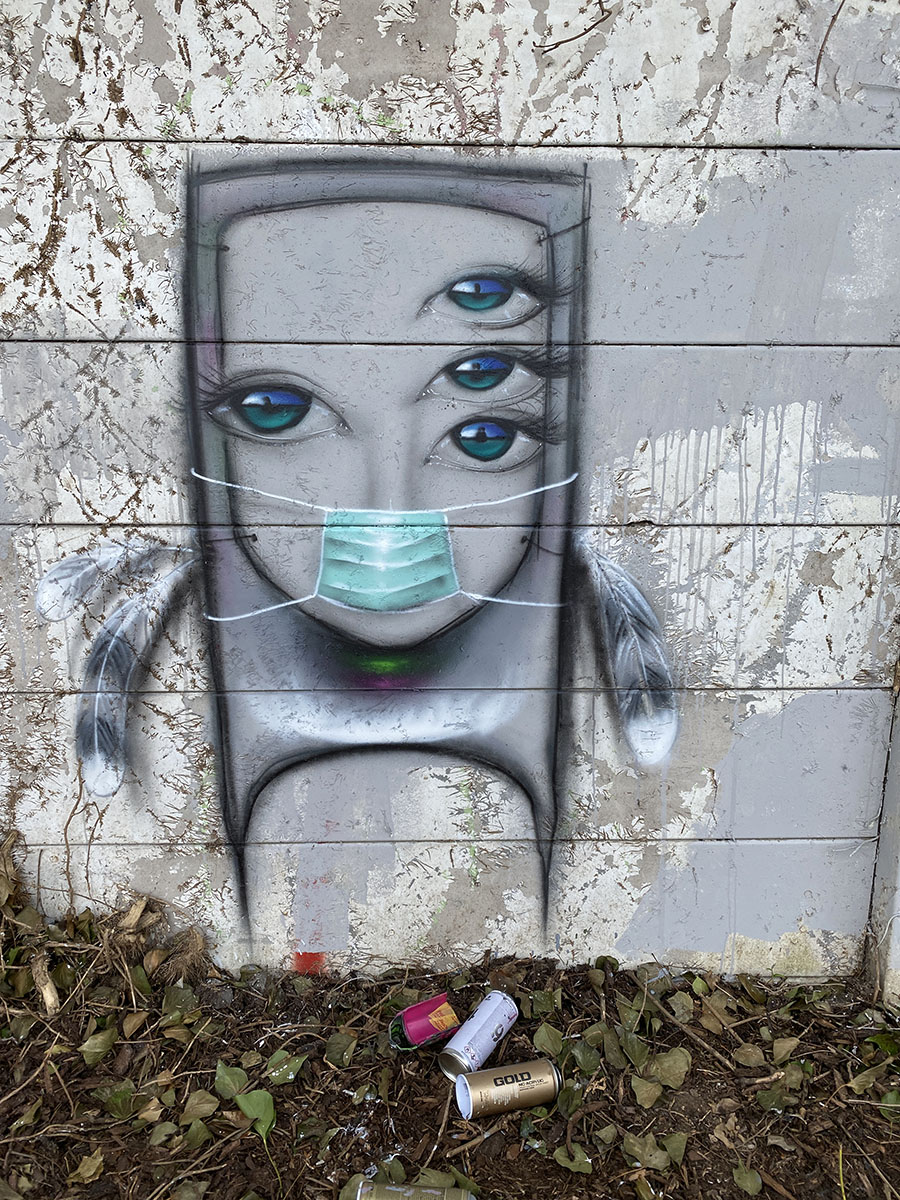 Of course with everyone on lockdown, artists have also had time to create their own responses to this strange situation from the comfort (or otherwise) of their own homes.
PRSC's good friend, street artist Mr Sleven has been reimagining some of our cultural icons in the Covid19 world.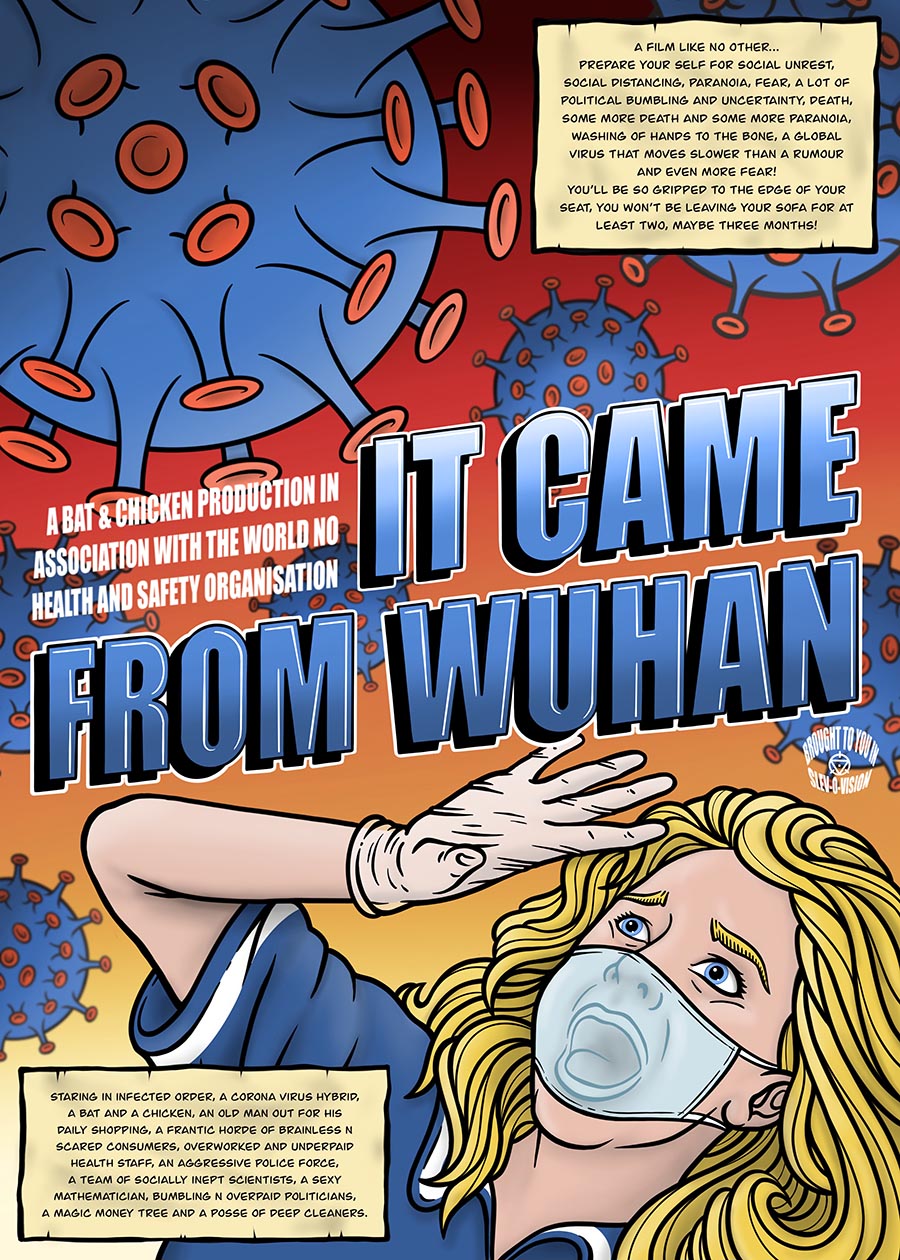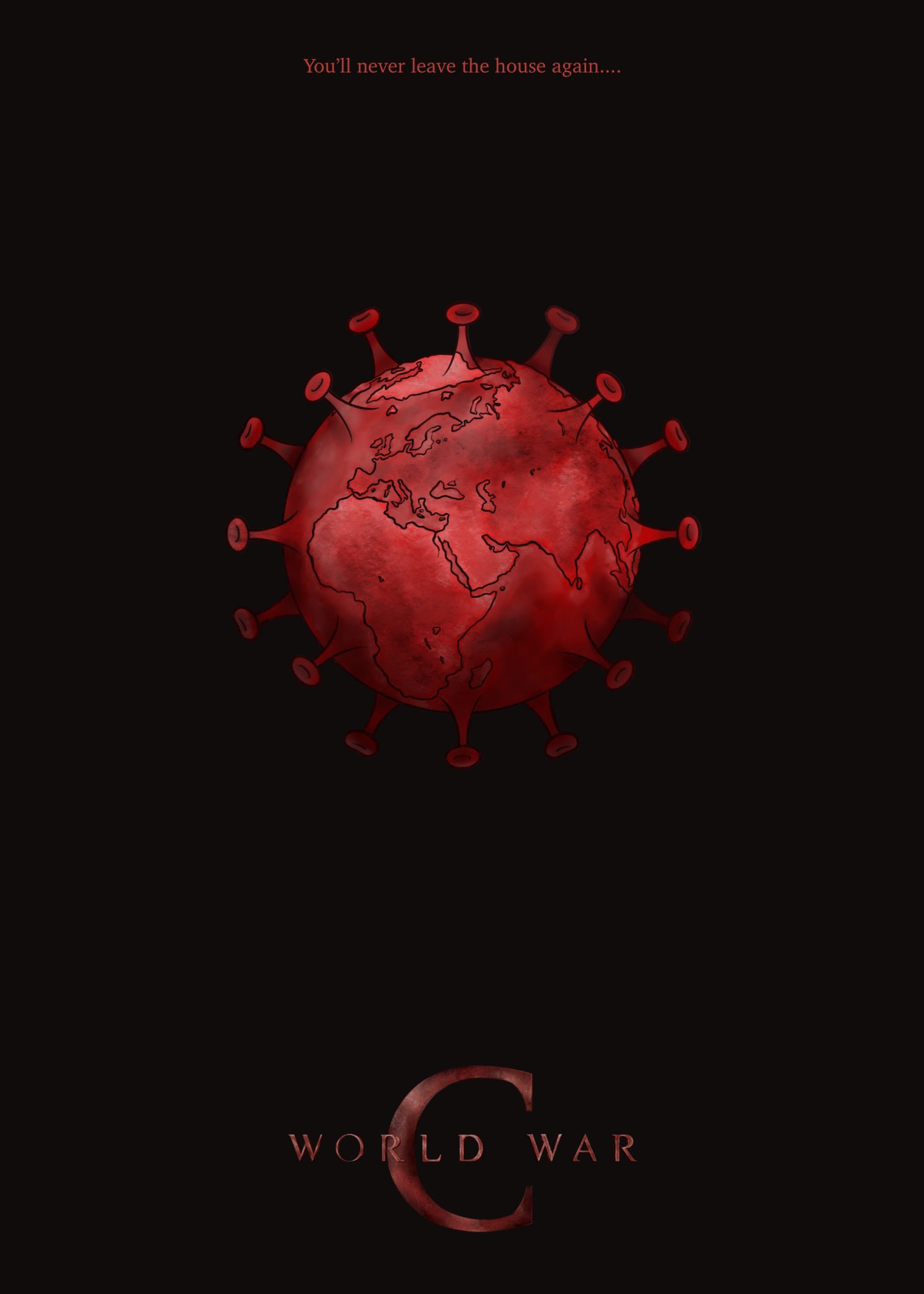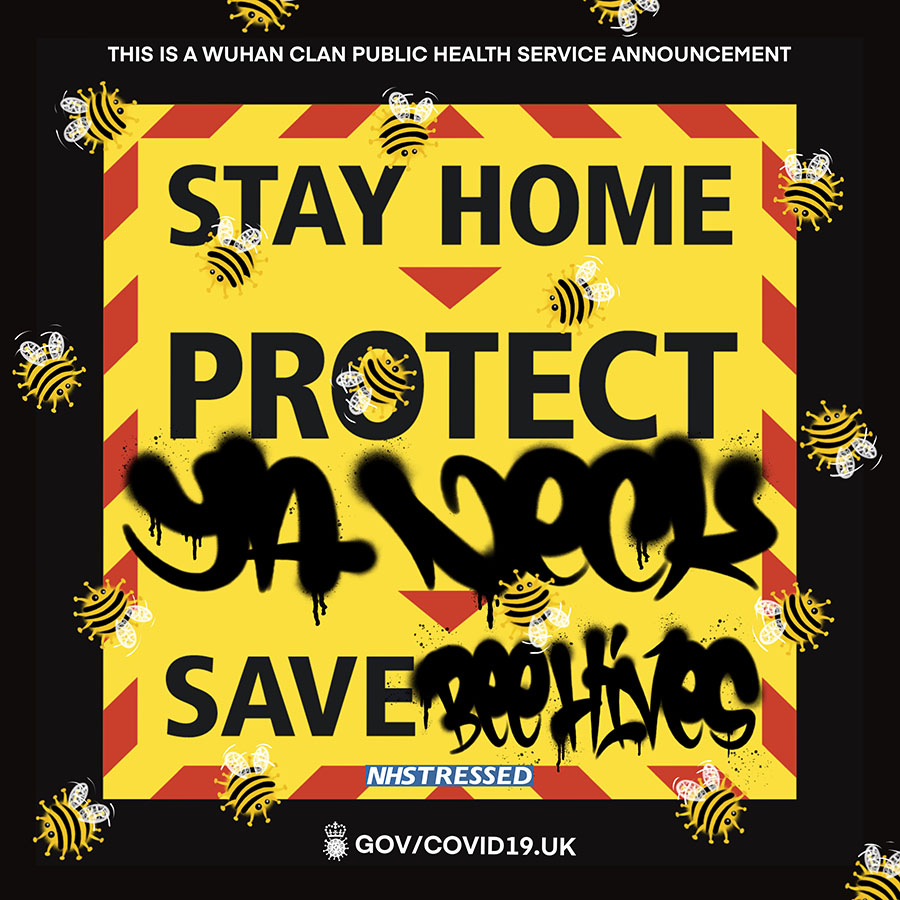 Back in Italy, Alessio B has given us a modern day wonderwoman in this piece titled 'Real Hero'. This image was donated to a charity auction raising money for a hospital in Padua.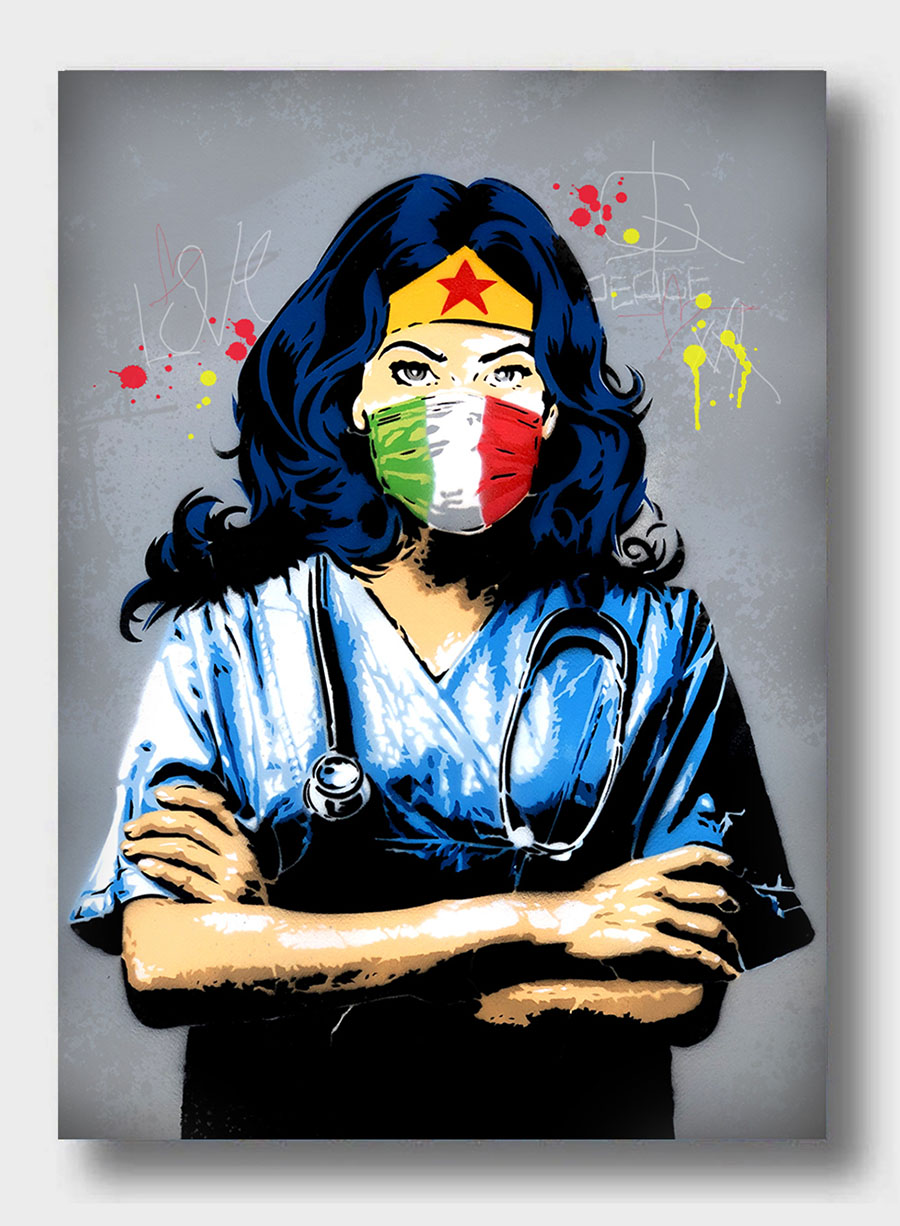 Meanwhile, back in the UK, illustrator MJ Hiblen has produced the sticker design below and is sending it out free with instructions to print the stickers and pass them on to key workers.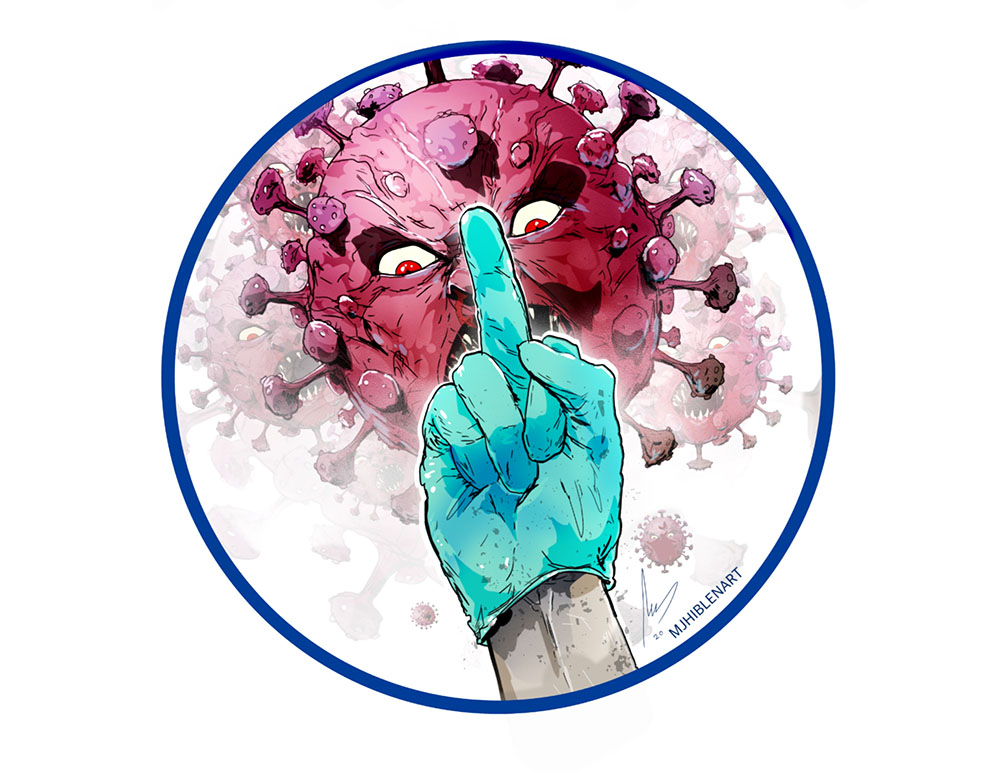 Amplifier
is a collective arts project working to support grassroot movements in the U.S. They have created a global call out to artists and designers:
"We are looking for two kinds of work: The first are public health and safety messages that can help flatten the curve through education. The second are symbols that help promote mental health, well-being, and social change work during these stressful times."
The images are available to download for free on their website (for non-commercial purposes), here are some of our favourites…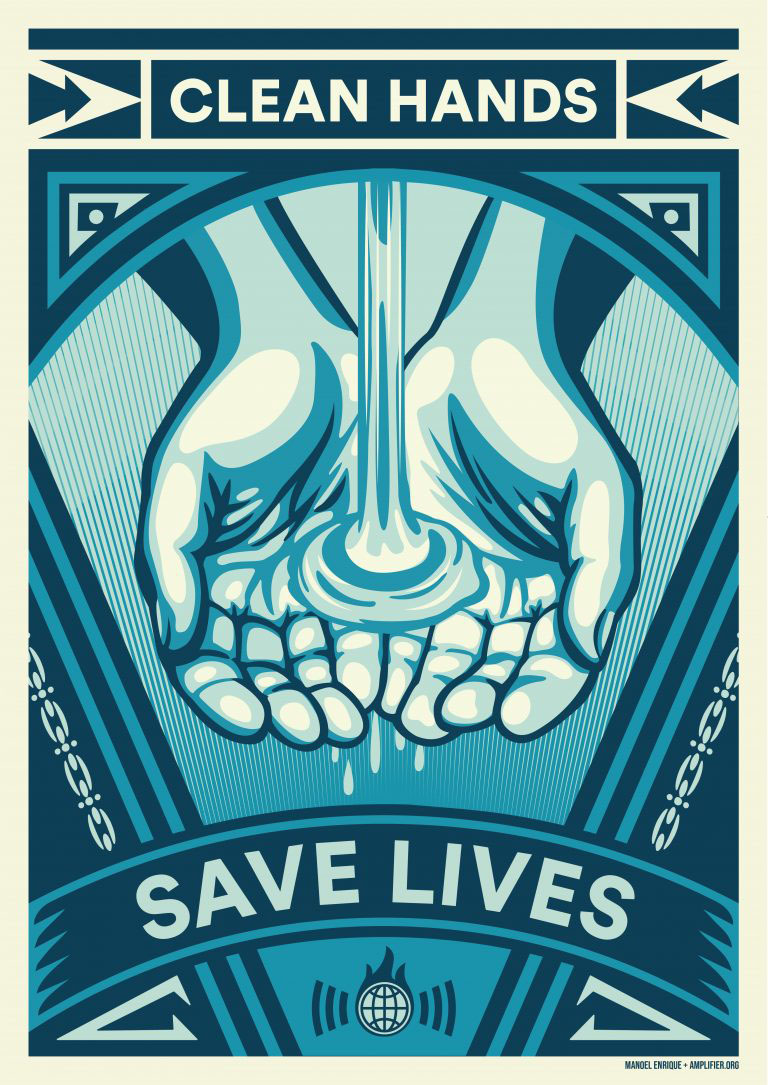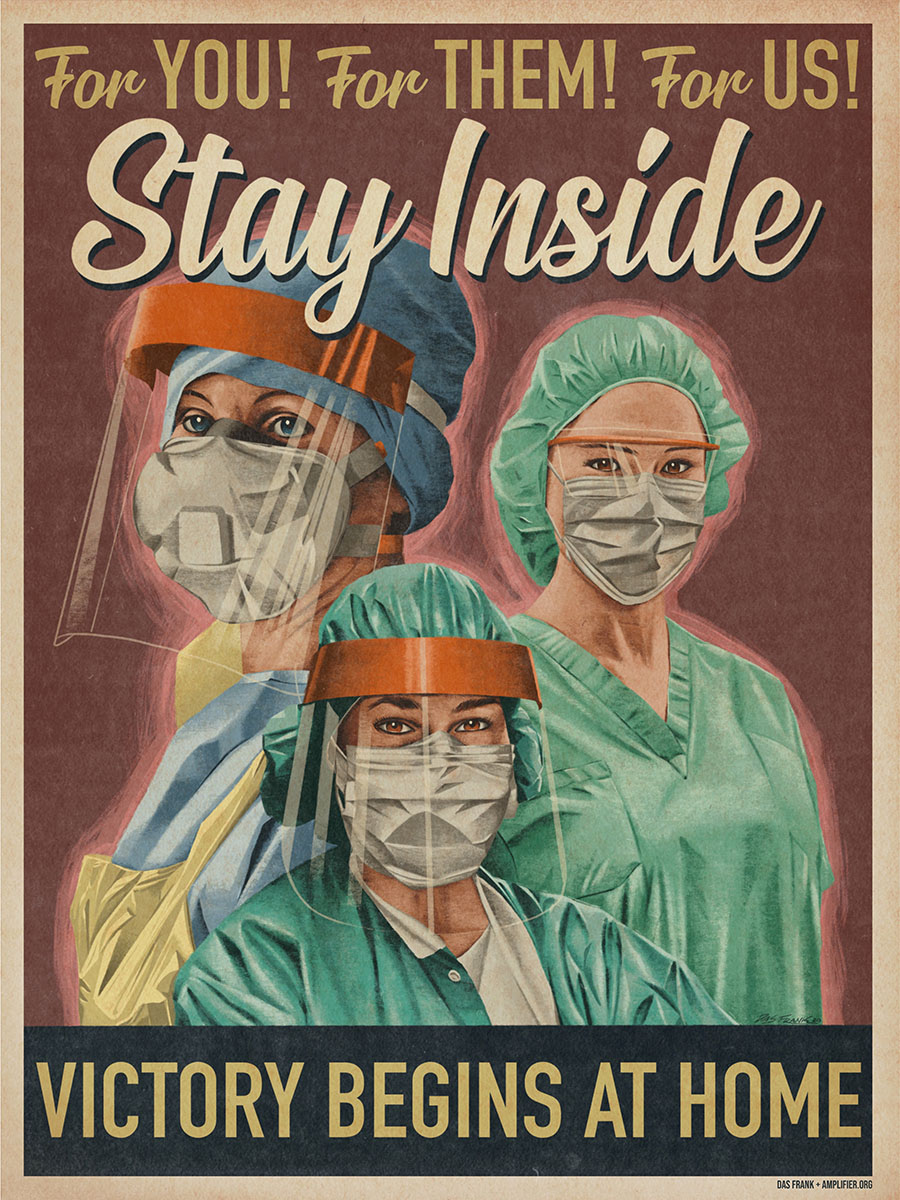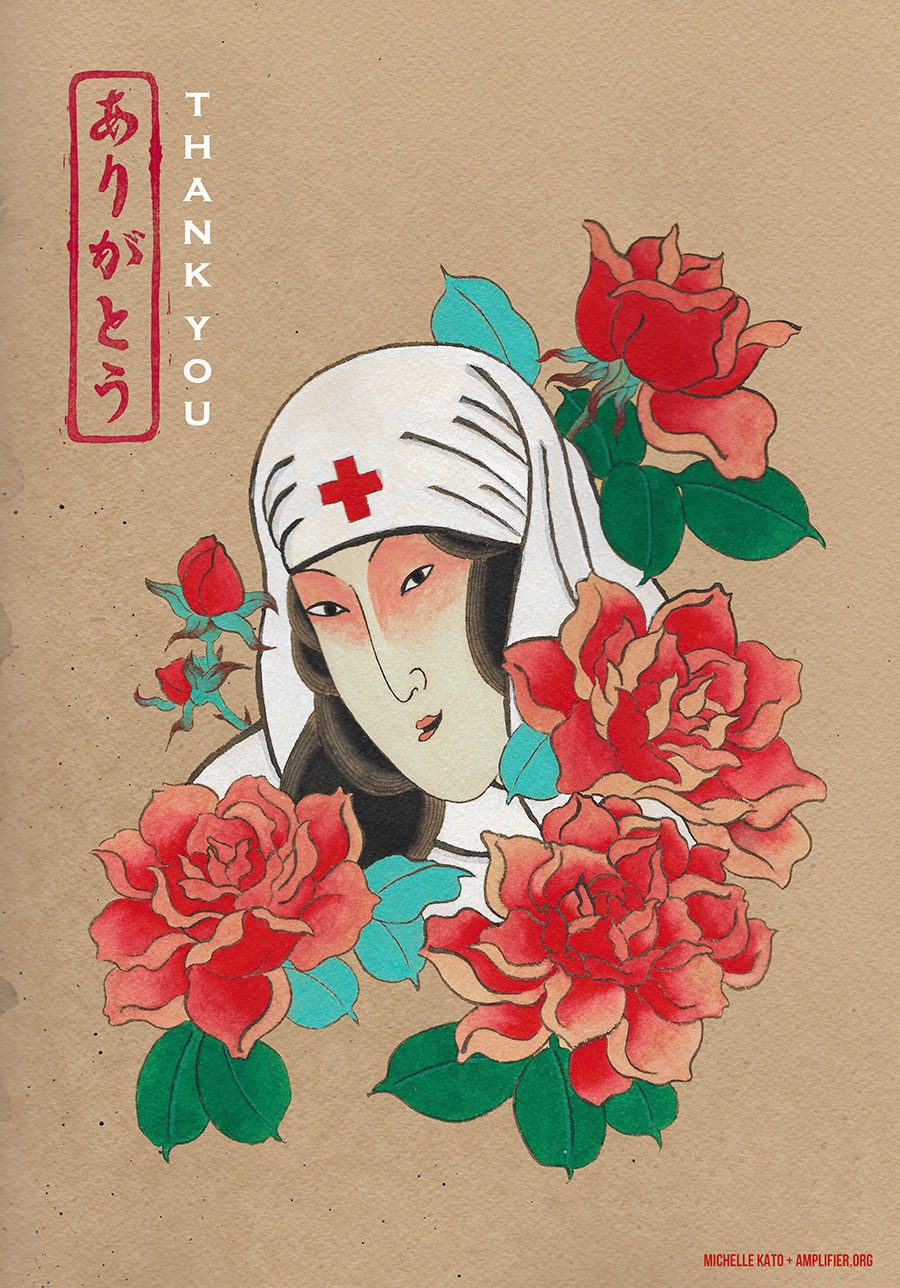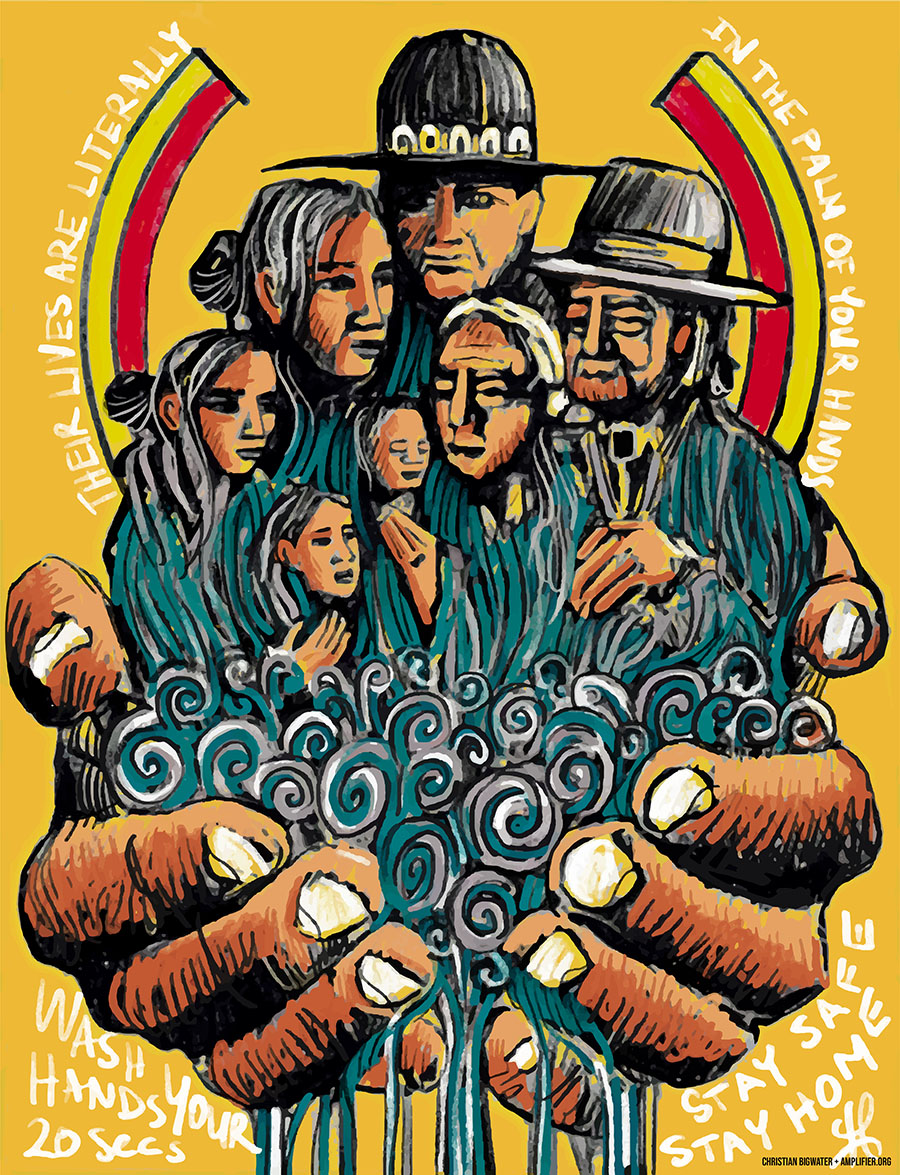 Left to right, above: Clean Hands Save Lives by Manoel Enrique, Positive Propaganda by Das Frank, Rose of No Mans Land by Michelle Kato, and In Your Hands by Christian Bigwater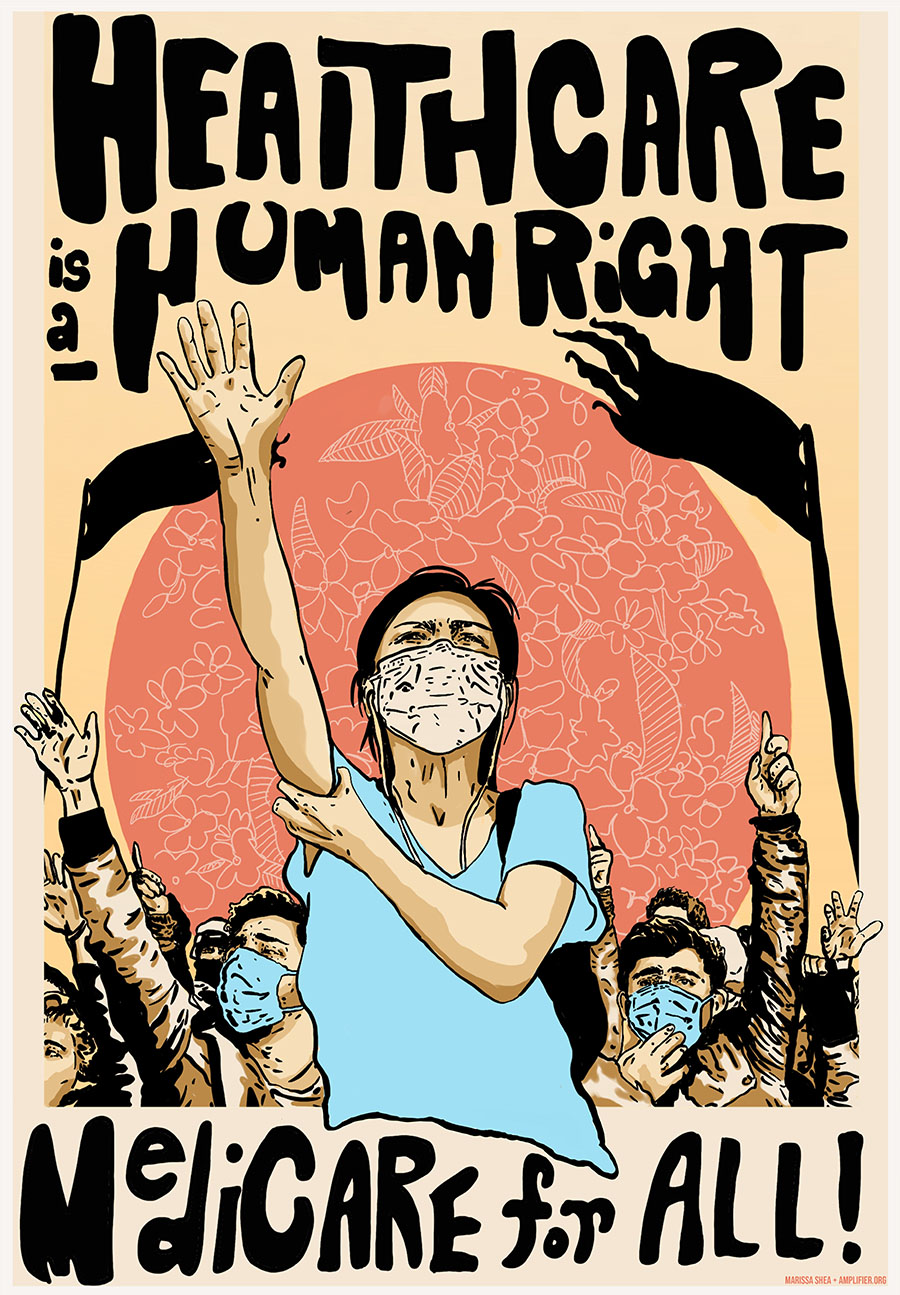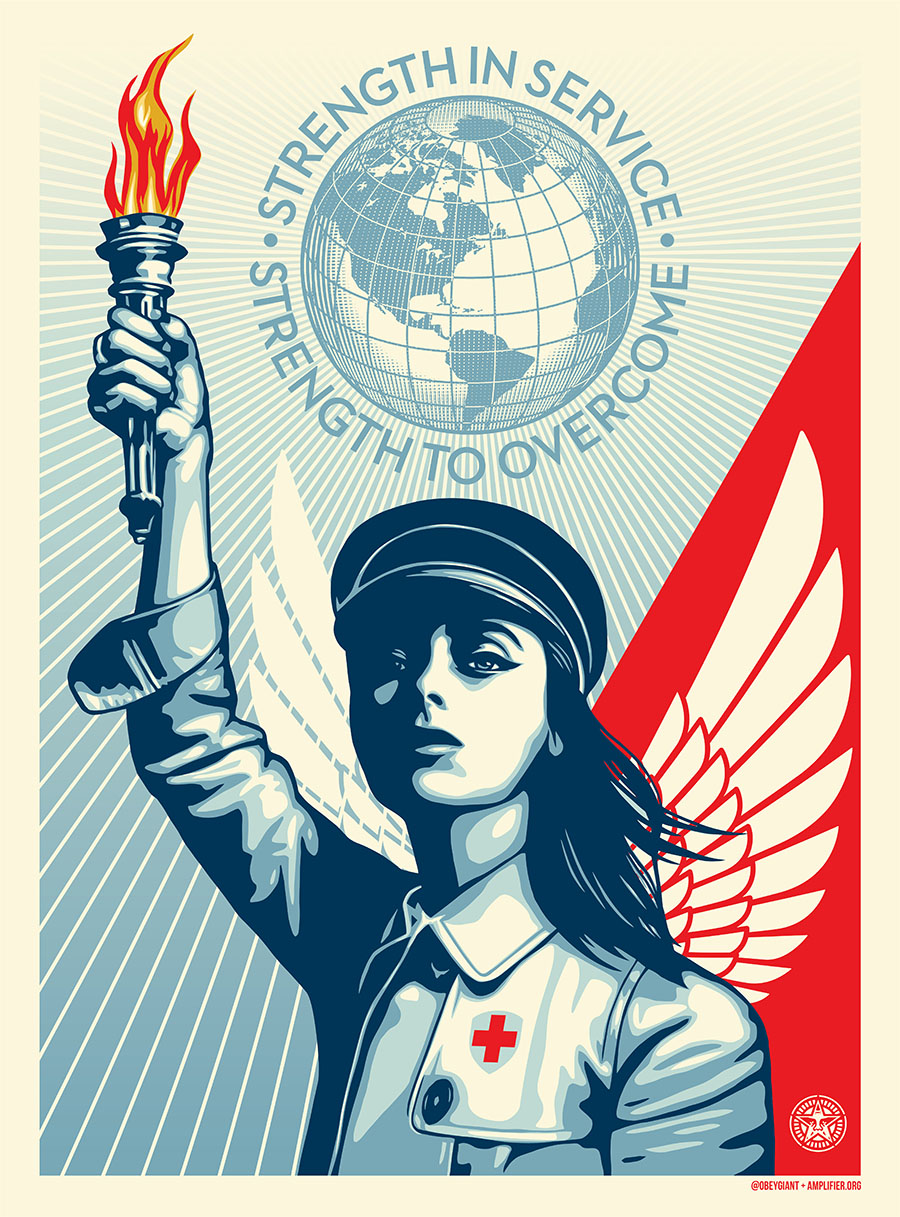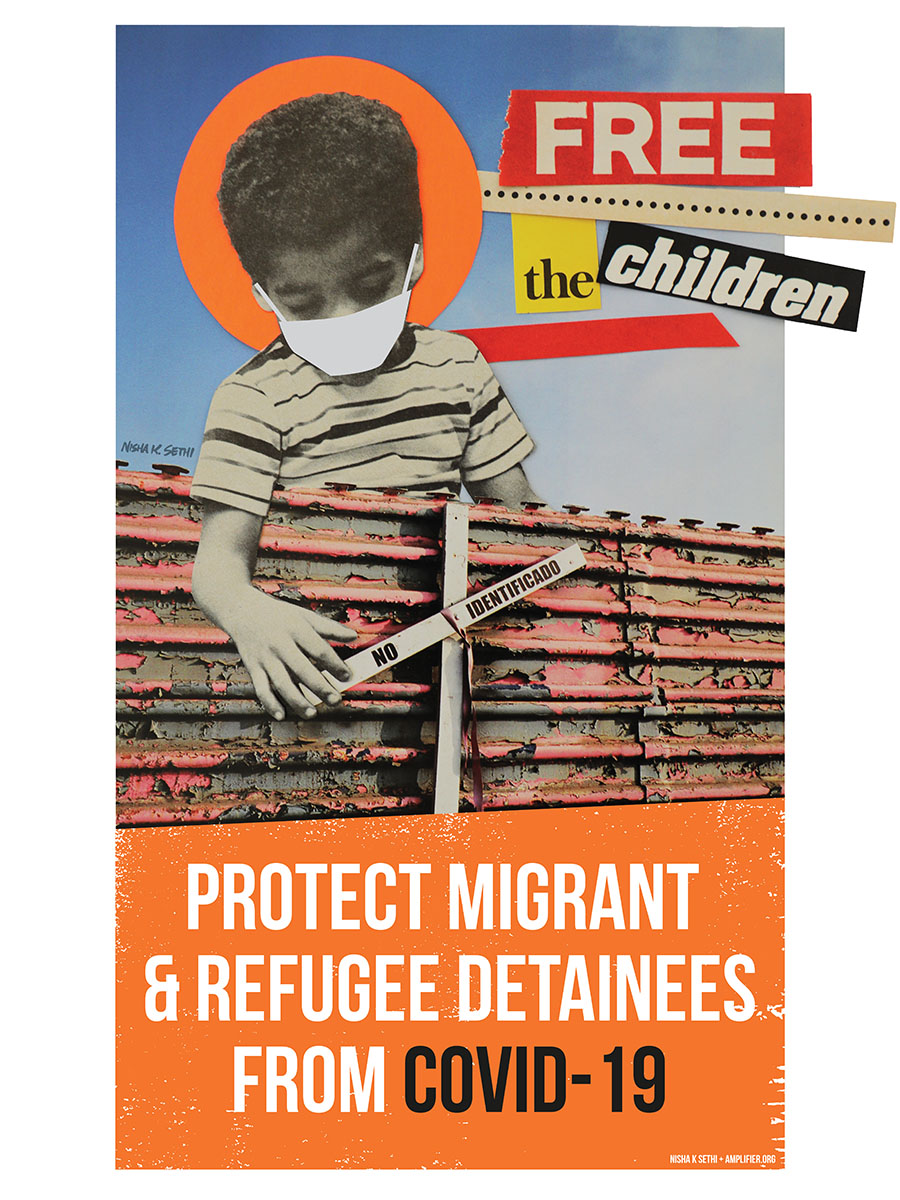 Left to right, above: Medicare For All by Marissa Shea, Strength in Service by Shepard Fairey, and Free the Children by Nisha Sethi
So, the world looks, sounds and feels different. Commercial messages have started to disappear from our streets as the wildflowers have started flourishing by the roadside; artists, activists and governments are telling us the same urgent story throughout the world; and we've all been given a taste of a city where the writing on the wall spreads messages of love and community.
In this brave new world we should bear in mind Mark Titchner's message…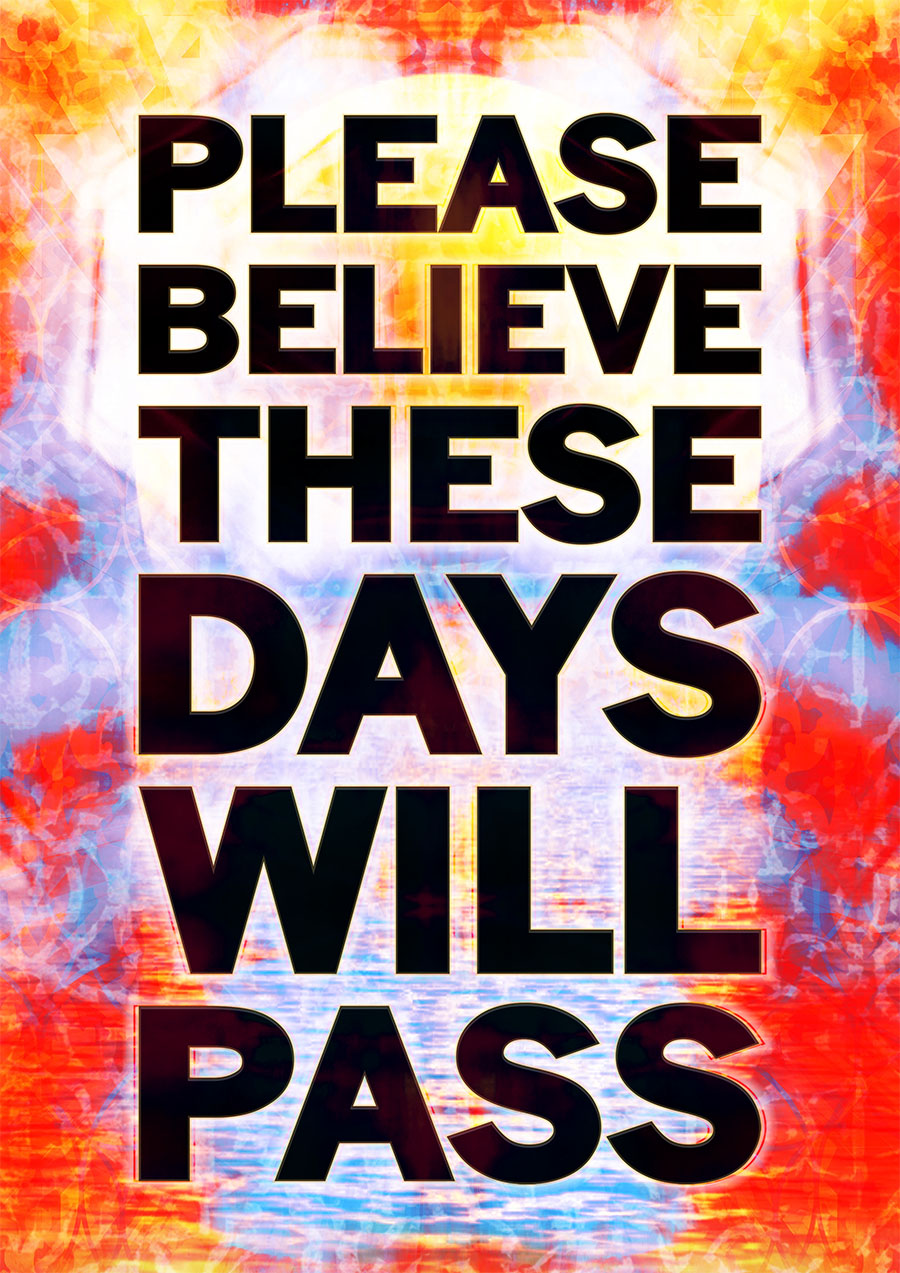 …and start to look at where we go from here.
Do we go straight back to heavy traffic, air pollution and billboards pushing consumerism, shame and sex? Or should we take this opportunity to examine what kind of world we would like to emerge from this strange break in normal service?
Below, novelist Arundhati Roy shares her thoughts of what comes next.