Bread & Roses: International Women's Day Poetry Fundraiser
Friday 8 March, 2019 @ 19:00

-

22:00

5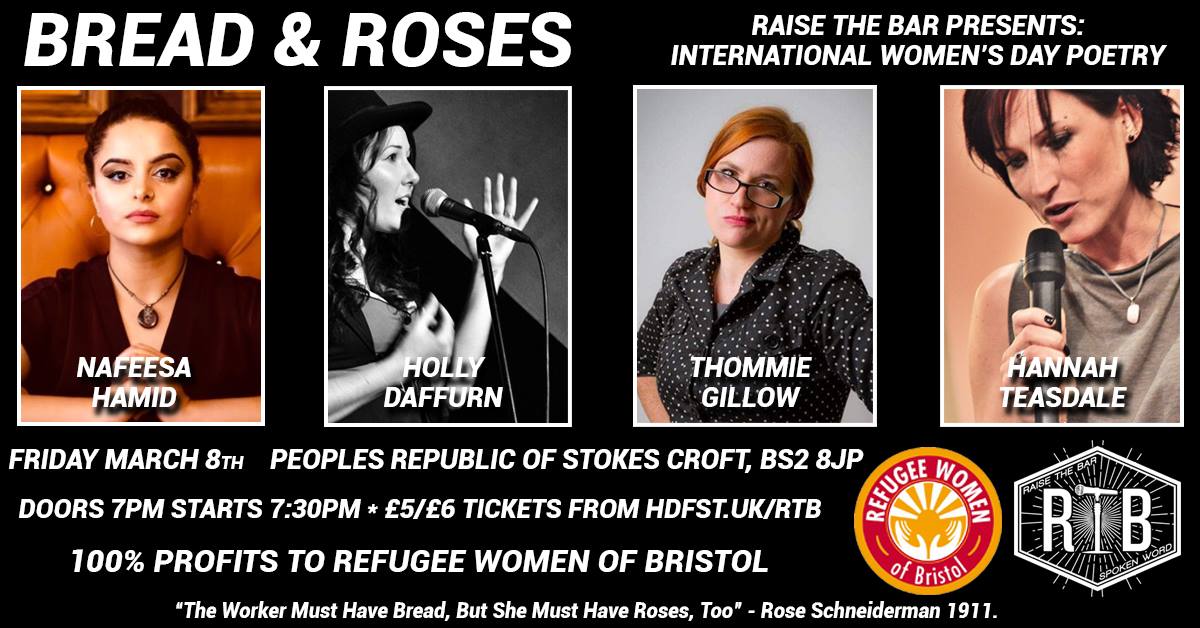 Raise the Bar Presents: BREAD & ROSES – An International Women's Day poetry fundraiser celebrating the strength and achievements of women and folks of other oppressed genders and raising money for Refugee Women of Bristol.
'The worker must have bread, but she must have roses too' – activist Rose Schneiderman 1911.
Featuring incredible spoken word from guest artists Nafeesa Hamid, Holly Daffurn, Hannah Teasdale & Thommie Gillow, and showcasing some of the finest local artists.
Guest artists will also join a short discussion panel and audience Q&A with a representative of Refugee Women of Bristol, to discuss the importance of the arts to marginalised groups and individuals.
Tickets: hdfst.uk/rtb
Shout-out to Headfirst Bristol who are kindly donating their booking fee revenue || Further donations gratefully received on the night.
19.00 doors ||19.30 start.
Please note this venue can be cold- wear your warmest and fanciest fluffy coats || There'll be a bar serving alcoholic and non-alcoholic drinks inc. tea/coffee & it will finish early enough for you to go out afterwards and get your feminist groove on.
Access:
Wheelchair-accessible double doors and ramp into the venue || We regret that the toilet is not wheelchair accessible || No strobe lighting will be used.
THE ARTISTS:
Nafeesa Hamid:
Nafeesa Hamid is a British Pakistani poet and playwright based in Birmingham, UK. She has featured at poetry performance nights around the UK and was invited as a performer at TedxBrum 2016 (Power of Us). Nafeesa is published in The Things I Would Tell You: British Muslim Women Write, a recent (2017) anthology publication by Saqi Books, edited by Sabrina Mahfouz. She is also published in the Women Anthology with Mud Press (2017). Her debut collection 'Besharam' (2018) is available to purchase from Verve Poetry Press. She was a finalist of the BBC Edinburgh Fringe Slam 2018.
Holly Daffurn:
Holly Daffurn's work rages from the political to the confessional, featuring a combination of rhythmical and fast-paced poems mixed in with carefully crafted passages that shrug off any expectation of rhyme.
Holly was commissioned by Apples & Snakes to create a podcast in which she explored inherited mental illness, receiving commendation from mental health organisations
SANE and BipolarUK. She performs as a featured poet at events and festivals throughout the UK, and her work has appeared in countless publications including DIVA, Bitch: Feminist Response to Pop Culture, Sluice Magazine, and I Am Not A Silent Poet.
She is also the facilitator of the Words To Live By project offering poetry workshops and publishing opportunities to individuals suffering from long term mental health conditions.
Hannah Teasdale & Thommie Gillow Poet:
Between them Thommie Gillow and Hannah Teasdale have 8 children, two MAs in Creative Writing, two ex-husbands, one current husband and a stack of various awards and poetry accolades. Difficulties getting pregnant, miscarriages, ectopics, abortions, caesarians, post-natal depression, breast-feeding, and single parent issues have all featured in their lives and are reproduced in this collection. Meeting at poetry nights in the South West Hannah and Thommie discovered each other in a world that so often shies away from talking about the realities of motherhood and found a partner with whom to share all their mothering joys and woes.
Related Events