Bristol Bachata Latin Class & Party
Sat 6 November, 2021 @ 18:30

-

00:00

£10-15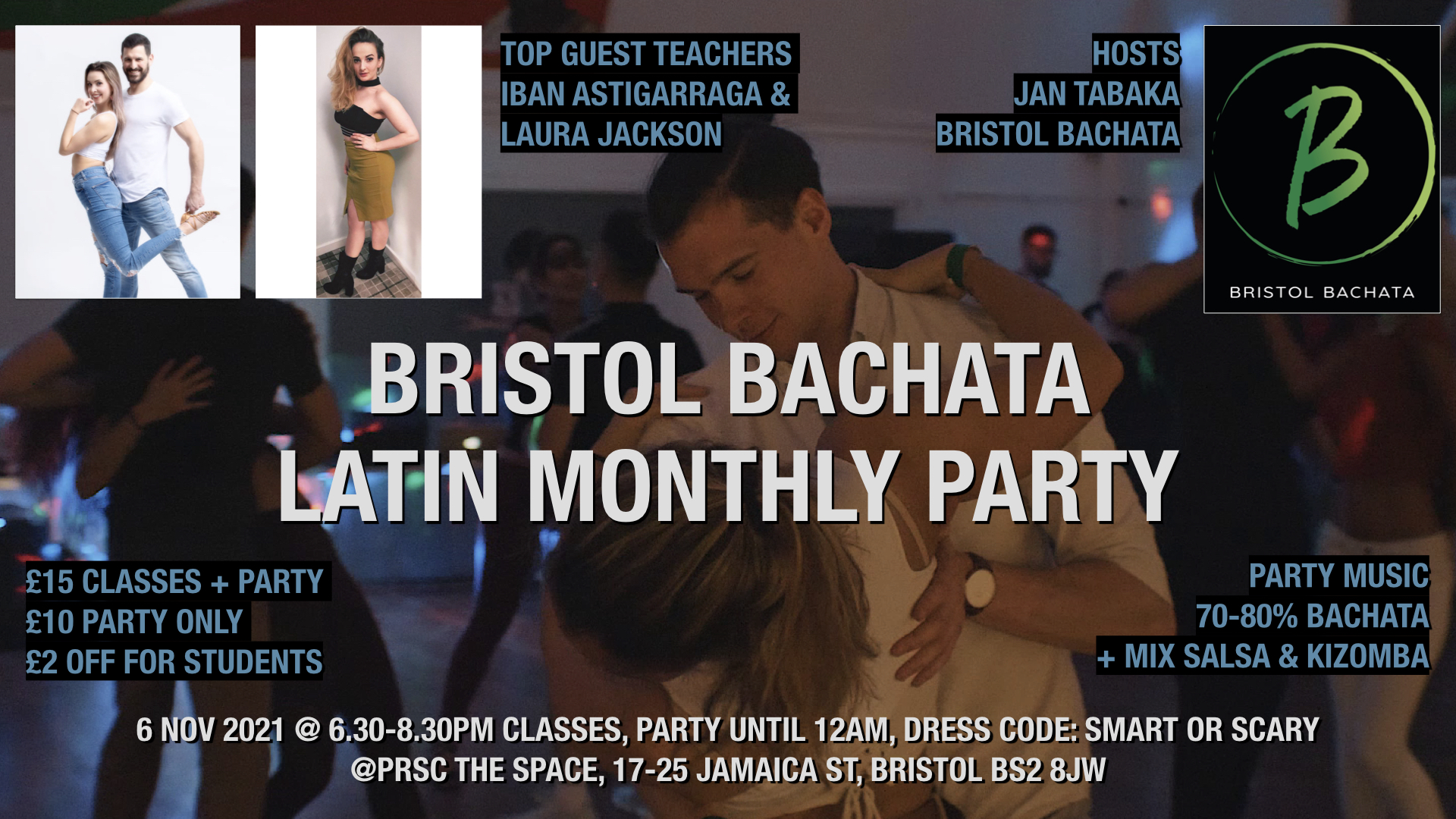 Monthly Bristol Bachata Latin Party with international artists Iban Astigarraga (first time teaching in Bristol, and by some now considered best social dancer in the UK!) & Laura Jackson (who some of you already know and adore).
Come and party with us at the Bristol Bachata Latin Monthly with Bachata Master Classes from 6.30-8.30pm and social party from 8.30pm until midnight! Bar will be open until 9pm. Special bachata performance team show at 10pm! Free on street parking and great access with public transport and minutes walk from city centre!
Party dress code: smart or scary!
No partner needed!!!! All levels welcome!
⭐ CLASSES AND PARTY COSTS:
– £15 for the master classes and party
– £10 for the party only
– cash on the door (not accepting cards)
– Discount for students – £2 off
⭐ TIMETABLE: BACHATA CLASSES (all levels: absolute beginners/beginners and improvers/intermediate/advanced):
– Door opens 6.15pm, classes start 6.30pm
– 6.30-8.30pm Master Classes all levels (beginner/improver/intermediate/advanced) Special Bachata partnerwork with elements of lady and man styling classes with top UK artists
– Social party 8.30pm-midnight with DJ Jan!
– 70-80% bachata music, 20-30% salsa/kizomba/zouk
⭐ LOCATION AND PARKING:
PRSC The Space, 17-25 Jamaica St, Bristol BS2 8JW – the venue in city centre with a dance floor, powerful sound system, air con, fans, toilets. Bar will be open until 9pm, free drinking water will be available.
ACCESS: On Street Parking is very very limited (you can also try parking in St Pauls or Montpelier for free), best accessible by walking, scooter/bike/motorbike or public transport – buses or train station in Montpelier, or park at NCP, Cabot or The Galleries.
⭐ WHAT WILL YOU LEARN?
The classes aim to teach you the beauty of Sensual & Dominican Bachata (Latin Dances) to help you enjoy your social dancing.
You will learn:
– basic steps and technique of Sensual & Dominican Bachata
– fun and easy to lead moves and routines
– musicality – how to interact with the music
– men's and ladies' styling
– how to connect with your partner and really enjoy your dancing
No partner or previous dancing experience required. Just come along and have some fun 🙂
⭐ WHAT IS IT SENSUAL BACHATA?
Sensual bachata was created in Cádiz, Andalusia, Spain, by Korke Escalona and Judith Cordero. Korke learned the basics of bachata in 1998; then he started developing his own dance style by understanding how the leader (traditionally a man) could lead the body of the follower (traditionally a woman) to interpret the music. Sensual bachata is an independent dance form with strict lead and follow principles. The dance is an interpretation of the music with mostly circular movements and body waves. When the music has stronger beats, however, the dance also uses isolations and dips.
Related Events