Graphic Medicine: Ian Williams in Conversation
Monday 17 June, 2019 @ 18:00

-

19:30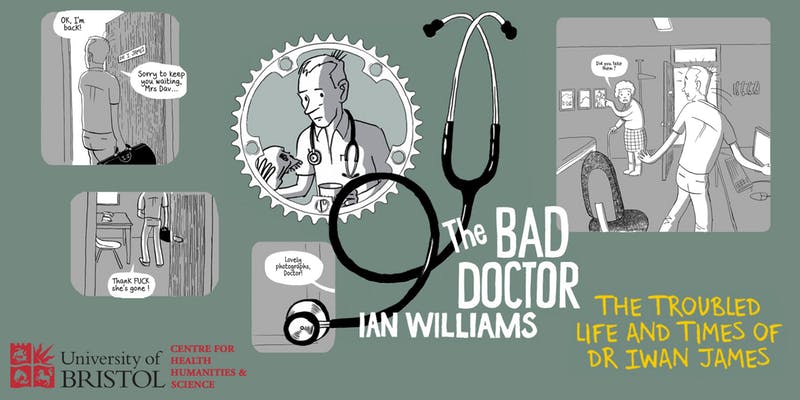 Ian Williams is a comics artist, doctor and writer, now living in Brighton.
The website he began in 2007, GraphicMedicine.org, gave a name to what would become a transatlantic, and perhaps global movement, Graphic Medicine. It remains the best place from which to start exploring that world.
His own contributions — creative, academic, and organisational — to the movement have been great. Some of his graphic novels, strips, academic chapters, edited books, and conferences are listed below.
His most recent publication — Jan 2019 — is The Lady Doctor. (New York Times: 'offers the engrossing perspective of a hard-working and fallible physician. The Lady Doctor… illuminates something profound.' The Lancet: 'It's very funny and also often very sad.' Herald Scotland: 'It's snorting-tea-out-your-nose-while-you're-reading-it funny.')
In this talk he will introduce Graphic Medicine in the round, and talk about the roles it might play in the lives of doctors, nursing staff, carers and patients (or patients, carers, nursing staff and doctors). Plenty of time will be left for a Q&A session.
He can be found on twitter as @TheBadDr and @GraphicMedicine.
More Info
The website GraphicMedicine.org is now also edited by MK Czerwiec, aka The Comic Nurse, Matthew Noe, and Alice Jaggers. There is also a spanish-language sister-site, medicinagrafica.com
A selection of some publications: 2007 Disrepute (as Thom Ferrier); 2014 The Bad Doctor; 2015 The Graphic Medicine Manifesto (editor and author): 2015 to 2016 Weekly four-panel cartoon on the trials and tribulations of working to the NHS, Sick Notes, in The Guardian: 2019 The Lady Doctor.
From 2010 onwards he has helped organise the Annual International Comics and Medicine conference. He is currently joint Series Editor for the Graphic Medicine book series by Penn State University Press.
The next conference is coming up soon: July 11-13th, at Brighton.
Related Events