Over the harshest first months of lockdown I felt a growing anger at the failures of government at all levels to protect the most vulnerable, but recently, looking at the growing cooperation and solidarity between local people, mutual aid groups and charities, hope and joy have had a resurgence.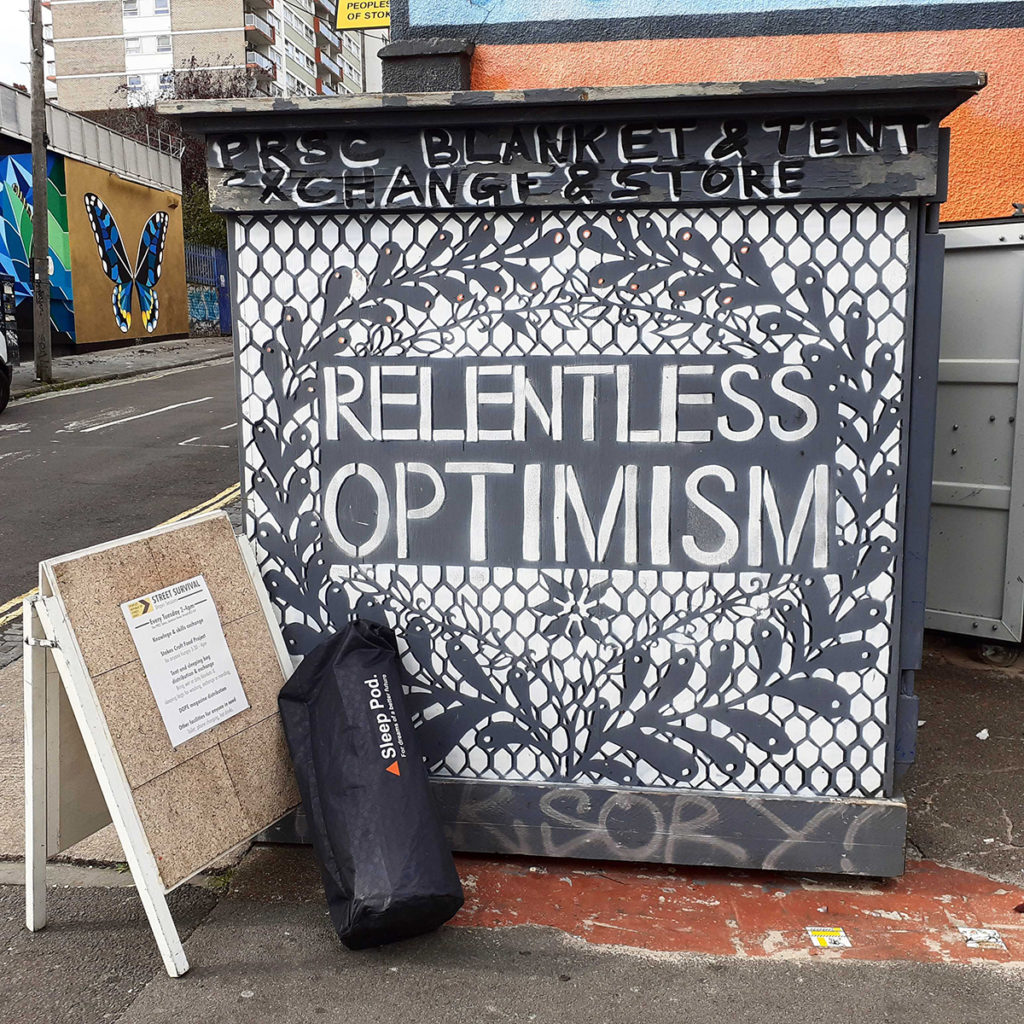 For a while I've been volunteering at the Peoples Republic of Stokes Croft's (PRSC) Tuesday afternoon Street Survival sessions. We're no experts, and the sessions are pretty basic – taking in dirty and wet bedding to wash and exchange for clean, distributing donated tents and bedding, giving out packs of DOPE magazine, offering hot & cold drinks, and very general advice. Almost right away at the start of lockdown this all changed, and as one of the few places that put in the measures to safely continue with face-to-face assistance, people who were truly desperate and on their knees started coming in. I don't want to dwell on this here, but it's important to realise what has gone on, with so many services moving online (when many people don't have smartphones, don't use the internet, or relied on libraries to get online), and even telephone assistance doesn't work well for many (through lack of phone, access to mains to charge, English language skills etc).
Along with another director of the PRSC and the brothers behind Jamaica Street Stores we set up the Stokes Croft Food Project (SCFP) shortly after the start of lockdown. This has been a constant, and growing source of joy and optimism for me ever since. I'm certainly not here to show off however – the SCFP has relied from the start on solidarity, mutual aid and volunteer labor to function at all! I help make decisions, make some signage, and occasionally find time to work behind the counter, but little else to be honest. The other directors have worked hard to coordinate with groups like the National Food Service (NFS), Bristol Food Union (BFU), Caring in Bristol, BOSH (yes the acronyms have been overwhelming) and many more, to ensure that what provision is still available, is not replicated, wasted effort, and that there is something available every day. Mutual Aid groups and organisations like Base and Roses, the NFS and Cheers Drive (from Caring in Bristol), to mention just a few that spring to mind, have been providing food to the vulnerable (economically, virally, etc) in their homes free of charge. Many individuals and organisations have been offering a wide range of other support, from help with shopping and collecting prescriptions, to free courses in using the online tools so many of us have come to rely on.
It may be partly down to the insight that I've gained from getting more directly involved in regular provision of the basics of life, but it seems to me I'm witnessing the start of something bigger and better than before. This is not Cameron's "Big Society", this is links of solidarity, new mutual aid networks, and a hardening of resolve in the face of abandonment by the state. It's no accident that the anarchist principle of Mutual Aid has come to the forefront in the public discourse!
The growing network of community groups, charities and individuals, forming tight bonds, interdependence and trust, seems to be something new and hopeful happening in Bristol. Just last week we were called out the blue by a community kitchen (in Hillfields Community Hub) offering boxes of surplus veg and chicken, which they delivered to our doors. The next day I went to pick up a fridge which the Baraka Community Cafe was giving to the SCFP. Whilst there I had a brief, but very informative conversation about others offering food resources and potential funding, and came back full of joy and hope.
We often say that we're aware of the cultural bubble of Bristol, protecting us from the harsh realities of life in many other cities in the UK, but the inverse interpretation of this is that we're protecting those close to us, forming a protective shield, and using the ideas behind mutual aid networks, solidarity, circular economics and compassion to prevent ourselves from collapsing. At the PRSC we were intensely proud to hear a while ago that we'd been specifically referred to as an inspiration for the "Preston Model," – a progressive local economy model – and that has served to strengthen our resolve. Right now we need to embrace the winds of change, and like the "Disaster Capitalists", leverage the way our actions have a greater impact in a crisis to re-shape the world in hope – buy local, independent and ethically where possible; if you've time and energy find a charity or mutual aid group that chimes with your interests, and lend time or expertise; if you see someone struggling- offer them help!
We mustn't turn away from the world – a key part of the idea of solidarity after all, is identifying struggling people far and wide, and standing with them, even if you have no material support to offer. But as is often noted on an individual level, we must practice self care to ensure we are strong enough to help others.
Right now it would be easy to sink into anger and despair, as I feel I almost did, but if we focus closer, reach out to the people around us, and offer help where we can, we can build strength in community, and hope for a better future.