Who can believe that Easter is just 2 months away already?
Like the swan's feet, PRSC has been paddling madly behind the scenes to get an incredible programme put together for the second School of Activism, which runs throughout the Easter Holidays.
The line-up includes talks, workshops and creative activities on subjects as diverse as: self defence, poetry to change the world, drug law reform, collage making, planning direct action, the effects of the new encampment laws, street art, land ownership, digital health apps and rewilding the city, with more being confirmed every day.
Alongside returning favourites like the Rebel Storytime (storytime and crafts for kids and their adults) and Colin Moody's brilliant Street Photography workshop, PRSC is delighted to announce that local street artist Ghostboy will be running a stencil cutting workshop, musician and poet Pete The Temp will share the secrets of spoken word, and Adblock Bristol will introduce us to making art in ad places.
So why do we need your help?
PRSC is a completely independent organisation with all our income generated by china shop sales and venue hire. This model allows us to create plans and follow opportunities based upon our political and cultural ambitions without constraints. Despite that, we really want to provide affordable activities for local families through the school holidays, with the standard price for a School of Activism event being £4 on the door, with no-one turned away through lack of funds.
To make our School of Activism plans possible we have created a crowd funding appeal. Every penny raised will go towards travel expenses, equipment and promotional costs of the School to ensure the £4 ticket price doesn't end up costing us!
How can I help?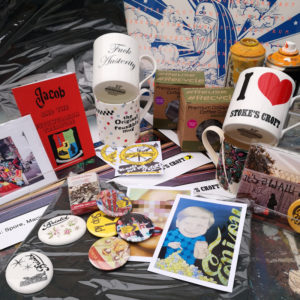 Please share the Fundsurfer link around and make a donation if you can afford it. Your generosity will make a real difference.
If the chance to support affordable and empowering activities isn't enough of a motivation for you, then take a look at the luxurious, Gucci-inspired, PRSC gift bags we are putting together to reward our most generous donors.
Each unique bag comes in economy, standard or luxury size and contains a hand selected collection of interesting things that accumulate in this crazy place. Contents may include stickers, postcards, hand decorated china, a patented PRSC dog shit shovel, badges, art found in the Bearpit, spray paint and whatever else catches our eye when compiling the bags.
So what more do you want eh? Get giving!!!