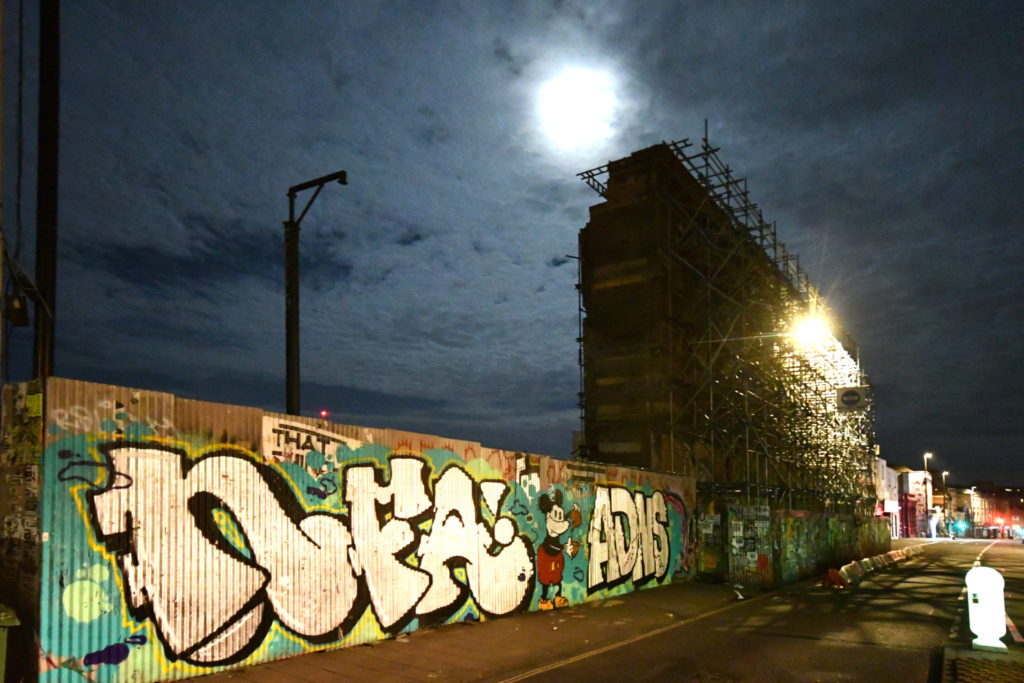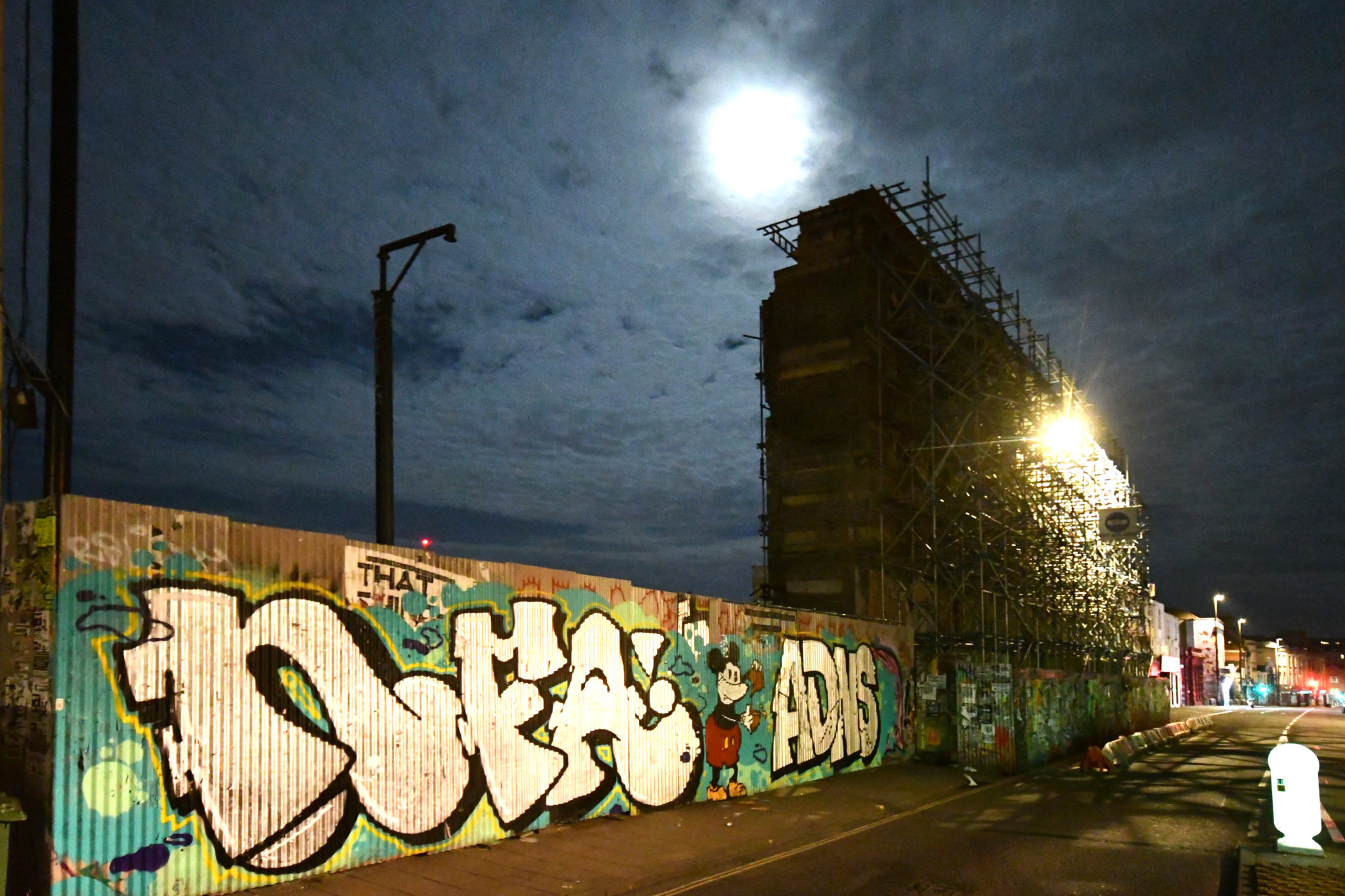 Greetings from Stokes Croft, Bristol's Cultural Quarter.
As lockdown continues to keep most of us stuck at home teaching our children, losing our minds or learning new crafts, building developers, planners and construction workers have continued to busily reshape our city.
As Stokes Croft and St Pauls are undergoing intense transformation, with very little clear public information about what the neighbourhood will look like at the other end of this process, and no Covid-19 related break in play, PRSC has done our best to find updates on all the local developments to give you an idea of what they are doing to this noisy, colourful, crazy part of the city.
Lakota – Upper York Street
On April 29 the council decided through a zoom meeting to grant permission for the legendary club Lakota to be torn down and turned into flats.
Despite a passionate public campaign and a petition signed by 8000, the council and the buildings owners have decided that Stokes Croft needs more housing, not a hugely popular and culturally important music venue.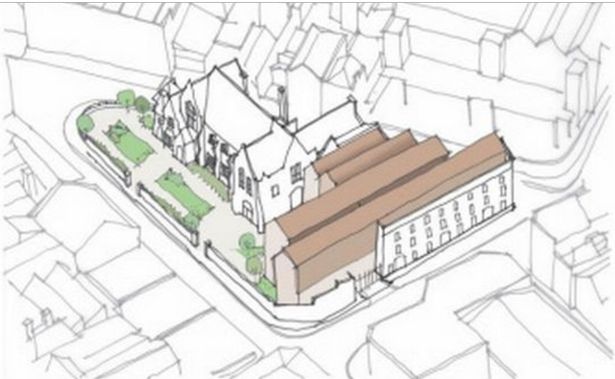 The scheme proposes 54 dwellings, up to 20% affordable and 300 m2 of new business space.
Read more here: https://www.bristolpost.co.uk/whats-on/music-nightlife/confirmed-legendary-bristol-nightclub-lakota-4089206
Westmoreland House – Stokes Croft
As shown in the dramatic image at the top of this post, the Westmoreland House and Carriage Works developer, the PG Group, with the exception of the Carriage Works frontage have completed demolition and remediation of the site ready for construction of 112+ residential, some affordable, a market square, and 13 business units.
Despite years of passionate campaigning from local residents, no one is sure how much of a 'cultural offer' will eventually be created on this site, or what (if any) amount of affordable housing we might end up with.
PG recently lodged two amendments to the planning application for an additional 7 apartments on the Ashley Road frontage. This will make the whole building taller and more imposing than previously agreed. These latest changes are being done through a planning loophole which allows "minor changes,"despite the fact they're adding a whole new floor!
Final planning permissions have been granted by Bristol City Council and from a legal point of view construction can now begin.
Dominic Taylor – owner of the Tuckett's building (the Victorian block on the corner, home to Cafe Kino and the Here Gallery) has been fighting these developments and is submitting an official complaint. Here are some of his issues with the permission granted.

"There are no 'Officers reports' available online for either application.
Neither the 'Decision' on application 20/00894/F or the 'Decision' on application 19/02364/X make any reference to my comments and concerns or any of the other public comments and concerns.
It also appears that the majority on public comments for these application have been removed from the planning portal.
The decision to approve these two applications allows the reconfiguring of the plans and external elevations of this development in such a way that the development no longer conforms to planning guidelines in terms of privacy and over looking.
The proposed scheme does not appear to conform to planning guidelines in terms of proximity of facing windows (and balconies) of habitable rooms. Similarly I do not think it conforms in terms of overbearing, overshadowing and in terms of rights to light."
As always, the goalposts continue to shift around the development of this site and few people feel confident that the final development will truly bring benefits either to Stokes Croft as a cultural quarter, or to the pre-existing residents.
Croftdale & Hepburn Road
Crescent Property Developments have unveiled plans to demolish the Croftdale building and others on Hepburn Road to replace them with 66 student flats and nine private lets.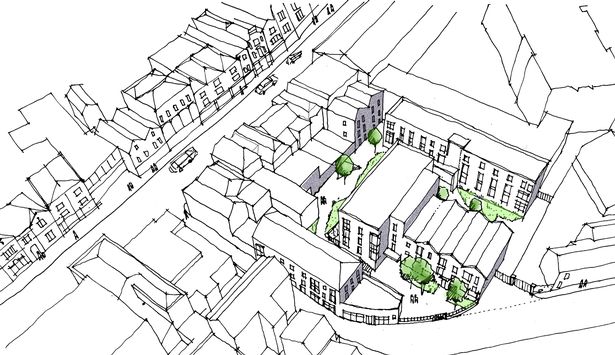 A request has been made by Pegasus Planning Group to see if an Environmental Impact Assessment (EIA) is needed for the proposed development.
Crescent intends to build a number of properties at the site with mostly retail uses on the ground floor, and student accommodation above.
The units fronting onto Stokes Croft will not be demolished.
An existing building, Croftdale (currently in use as a seven-bed student property), would be demolished along with a neighbouring warehouse.
These would be replaced by Block A of the new development, consisting of 27 student beds.
Block B would replace an existing building currently being used for industrial storage and provide eight student beds and nine residential flats.
An existing workshop fronting on Hepburn Road would be removed and replaced with Block C – a three storey building with two workshop units and ten student beds.
Despite the fact that Hepburn Road is a quiet residential street, already surrounded by residential developments, Pegasus said in a planning statement:
"Given the low impact of the proposal, it is considered that whilst there will be some effects upon the historic environment as a consequence of the scheme, none of these are considered to constitute 'significant effects' upon the environment, as set out in the relevant guidance. Accordingly, it is considered that the screening proposal constitutes Non-EIA development."
Read more here: https://www.bristolpost.co.uk/news/bristol-news/student-crack-alley-stokes-croft-4084524
and here: https://www.insidermedia.com/news/south-west/plans-underway-for-66-new-student-beds
Other Stokes Croft developments
Change of use to Mixed use Café and shared Music Production and work spaces at 26 Stokes Croft. (formally Niche Framers)
Change of use to mixed use café and take-away with pavement seating at 54 Stokes Croft, junction of Stokes Croft and City Road. (Burger Theory)
Application by Connolly & Callahan for proposed change of use to 5th Floor of Hamilton House Block C for residential see more here: https://www.bristolpost.co.uk/news/bristol-news/hamilton-house-owners-make-fresh-4107670
A new 'porridge' and coffee bar has opened at 88 Stokes Croft
As discussed in our February blog on this subject, this is all in addition to the multitude of developments running up Wilder Street, each offering high end apartments to high income households.
As they knock down more of our valuable cultural spaces, and build more and more apartments, this whole neighbourhood is in danger of losing it's riotous, anarchic, living identity and becoming that lifeless sounding thing 'a cultural destination'.
You can search for, and comment on development plans in your neighbourhood here: https://planningonline.bristol.gov.uk/online-applications/search.do?action=simple
Let your feelings be heard!
Respond to consultations!
Write to your councillor!
Thank you to Jeff Butterfield, Forensic Planner and local property owner Dominic Taylor for watching these developments & sharing this information.
See the latest issue of Vocalise magazine (if you can find it in lockdown Bristol) for Jeff's full article on local developments.