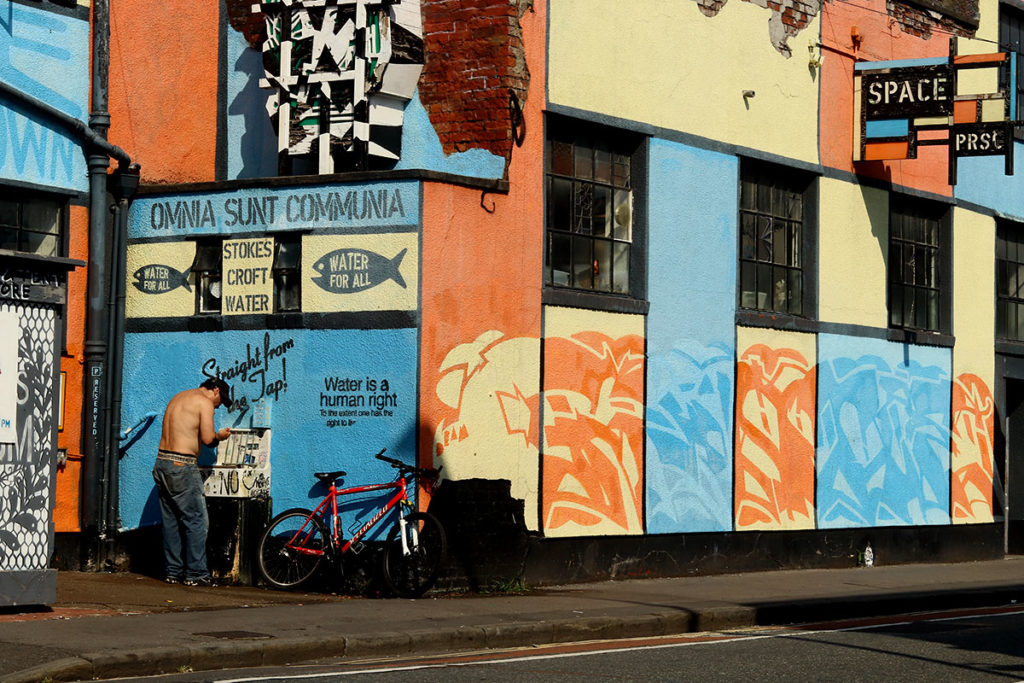 An account from Benoit about our experiences supporting people on the front line through lockdown.
We've been running weekly drop-in sessions for the local homeless community for a while now, mostly distributing information, sleeping bags and tents, and signposting to other organisations with more expertise and resources, as we're a self-funded not-for-profit, and can't provide the level of support many people need.
When lockdown was imposed a lot was made of the fact that most of the homeless population were put up in hotels, but whilst this was great, the wider effects of the lockdown, with most other services closing entirely, or moving exclusively to an online model, have meant those left behind are more desperate than ever.
I've been trying to help people with a wide variety of issues. Just as a taster-
How does someone with poor written English and no computer literacy, who've lost their job, even find out what their rights are, let alone actually access the benefits they are entitled to and desperately need?
How can a young woman, a refugee with "no recourse to public funds," survive on her own on the street?
How do a pregnant couple from Romania in terribly insecure housing, access maternity services and child benefit?
Trying my hardest to understand their situations, what they're entitled to, and how to access it, during a weekly two hour session, has left me incredibly stressed and angry at their abandonment. I can see on the faces, and hear in the voices of the people coming in that it's infinitely worse for them, as you'd expect.
As far as we can work out, almost all face to face advice, counselling, and support services have been on hold since March. Many charities and agencies were working towards opening these services up again, and with the threat of a second lockdown looming over us it is imperative that they are given all the support needed to avoid leaving people without these essential services any longer.
As we seem to be entering another lockdown, the first signs of the seasons turning make these issues all the more urgent. An immediate concern for us is that most of the tents and sleeping bags which we distribute are ones which are bought specifically for, or abandoned at festivals, and as no festivals have happened this year there is a real concern that the meagre, but potentially life saving equipment we distribute will just not be available this winter.
To be clear, we don't blame the various mental health, drug dependency, homeless, migrant & refugee rights charities and organisations for the cutting off of services. After ten years of austerity, and a purposefully hostile environment, too much burden has been placed on over stretched local government services (already cut to the quick) and charities have been expected to step up and try to fill the gaps left in state provision.
Many of these charities are reliant on volunteers, often themselves elderly or otherwise vulnerable, who understandably do not wish to expose themselves and their loved ones to the virus. The organisations themselves may not feel they can take the risk of exposing their staff or clients, or they work from premises where they can't practice safe social distancing.
The first lockdown this spring was presented as a plea to do the socially responsible thing and STAY HOME. This time around, with the cold already seeping in and the wounds still left unhealed from a summer of cancelled services, we call for an urgent discussion on how we define socially responsible actions.
We face a real danger of protecting one vulnerable group of people – the elderly and those with underlying health issues – over another – those suffering from mental health issues or homelessness, people in recovery from addiction or abuse, and anyone trying to navigate the benefits system.

The emergence of so many mutual aid groups around the country this spring was inspirational, but needs that have been unmet since March are greater now, a huge number of people have moved closer to the cliff edge, cracks have emerged throughout the system and the cold winter nights will bring their own greater dangers.
When we have a government seemingly wishing to go back to the Victorian model of care for the poor, relying on charities to provide everything the most vulnerable need (look at the combination of people housed in Salvation Army "Lifehouses" and tell me they're not the poor-houses from our past. Again, they are trying to provide what they can, as we are, but shouldn't have to.) It shouldn't be a surprise, but I find myself constantly downhearted, disappointed, and increasingly outright furious that so many vulnerable and needy people have been abandoned by the state, to beg for assistance or fend for themselves.
How do we fix this?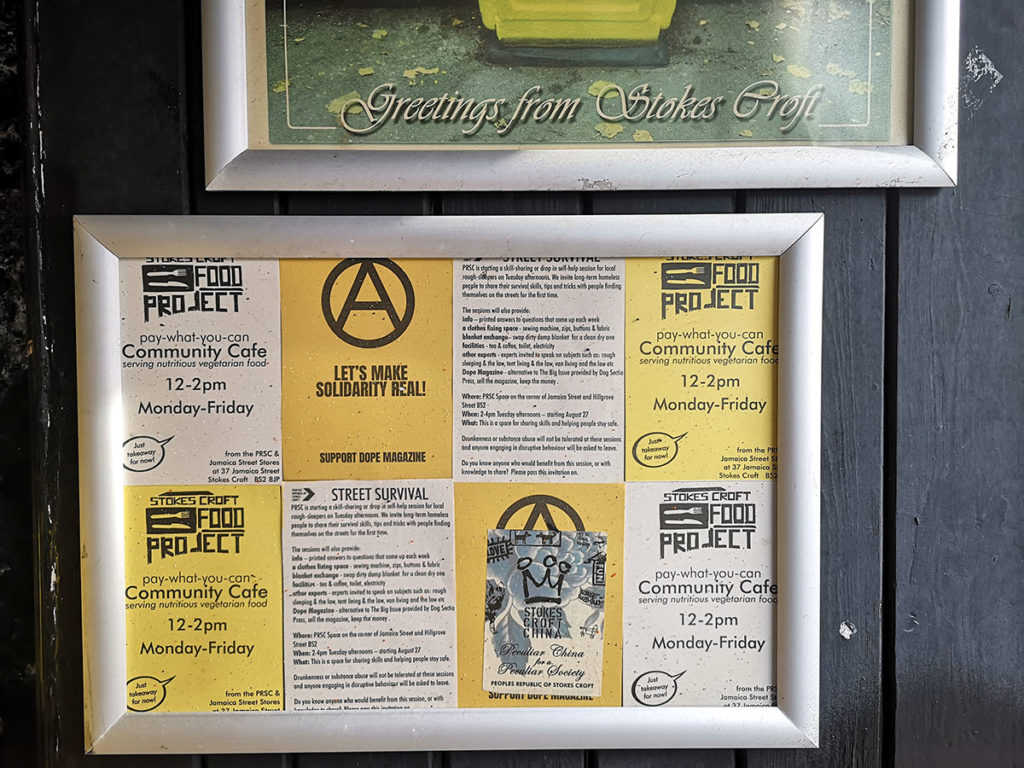 Do you need some support?
Our Street Survival sessions https://prsc.org.uk/street-survival/ run every Tuesday afternoon 2-4pm. Anyone is welcome to pop by, exchange news, get a hot drink and pick up toiletries, a clean dry sleeping bag, waterproof coat, sleep pod or tent (where we have these available, stocks are running perilously low).
We distribute DOPE magazine from Dog Section Press, which are available to rough sleepers to sell on the street (a sort of anarcho-Big Issue)
We provide free charging points and water available 24/7 outside our building, and have added a soap dispenser so people without access to toilets or fresh water elsewhere can maintain some level of Covid secure hygiene.
Over lockdown, in partnership with Jamaica Street Stores, we started the Stokes Croft Food Project https://prsc.org.uk/scfp/ Which has evolved into a Pay-What-You-Can Community Cafe.
Come by any weekday Mon-Fri 12-2pm and get a hearty veggie takeaway for whatever cash you can spare.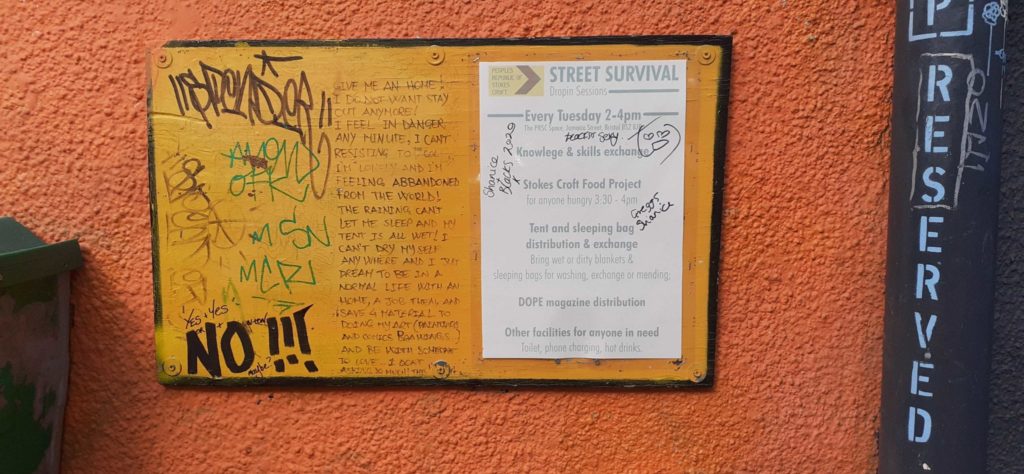 Can you support our work?
We urgently need donations of tents, sleeping bags and toiletries for distribution.
We accept food, forks, paper cups and volunteers at the Stokes Croft Food Project.
We also accept money…
Support the Stokes Croft Food Project fundraiser
Or buy some lovely china from our shop.