Local people have until June 19th to respond to new plans for Carriageworks
You may be forgiven for thinking that the plans were finalised for the Carriageworks development, given that the old buildings are gone now, but the developers are trying to sneak through some dramatic last minute alterations.
On 16th May this year, PG Group, using a planning loophole called Section 73, quietly slipped a series of amendments to the development plan into the planning office. Section 73 allows for small, quick changes and allow only 4 weeks for the public to respond.
Now we have until Wednesday June 19th to react to these plans (although the Carriageworks Action Group have been assured that feedback from their public meeting in early July will be taken into account). Follow the link below to make your own comments on the changes.
One local resident & architecture lecturer has carefully read all the application documents and summarises the changes thus:
1. Addition of two storeys to Block A – So that it now contravenes guidance policies on Natural light, Overshadowing and Overbearing.
2. Reconfiguration of Block A plan/layout so that it now looks into 108 Stokes Croft – So that it now contravenes guidance policies on privacy.
3. Changes to Ashley Road Frontage and removal of a key commercial unit – This commercial unit is a visual signifier that this a commercial arcade and entrance to a public space.
4. Changes to Ashley Road Frontage – Including reduction/removal of the 'Commercial architectural language' to the ground floor (as though the intention is to remove this commercial element from the development).
5. Removal of Roof Gardens – reduction of amenity space.
6. Redesign and reduction of Bin Storage – Including returning 108 Stokes Croft's bins to the entrance arcade (significantly compromising its viability) and reconfiguring occupiers bins to make them less convenient to users.
7. Reconfiguring stairwells – resulting in a reduction of natural light in internal corridor spaces and an increase in internal travel distances. Reducing quality of environment.
8. Redesign of internal elevations to remove evidence of commercial element – The ground floor frontage of Block A is now drawn as identical to the first floor flats frontage. (as though the ultimate intention is to remove this element from the development.)
You can see the plans here (if you can make sense of them) & other people's comments, which might help in understanding the problems with the proposals: https://planningonline.bristol.gov.uk/online-applications/applicationDetails.do?activeTab=documents&keyVal=PRLISBDNHHU00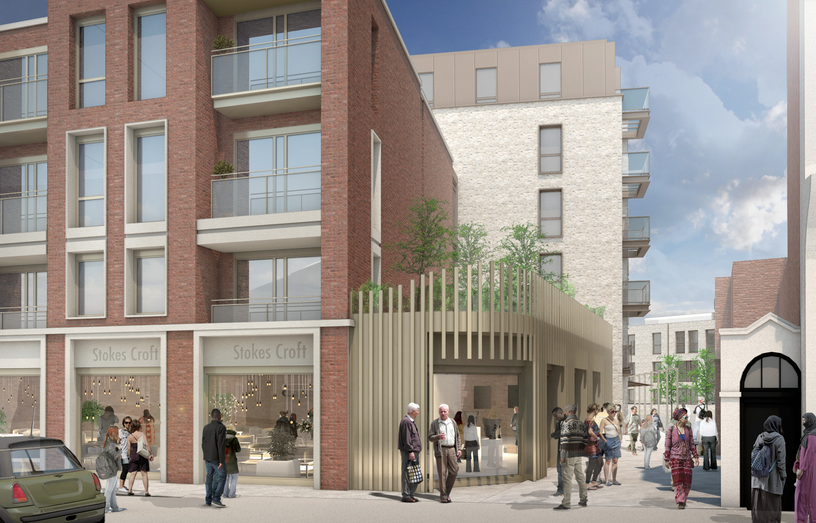 What's been going on with the Carriageworks?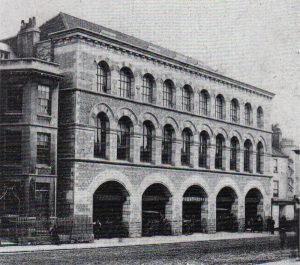 The future of the Carriageworks has been a hotly debated issue in Stokes Croft for decades.
Numerous developers have submitted proposals for the site, resulting in a successful campaigns by local residents to put planning conditions in place, demanding a sensitive development appropriate to the local culture (a neighbourhood of music, street art & independent shops).
Over the last 2 years PG Group have worked hard to give the impression of listening to the local people They proposed a mixed use development with small retail units, roof gardens, a traders market and possibly an outdoor theatre space, although still focusing on luxury housing and apartments, with well below the 30% council mandated level of "affordable" housing.
The planning permission they received required a 'cultural plan' be built in to the development – money put aside to allow a part of the project to enhance the local culture – and throughout 2018 a big public consultation was carried out to determine what the cultural plan should be.
The cultural plan was particularly important, coming at a time when important cultural venues (such as Coexist in Hamilton House, Blue Mountain and Lakota) have been threatened by future developments looking to cash in on the creative reputation of the neighbourhood by building big luxury apartments and thousands of student flats.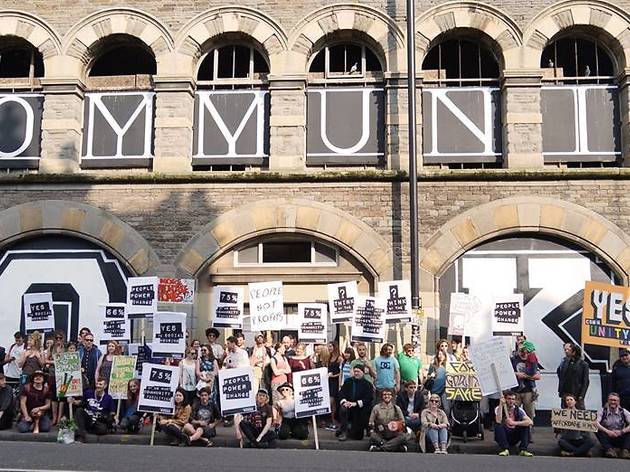 A Short History of the Carriageworks & PRSC
Read more about PRSC's long term love affair with the Carriageworks and Westmoreland House, and their architect, the visionary polymath E.W.Godwin here: https://prsc.org.uk/the-project-pages/carriageworks-westmoreland-house/
To try to reduce the uncertain future of cultural & community buildings in Stokes Croft, PRSC are working towards the formation of the Stokes Croft Land Trust – an independent body with the power to buy Stokes Croft Property and preserve it for community use in perpetuity. See more here: http://stokescroftlandtrust.org/
To help fund the land trust PRSC released a limited edition Westmoreland House print to mark the building's demolition last December. Support PRSC in all our campaigns by buying stuff: