People's Art Fair: Festive Edition
Thu 9 December, 2021 @ 18:00

-

Sun 19 December, 2021 @ 18:00

Free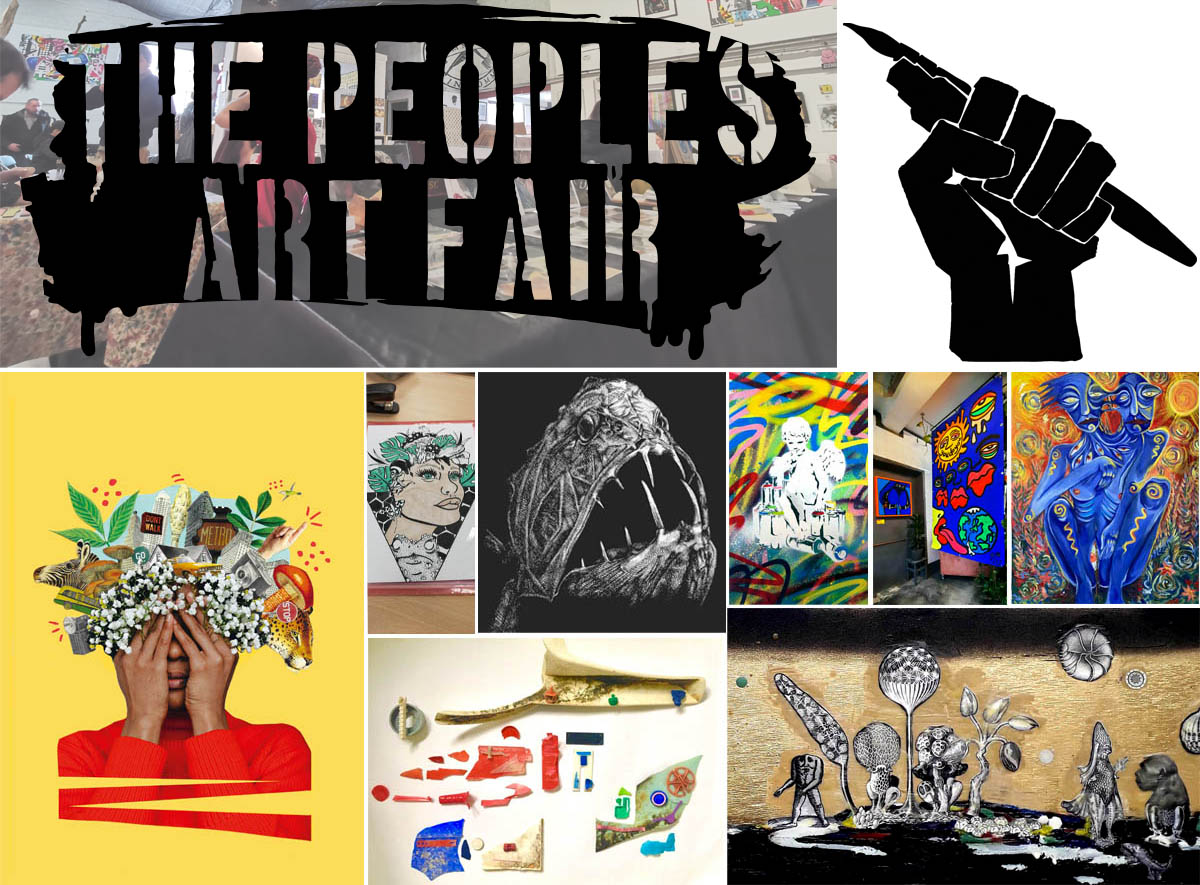 Opening night: Thursday 9 Dec, 6-9pm
Exhibition open daily: 12-6pm, Fri 10 – Sun 19 Dec
FREE ENTRY
The People's Art Fair (PAF) is a collaborative group exhibition devised and hosted by the PRSC and open to all artists. The fair follows the principal that together we are greater than the sum of our parts, and demonstrates that bringing together artists involved in individual creative practice produces something unique and special.
Embodying the ethos of collective action, the artists help to hang, manage and promote the show together. We want to break down barriers to the art world and challenge the elitism and sense of exclusivity that pervades many gallery shows. PAF attempts to level the playing field with no entry fee (for artists or visitors) and an open invitation to everyone to take part, offering a platform to all the talented people out there no matter their medium.

Participating artists include:
Adam Roe, Alex Cadle, Amy Loizou , Amy Vans, Angelbabydarling, Anna Hurl, Beautiful Things in Foreign Lands, Bev Milward, Billie Brown , BOSH + MOE, Cereal Box City, ChikaChika, Colin Moody , Cow & Koala, Criminal Mind, Dan Petley, Disphoria Art, DNT, Domino Project, Extempore Art, FYONAFINN, GC, Greenbank Pottery, H. V Povey, Jacob Moon, JAMIE PETT , Jasmine Collings, June The Second, Kat Martin, Katie Fishlock, Katy Day, Kaz, Keep StuM, Kerry Day Arts, Lisa Travers, Mandi Collingridge, Mark Povey, Marta Zubieta, Martha Makes It, Matti, Max Middlewood, Mez, Moonshine, Mr Sleven, Natasha Watson, Niemi Calypso, Object…, Octopus Odyssey, Pablo, Phil Constable, Ramona Eve, Rocio E Bucheli, Sonic, Stokes Croft Land Trust, TG Freeson, The Cat Came Back, Toby Lennox-Hilton, TropicaLala, TwoBirds Art, Wistful Horizons, and Zlyzab.


Alongside the visual art we have a bunch of inspirational workshops and activities to get your creative juices flowing…
Opening Night / Thu 9 Dec, 6-9pm – for those who prefer to enjoy their art in the evening with a drink in their hand
Domino Painting / Thu 9 Dec, 6.30-8.30pm; Sun 12 & 19 Dec, 1-4pm; Sat 18 Dec, 12-3pm – paint a domino to take away or to add to a permanent display
Drop-in Collage Club with Octopus Odyssey / Sat 11 Dec, 1-5pm – come make a collage with master collager Octopus Odyssey
Late opening / Thu 16 Dec, 6-9pm
The People's Poetry with Emma Ako / Thu 16 Dec, 7-10pm – intimate open mic night of poetry & spoken word
The People's Jam Session with the Suspicious Jazz Roll Ups / Fri 17 Dec, 7-11pm – a night for us to make beautiful music together
Winter Art Market / Sat 18 Dec 18, 12-6pm & Sun 19 Dec, 12-5pm – a chance to buy some unique and beautiful art pieces and crafty creations from our amazing bank of artists
Paint Jam from the Bristol Womxn's Mural Collective / Sun 19 Dec, 1-4pm
We are confirming more activities every day so watch this space…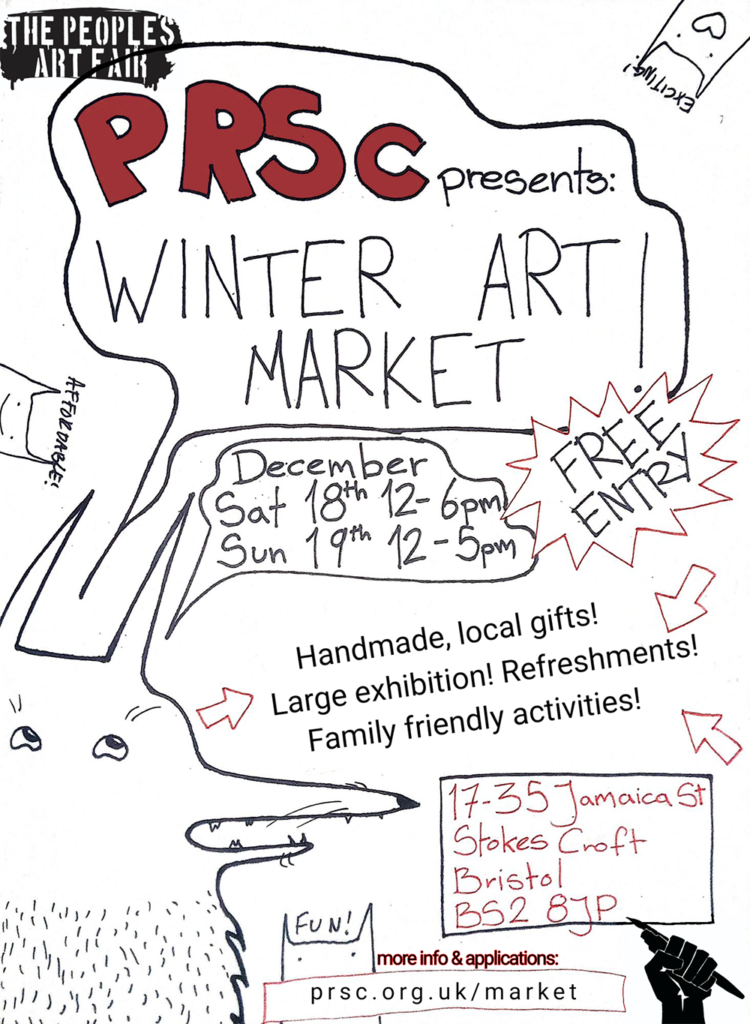 People's Art Fair Festive Edition: Thursday 9 - Sunday 19 December @ PRSC Space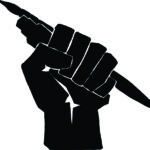 The next People's Art Fair runs from December 9-19, and encompasses a group exhibition, The People's Jam Session, a festive art market, the Octopus Odyssey Collage Club, The People's Poetry, AND Domino Painting! This open group exhibition, curated by the PRSC, acts as a celebration of culture and expressive art. The People's Art Fair is open to artists, makers, photographers, painters, sculptors and creatives of all shapes and flavours.
★ Opening Night / Thu 9 Dec, 6-9pm - for those who prefer to enjoy their art in the evening with a drink in their hand
★ Domino Painting / Thu 9 Dec, 6.30-8.30pm; Sun 12 & 19 Dec, 1-4pm; Sat 18 Dec, 12-3pm - paint a domino to take away or to add to a permanent display
★ Drop-in Collage Club with Octopus Odyssey / Sat 11 Dec, 1-5pm - come make a collage with master collager Octopus Odyssey
★ The People's Poetry with Emma Ako / Thu 16 Dec, 7-10pm - intimate open mic night of poetry & spoken word
★ The People's Jam Session with the Suspicious Jazz Roll Ups / Fri 17 Dec, 7-11pm - a night for us to make beautiful music together
★ Winter Art Market / Sat 18 Dec 18, 12-6pm, & Sun 19 Dec, 12-5pm - a chance to buy some unique art pieces and crafty creations from our amazing bank of artists
★ Paint Jam from the Bristol Womxn's Mural Collective / Sun 19 Dec, 1-4pm
Related Events