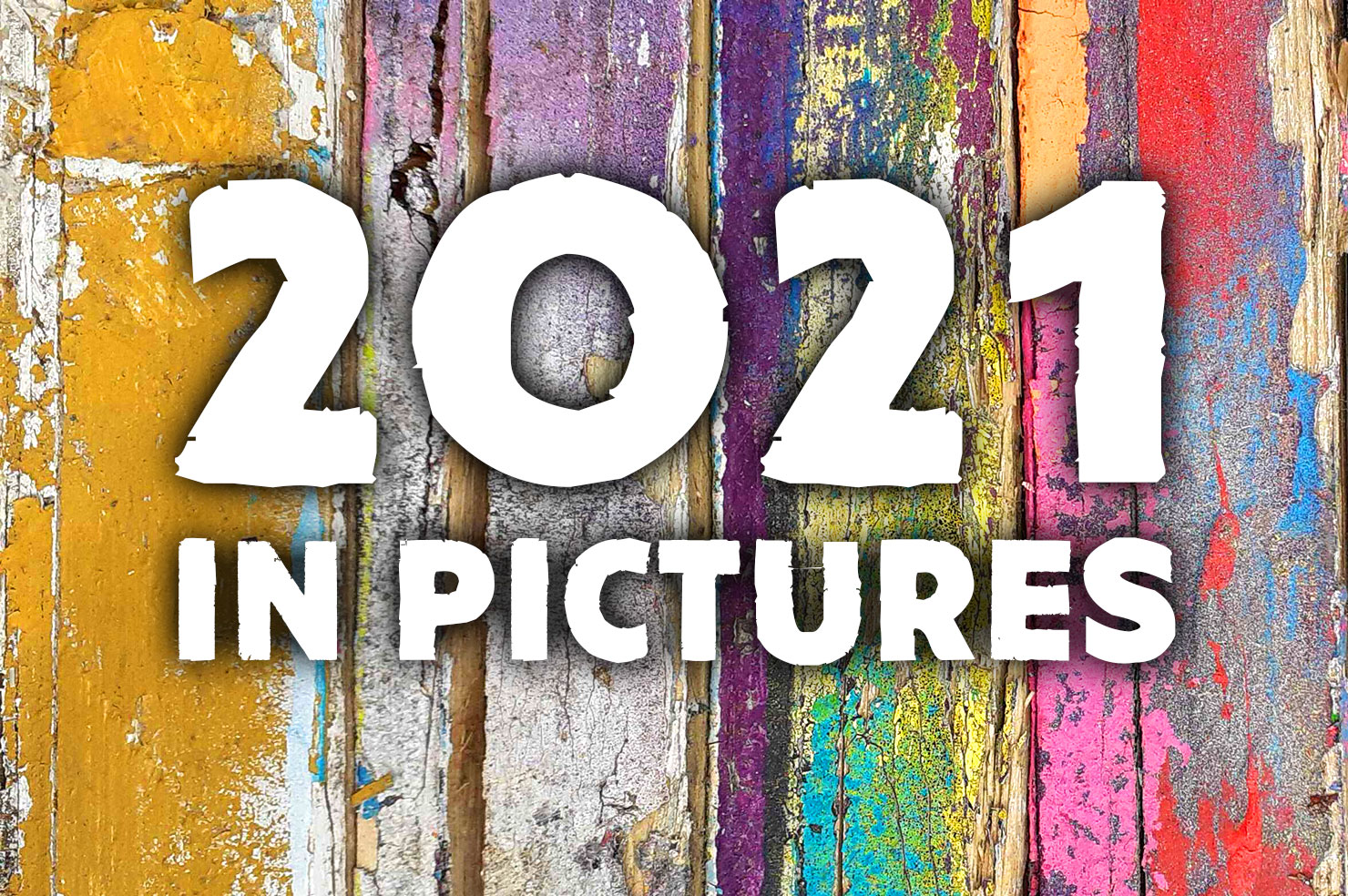 A reminder to (you and) ourselves that we did actually do some things in 2021! Click the thumbnails to view larger images.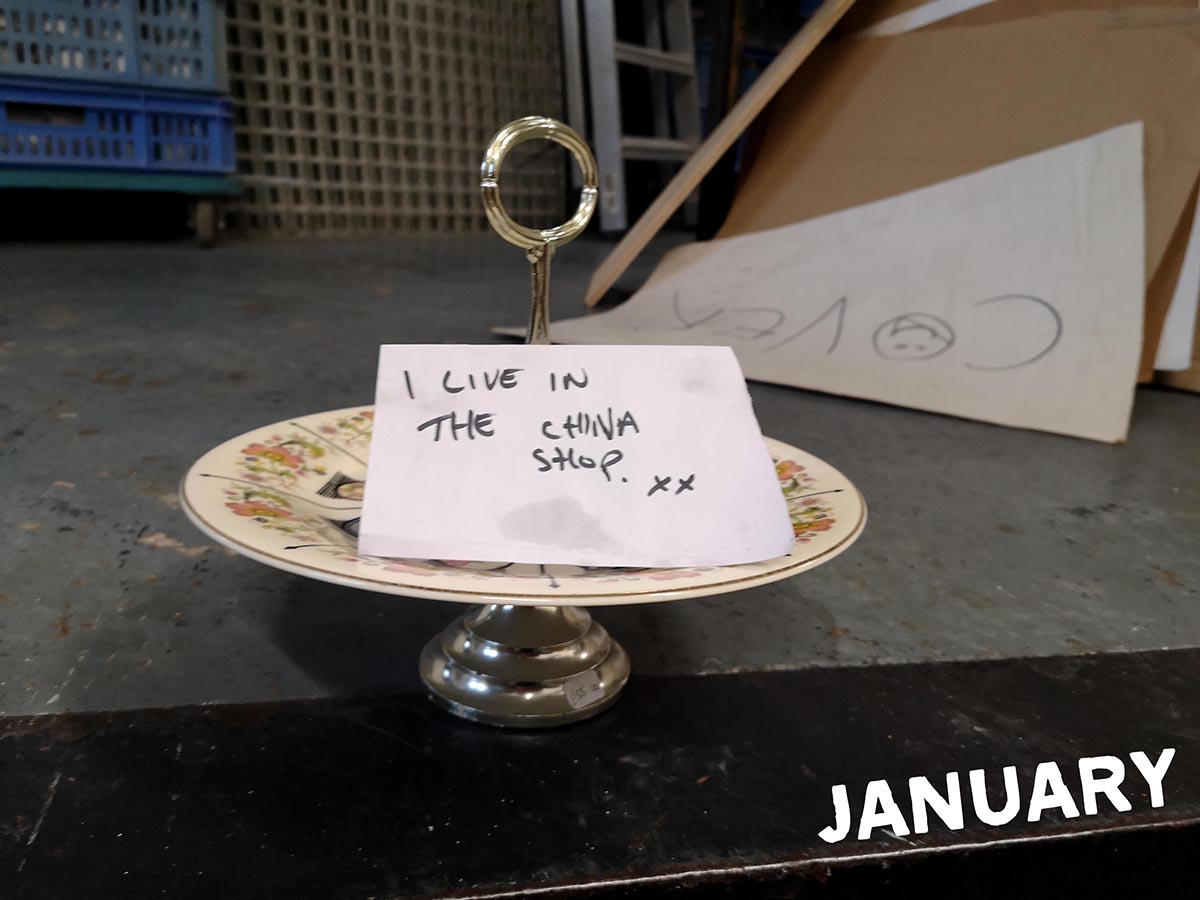 The year started slowly with snow and cake plates. Kim Darroch, former British ambassador to the United States, was spotted drinking from one of our Dump Trump mugs as all eyes turned to the US elections. Rumour is he even used this mug in meetings with Trump!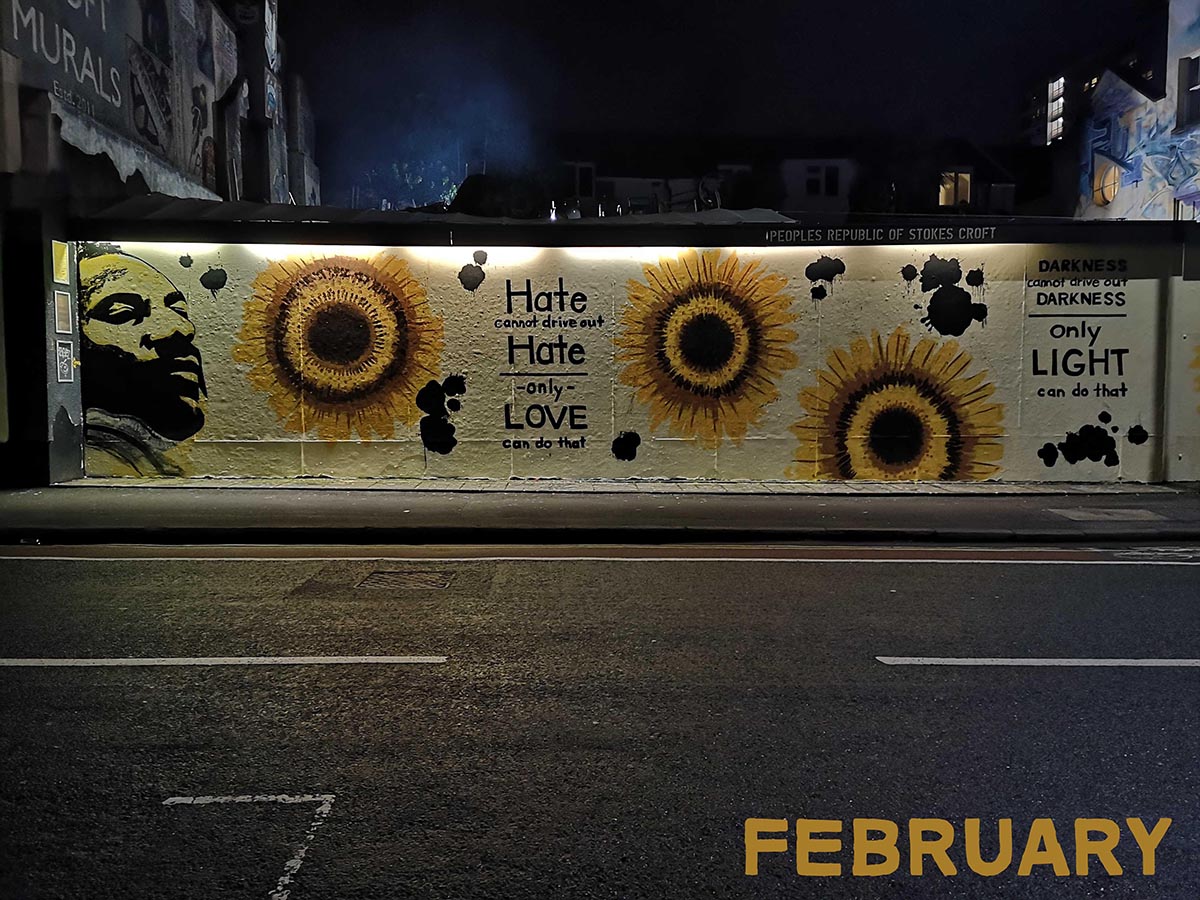 In February we released a bunch of
book
bundles to encourage our china customers to delve a little deeper into the ideas celebrated on our
mugs
. In the china workshop Bev was inspired by the
viral lawyer/cat filter video
 to create these brilliant dishes, and Green Party councillor (now Leader!) Carla Denyer was spotted drinking from our
Fuck Austerity mug
in a council meeting. We co-ordinated our beautiful mural wall with our china to
celebrate the wisdom of Martin Luther King
, posters from
@paris68redux
appeared all over Turbo Island, and a passer-by painted our outdoor tap gold.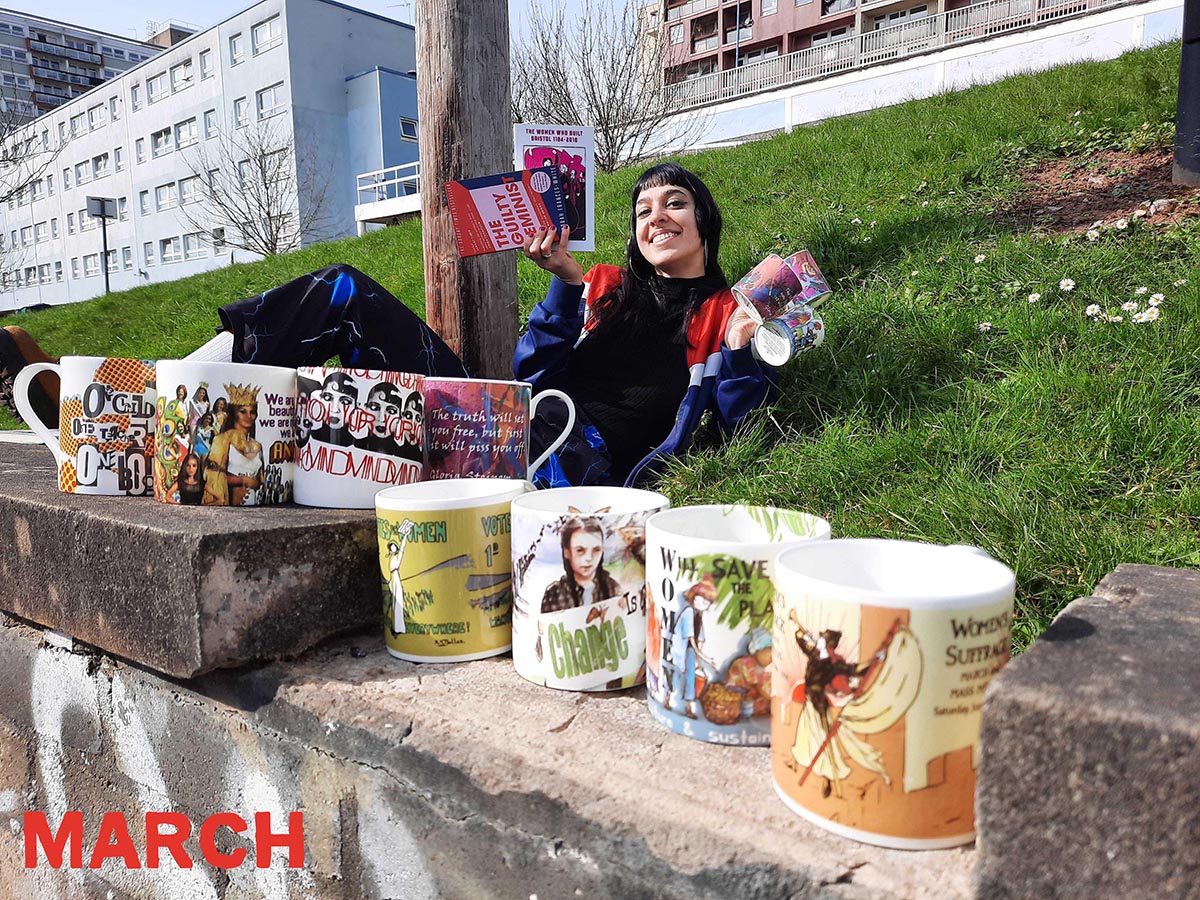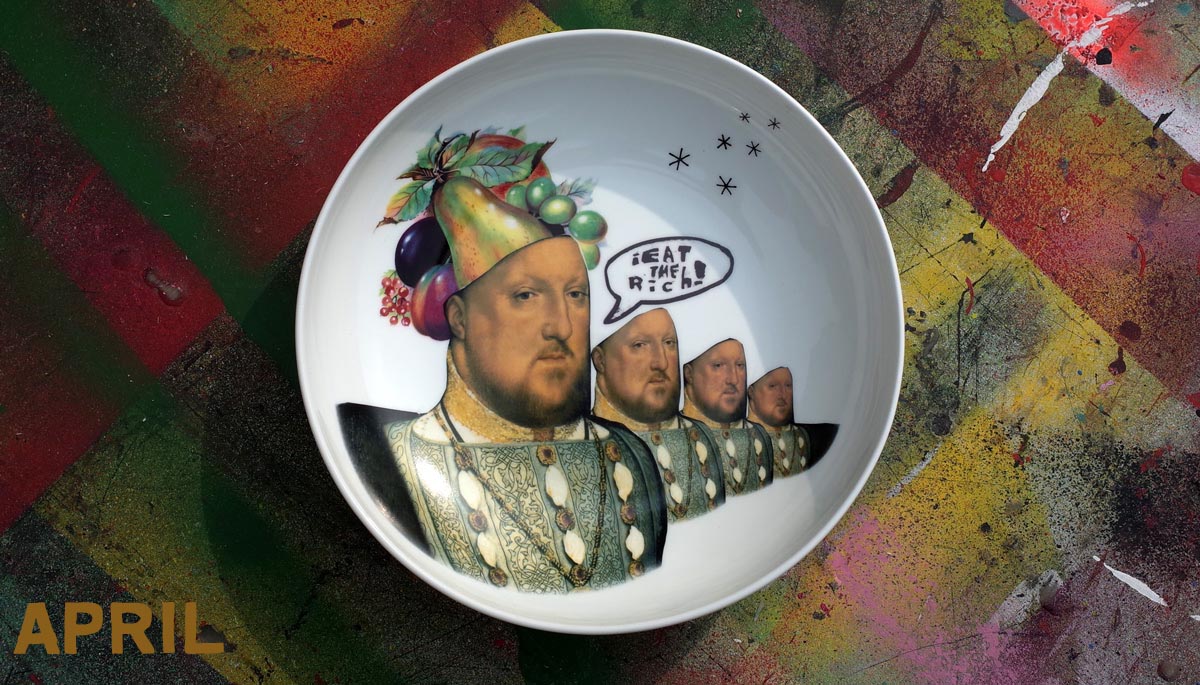 In April we gave up waiting for everything to 'go back to normal' and ran the School of Activism 2.0 as a fully online event. During the two weeks of school over 30 activists, thinkers and educators came together to share their learning and skills to empower others to change the world. We also noticed that our A-board looked a bit old and tired so Benoit set to work brightening up. We used our mural wall to mark the ten year anniversary of the Tesco riots and the china workshop continued to produce some wonderful unique designs.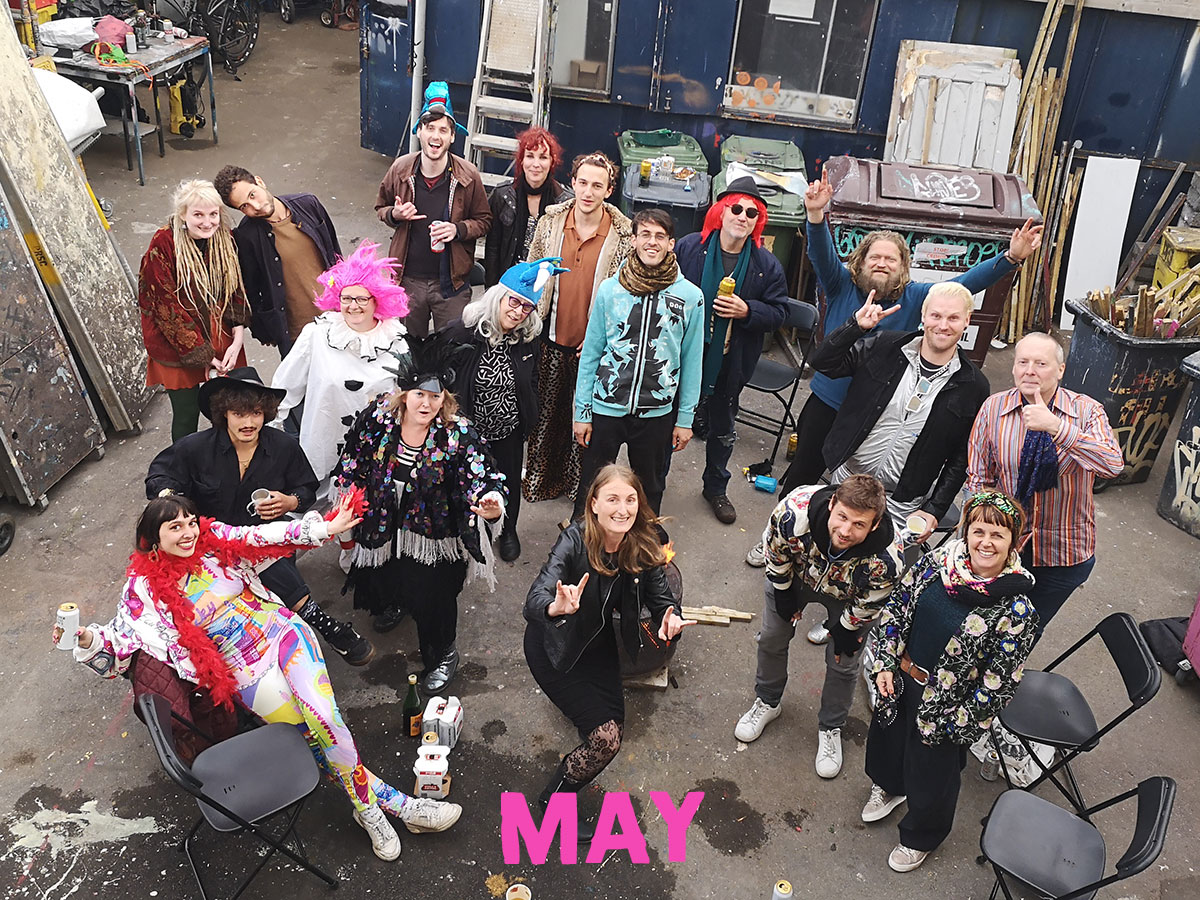 In May we gathered together to say goodbye to our amazing Maryem, and took the opportunity to do some posing with china.
Our shiny new A-board was completed and brought out onto the street. We continued our bar improvements, and the Our Air Our City campaign took over our mural wall. As if that wasn't enough we released the Glad Colston's Gone mug (you've probably seen object…'s striking design around the city in one form or another) and we started clearing the yard in preparation for 'The Great Yard Redevelopment'.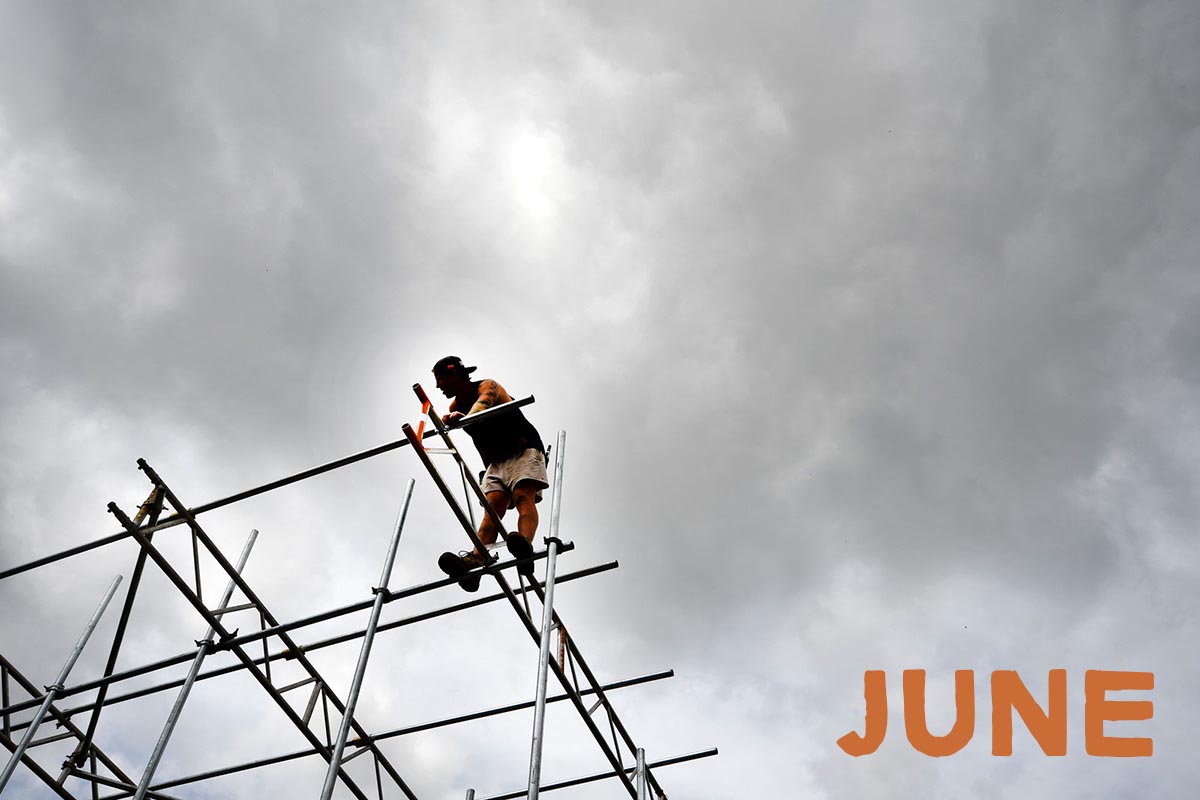 In our first taste of getting back to normal we hosted exhibitions in the Space and the outdoor gallery this month, with Fill Me In taking over the Space for a weekend of street art and music, and Photovoice sharing moving images exploring addiction and recovery on the mural wall. 'The Great Yard Redevelopment' showed what can be done in one month with enough hard work and scaffolding, the workshop had a little fun with Matt Hancock and made a beautiful plate to celebrate Pride Month, and the screenprint studio got busy with our new posters. This month offered us lots of opportunity to celebrate incidental beauty, as well as conducting some yard archaeology, and Turbo Island called for Justice for Anthonell Peccoo. At the end of the month young people from Creative Youth Network arrived to start our annual street art course.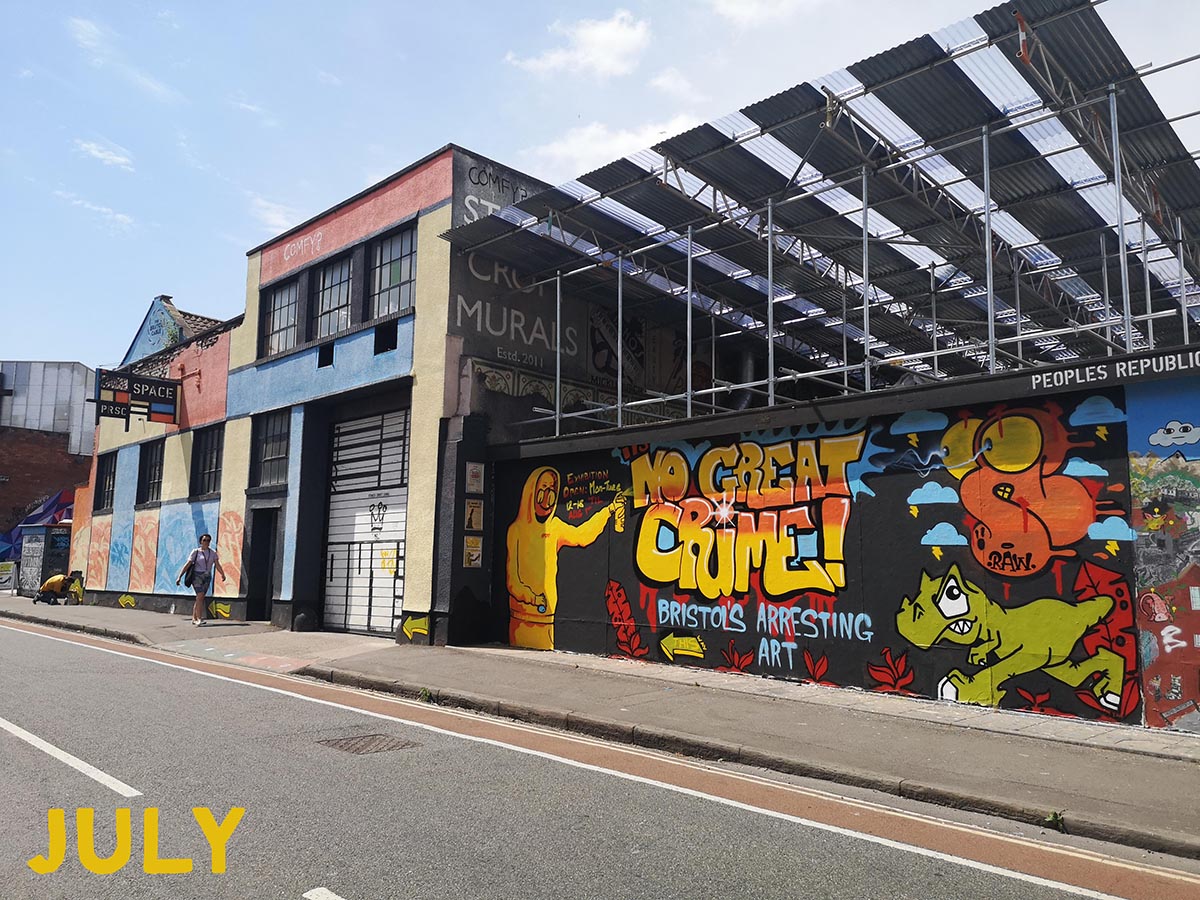 In July the CYN crew put their collage, stencil and illustration techniques to good use to produce an amazingly complex, playful and fantastical representation of Bristol on our mural wall. As part of 'The Great Yard Redevelopment' we found a new home for our PRSC compost and bathtub planter, and installed a new chimney to keep the kiln fumes out of our building. While a huge exhibition celebrating street art ran in the Mshed, we put on our own fringe event looking at the lived experiences of graffiti writers and street artists painting in the city. Our No Great Crime: Bristol's Arresting Art exhibition was filled with stories from around 20 local street artists including gHOSTbOY, John D'oh, Oshii, Mike22, Ryder, Sepr, Sickboy, Skank, T-Rex, and Tom Miller, to name just a few. It was such a fascinating show to put together that our own screenprint expert Ross put together a gorgeous zine of the exhibition too. Meanwhile the Stokes Croft Food Project (running since the start of the pandemic as a collaboration between Jamaica Street Stores and PRSC) gave out our last meals, and the Stokes Croft China gang continued to produce beautiful political china.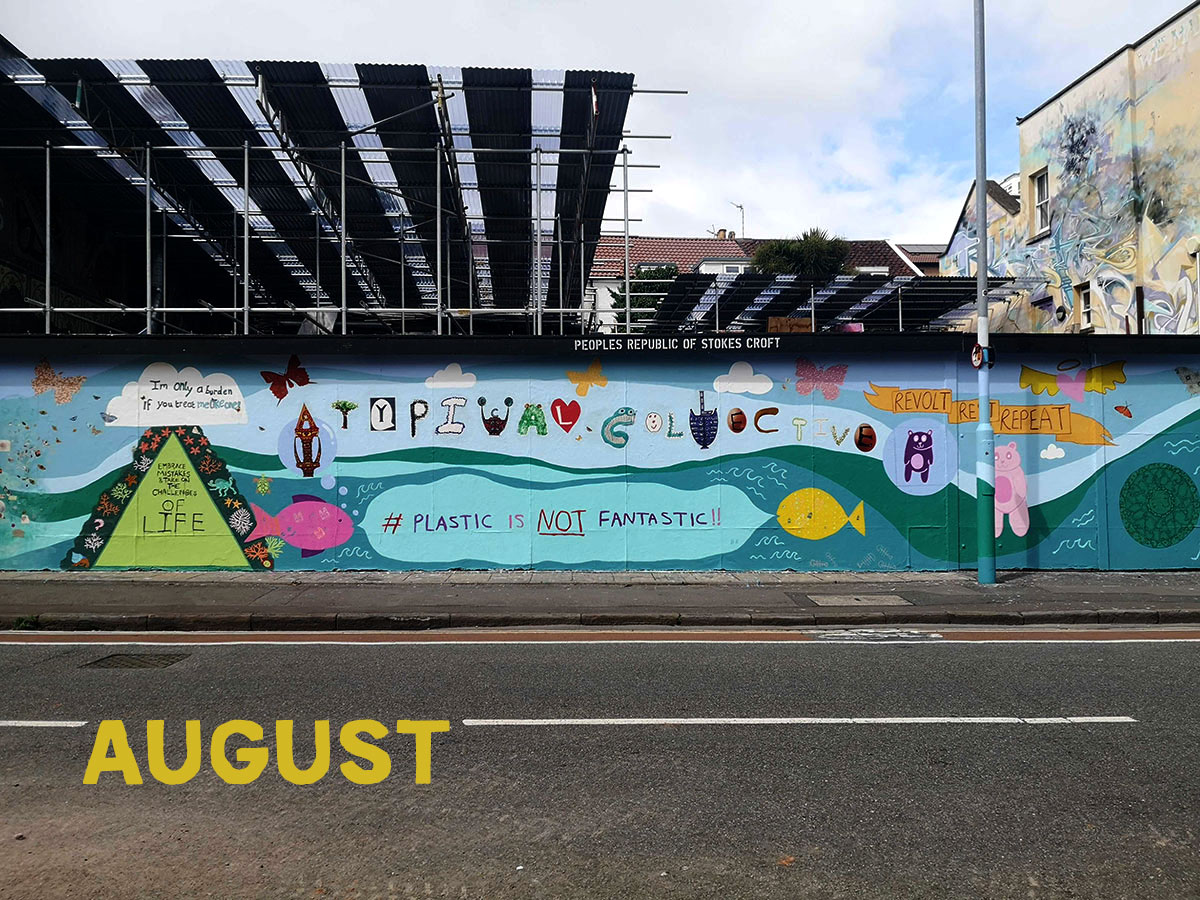 August saw us spreading the love with our launch of a redesigned range of 'I heart' mugs. The summer sun shone through Joseph Gander's Sunbeam Exhibition in the Space, and Chaos came up against Order in our pleasingly polarised mug design. A crew of talented artists began a major makeover of Jamaica St with gorgeous tonal floral designs, and we took a leap beyond the gender binary with our new loud and proud mural on Hillgrove St, featuring a paste up of Dom Provost-Chalkley. Our very own mural wall was enhanced with a mural that was equal parts delightfully charming and accessibly profound from neurodivergent artistic collective, A Typical. The PRSC crew also took a group field trip to the magical and majestic Rockaway park.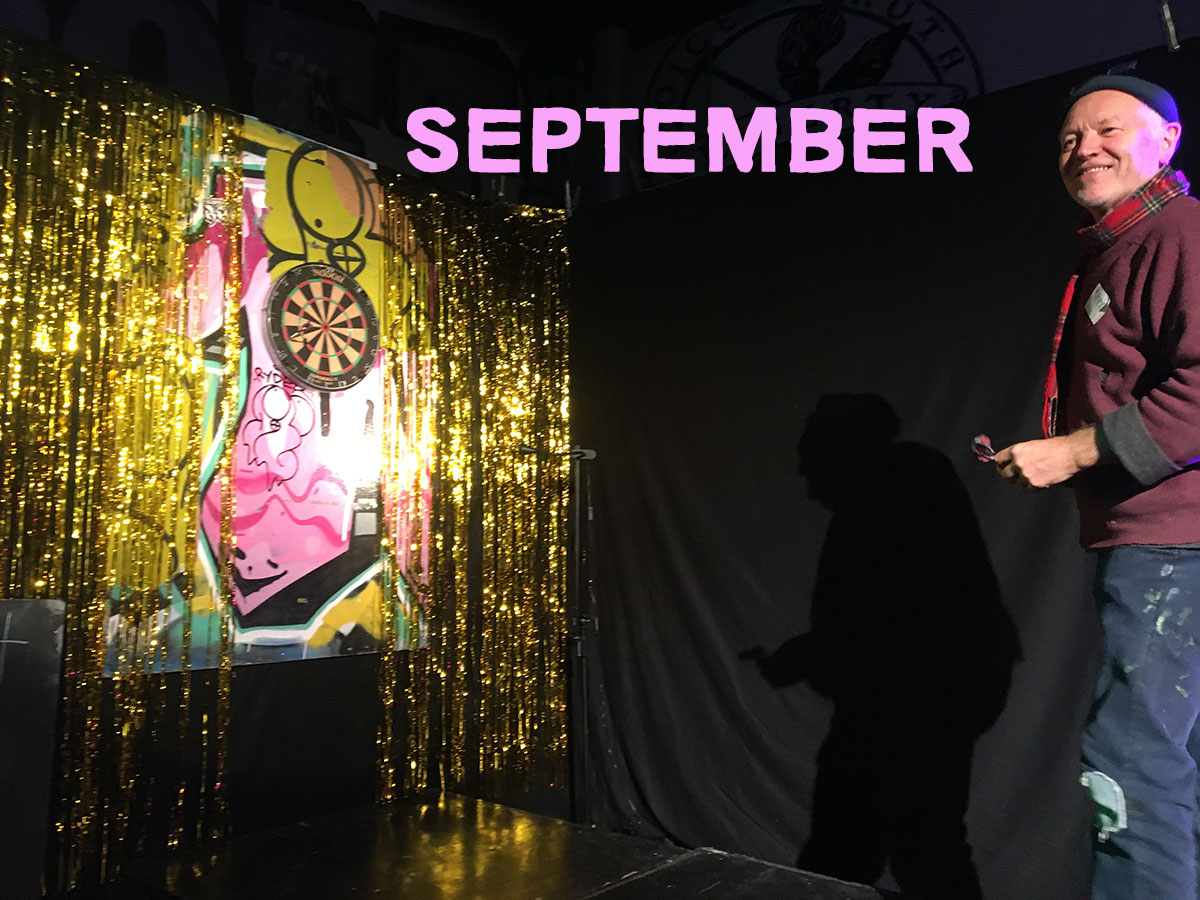 We welcomed a clutch of cracking new crew members in September as we expanded our china decorating team and tried to get ourselves a little more organised. What better way to indoctrinate them than to get them involved in our inaugural darts tournament! Prizes were won, cucumber sandwiches were eaten, and the fabulous Laura came dressed as a scampi fries selection. The autumn edition of the People's Art Fair was a massive success as we expanded beyond our visual exhibition to include music, spoken word and creative workshops. Plus after getting dogged up, our corner bin sculpture received a new piece of artwork from our very own Object…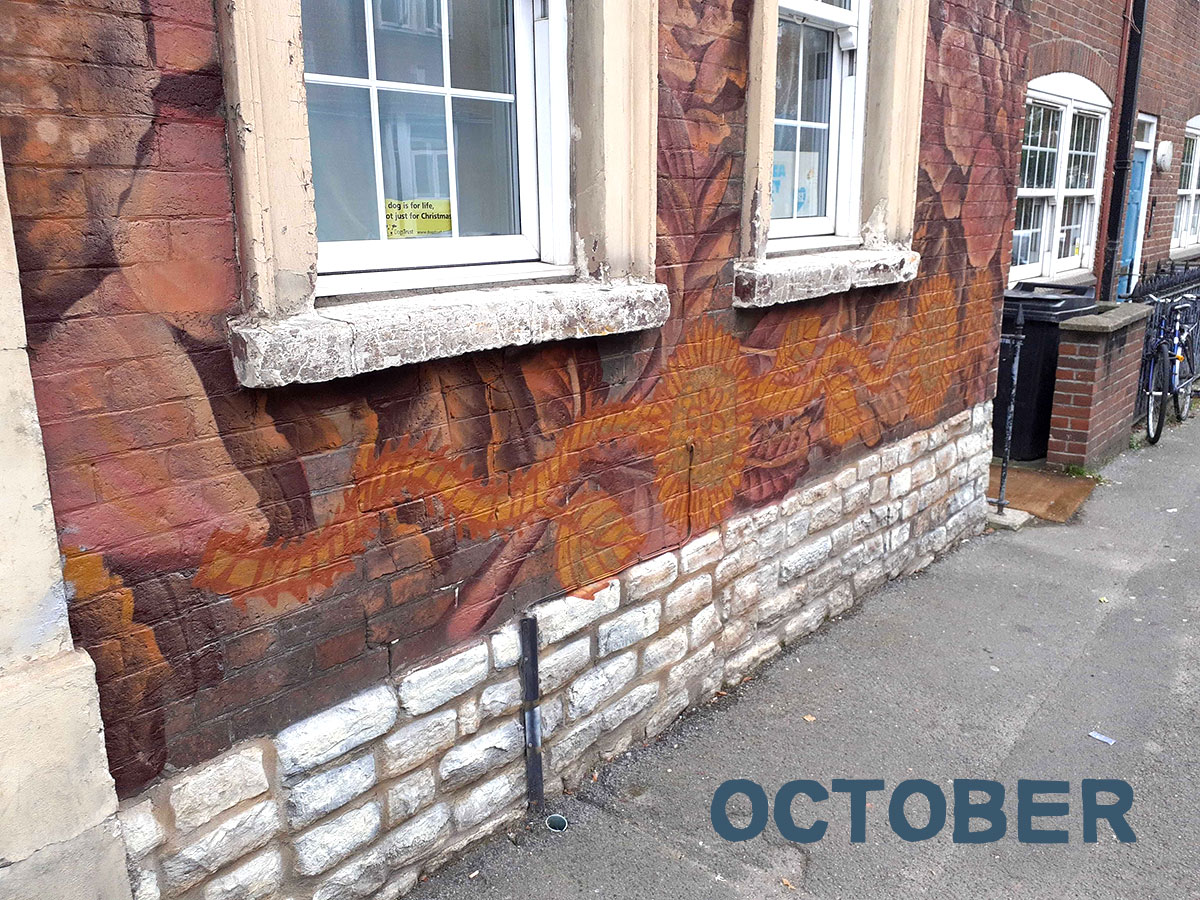 October was a month for good boys, succinct messaging and some incredible and somewhat surreal china work. The mural wall became a teaser for the Stokes Croft Land Trust launch exhibition and we received a kind donation of a mountain of loo roll that was bound for the tip! Also our artists' loo became host to a fabulous fishy tile frieze as part of its shiny makeover.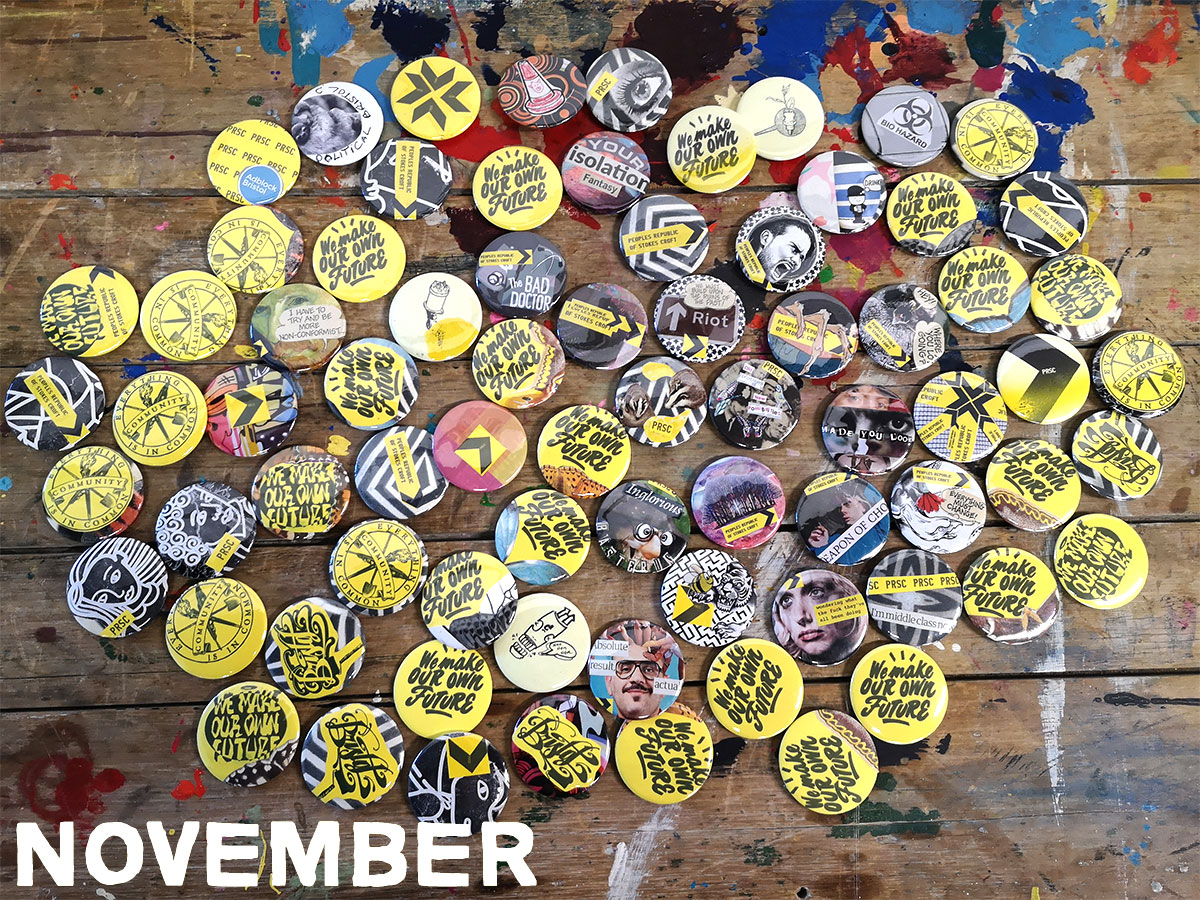 Badgers on badges and rainbows on buildings, piglets on china, mosaics got filled in, foxes on boxes and Immigrant Swing, November was full of some very good things! (SING IT)
The badges (now available in Stokes Croft China) were created by our staff on a cider and chips fueled evening, with a cheeky bit of pre-Christmas china decorating thrown in for good measure. Some of our team assisted at a ShangrilART mosaic workshop with craftivist Carrie Reichardt, and Stokes Croft Land Trust launched their community share issue to buy PRSC HQ, keeping it in community ownership in perpetuity. The share issue is still open so invest now!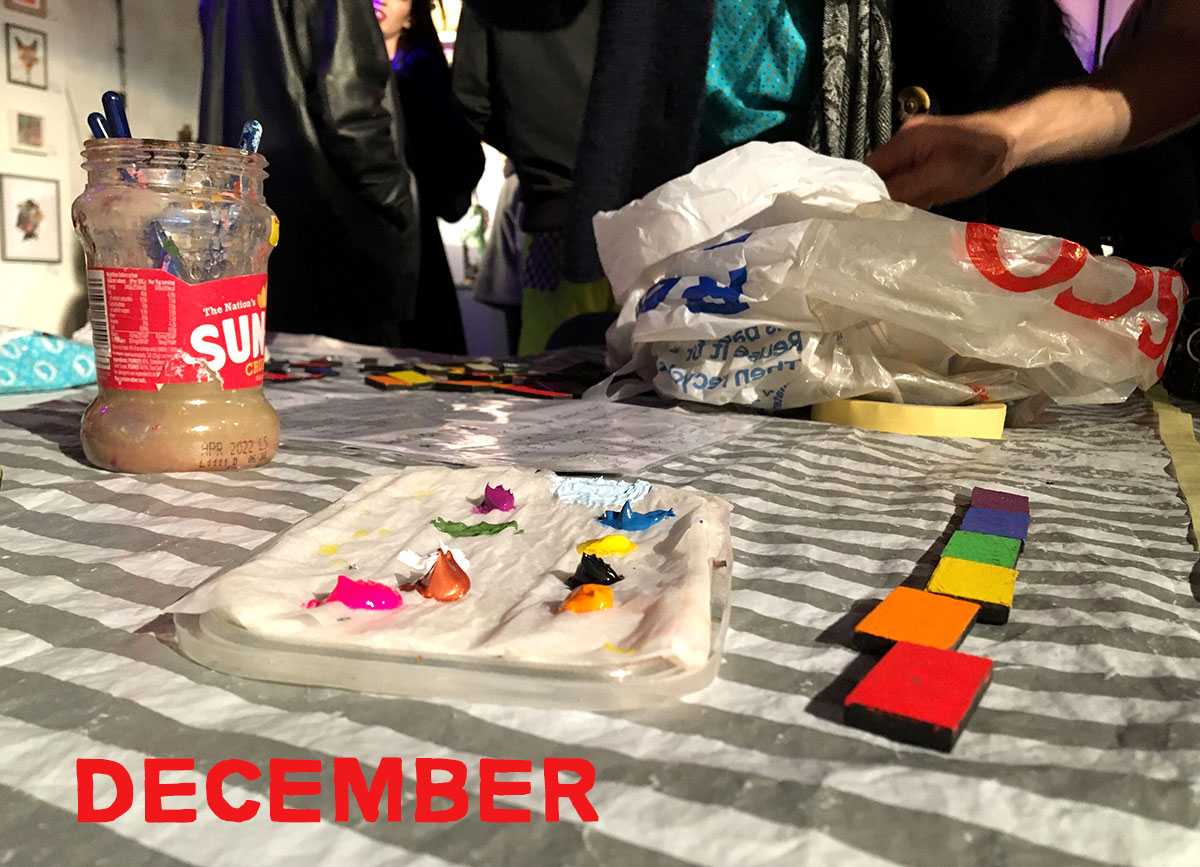 December saw us host our largest People's Art Fair yet with over 60 artists contributing to what was an amazingly diverse and impressive show. Omicron sadly put paid to some of our wider ambitions for the show but it'll be back in full force early this year. In our continuing mission to to spruce up our neighborhood, we gave the Jamaica Street hostel entrance a an injection of positivity with a new mural. The Glad Colston's Gone campaign, set up to support the Colston 4 in their legal battle, were welcomed into our yard for a banner making session (we couldn't be happier that they've gone on to be found not guilty and free to go!). The Stokes Croft Land Trust reached £150k of their £272k minimum target after only a couple of weeks which was absolutely incredible… with good luck and your help we're confident of reaching the target in 2022!