People's Art Fair: Autumn Show
Thursday 16 September, 2021 @ 18:00

-

Sunday 26 September, 2021 @ 18:00

Free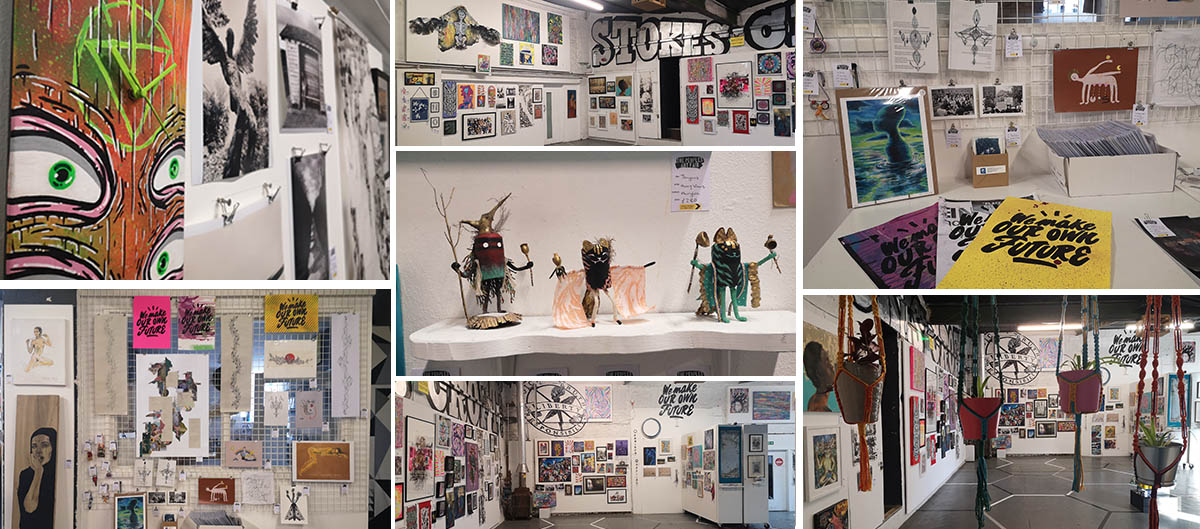 Opening night: Thursday 16 Sep, 6-9pm
Exhibition open daily: 12-6pm, Fri 17 – Sun 26 Sep
FREE ENTRY
The People's Art Fair (PAF) is a collaborative group exhibition devised and hosted by the PRSC and open to all artists. The fair follows the principal that together we are greater than the sum of our parts, and demonstrates that bringing together artists involved in individual creative practice produces something unique and special. Embodying the ethos of collective action, the artists help to hang, manage and promote the show together. We want to break down barriers to the art world and challenge the elitism and sense of exclusivity that pervades many gallery shows. PAF attempts to level the playing field with no entry fee (for artists or visitors) and an open invitation to everyone to take part, offering a platform to all the talented people out there no matter their medium.
Our last PAF ran online in December 2020 and featured over 40 artists, including well established professionals, young people exhibiting their art for the first time, a homeless artist and everyone in between. This time we are coming back big with the fair running over ten days and featuring art markets over both weekends plus a range of other creative activities including a music jam, a poetry open mic, collage workshop, and the first ever performance of the People's Theatre.


Make Music — Create a Collage — Create a Cork Creature — Paint a Domino
Thu 16 Sep, 6-9pm: Exhibition opening night
Fri 17 Sep, 7-11pm: The People's Jam Session, hosted by The Suspicious Jazz Rollups (£4 suggested donation OTD)
Sat 18 Sep, 12-6pm: Art Market, with drop in workshops for Faerie Cork Creatures 1-4pm, and Domino Painting 12-6pm
Sun 19 Sep, 12-6pm: Art Market, with drop in Domino Painting 12-6pm
Wed 22 Sep, 6-7.30pm: Cork Creatures Workshop with ZamZam (£5 – book here)
Thu 23 Sep, 7-11pm: The People's Poetry, spoken word & open mic curated by Emma Ako (£4 suggested donation OTD)
Fri 24 Sep, 7-11pm: The People's Theatre, bringing irreverence back to the stage
Sat 25 Sep, 12-6pm: Art Market, with drop in Octopus Odyssey Collage Club 1-4pm
Sun 26 Sep, 12-6pm: Art Market, with drop in Domino Painting 12-6pm. Closing day of exhibition – last chance to see the show!
Featuring art from 3n0m!$, Amy Loizou, Beautiful Things in Foreign Lands, Bev Milward, Boo21 Custom Artwork, Colin Moody, Colleen Freer, Dan Petley, Domino Project, fayte, Gabrielle Ruffle, Hardik, Harry Westbrook, Helen V Povey, Hola, Jacob Moon, Jamie Pett, Jeanette Wilhelm, jen0mi, Keep StuM, LGBTQ+ Faces of Bristol, Lisa Cole, Lisa Furness, Lisa Travers, Mandi Collingridge, Max Middlewood, Meszaros, Mike Stuart, Natasha Quarmby, object…, Octopus Odyssey, Oshii, Phil Constable, Romy Walker, Rosie, Ruth Draws Things, Slawek Rzewuski, Sonic, TG Freeson, Zamzam, Zed in the Clouds, and Zlyzab.



L-R: Oshii, Hoax, Harry Westbrook, Keep StuM


L-R: Hardik, Bev Milward, Hola


L-R: jen0mi, Ani Get Your Brush, Max Middlewood, Object…
Related Events